It has now been over two months since our beloved island of St Barth was closed for tourism, and we know that many of you are eagerly counting days until it reopens. As you can expect, this has been a constant point of discussion about St Barths travel restrictions on the Saintbarthcom Instagram as well.
Those among you who are already part of our Instagram community, know that we frequently share the latest news via our Instagram page to ensure that those planning to travel to St Barth stay updated on the most recent travel restrictions. First-time travelers and seasoned travelers alike find it necessary to have a ready resource to find this information in times of Covid-19, and our Instagram is one such place.
As a bonus, interacting with our Instagram community is always a positive and educational experience. Just like us, our community also loves to share insider tips, recent news, and their own St Barth memories with us as well. It is a visual treat as much as it is a place to get the insider scoop. If you are not following us already, you are missing out!
On March 26, 2021, it was announced that the Covid-19 vaccine would soon be available to the entire population of the island. This effort was expedited to ensure the required percentage of people are inoculated as soon as possible so that the island can be reopened to travelers. The vaccination campaign is tentatively slated for mid-April. Extrapolating from this timeline, it is estimated that travel may indeed reopen from mid-May if everything goes according to plan.
Taking our cue from these announcements, we turned to our community to find out how this affected them and were once again blown away by the response we received!
Are there many travelers waiting to visit St Barths?
While it is difficult to say this with any accuracy, it is possible to convey a sense of scale by looking at our community numbers to provide some context.
For instance, we have over 16,500 users following us on Instagram. Over time we have learned that most of them have either already visited St Barts or are interested in future travel. Naturally, we turned to them to answer this with some clarity. When we shared the update regarding proposed vaccination plans in our Instagram Stories, we followed it up by asking our viewers if they had travel plans for St Barth in April-May 2021.
Out of a total 738 viewers, 133 of you took part in our poll. Of these, 53% voted yes to having plans to travel to St Barth in April-May 2021.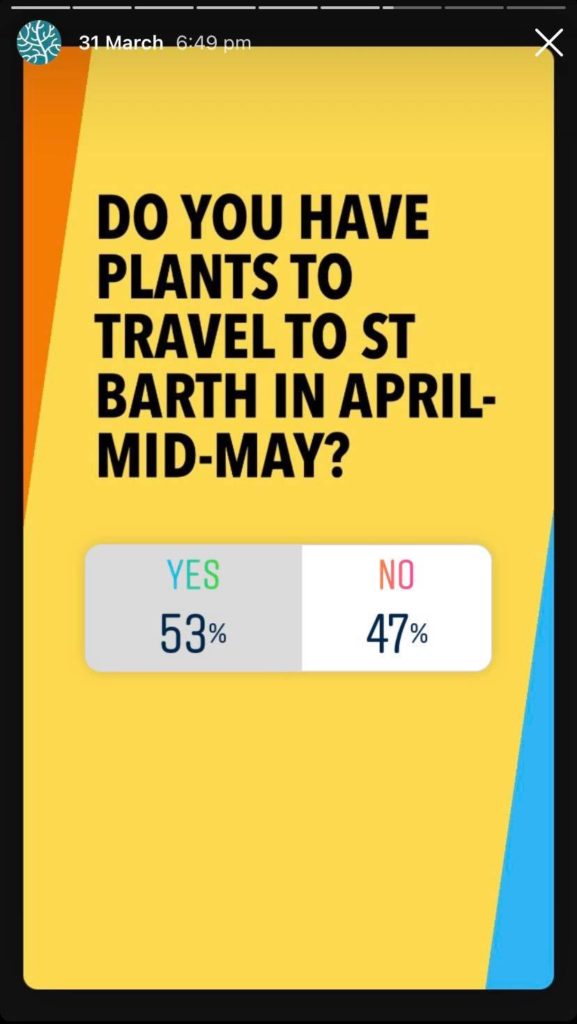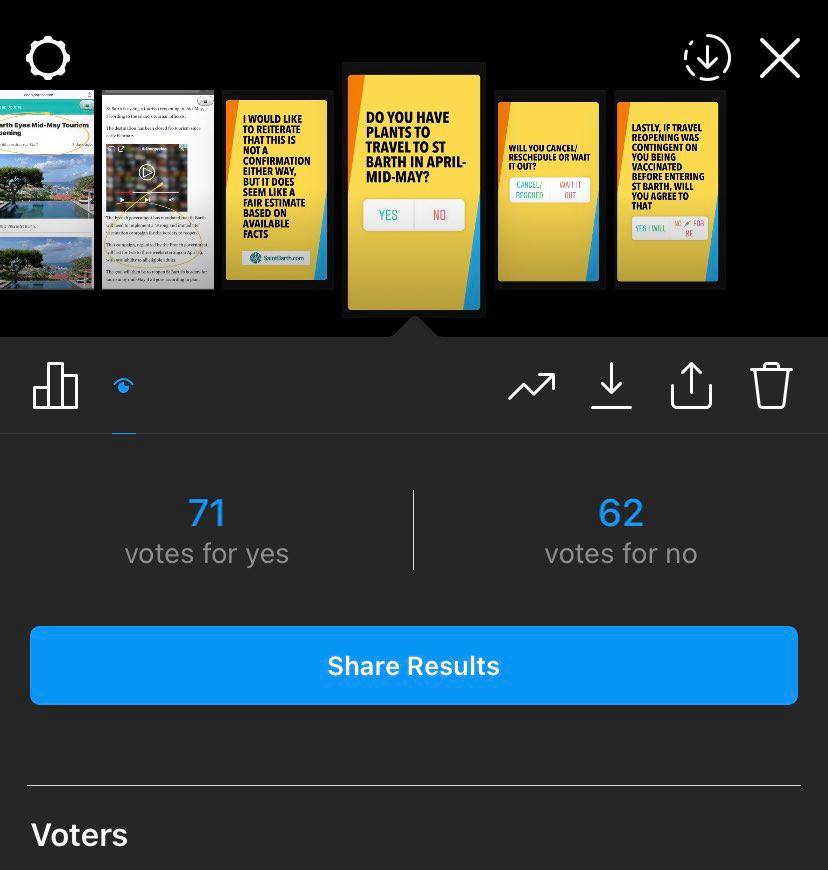 What will these travelers do in case St Barth does not reopen?
As the reopening date keeps getting pushed further into the future, the question remains: How does this affect travelers' plans? The period of April to June is immensely popular for travel to St Barth, and the absence of a fixed reopening date affects travelers in different ways.
Once again, we turned to you on Instagram to ask those who were hoping to visit St Barth in April-May how they might proceed, now that there still isn't a confirmed reopening date in sight. Of 717 viewers, 105 participated in our poll. 41 of these voters indicated that they would be canceling and rescheduling their plans to visit at a later time, while 64 voted that they preferred to wait it out until mid-May.
This is not altogether surprising, considering a lot of these travelers visit St Barts annually, and many of them have already had to cancel-reschedule several times over. This may no longer be an option for them given the terms of their bookings.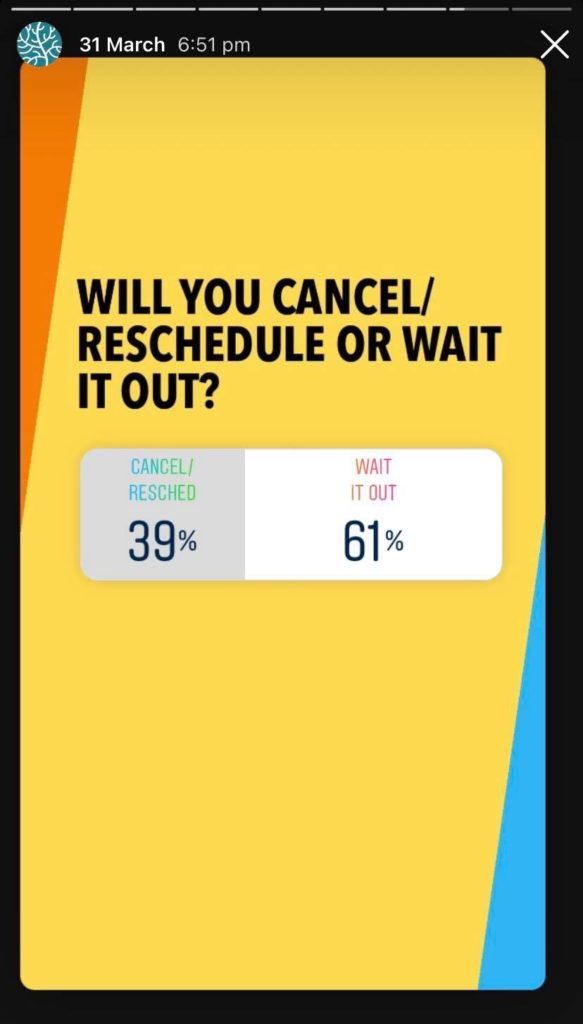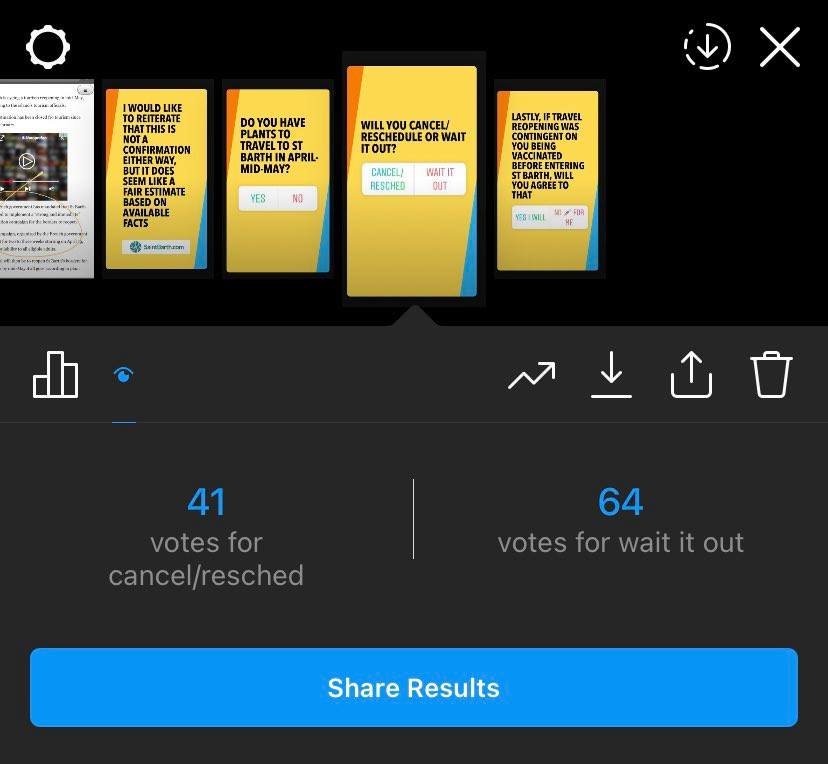 It is evident that while the mid-May reopening date has brought some hope to many, a lot of future travelers have nevertheless decided to cut their losses by choosing to cancel and reschedule their travel to St Barth since this date is not yet official.
How do travelers feel about vaccination before visiting St Barths?
A common point of discussion among travelers and officials alike is whether a 'health passport' may become necessary for travel in the near future. This refers to the speculation whether proof of vaccination may become a mandatory travel document in the near future.
While there are no firm plans to introduce such a measure in St Barth, we turned to our followers to find out how they felt about this prospect. We asked you if you would be open to vaccination, should your travel to St Barth become contingent on it.
Of the 703 people who viewed our Instagram Story containing this poll, a total of 177 voted. 76% of you agreed that you would be open to mandatory vaccination, while 24% indicated that it was not for them.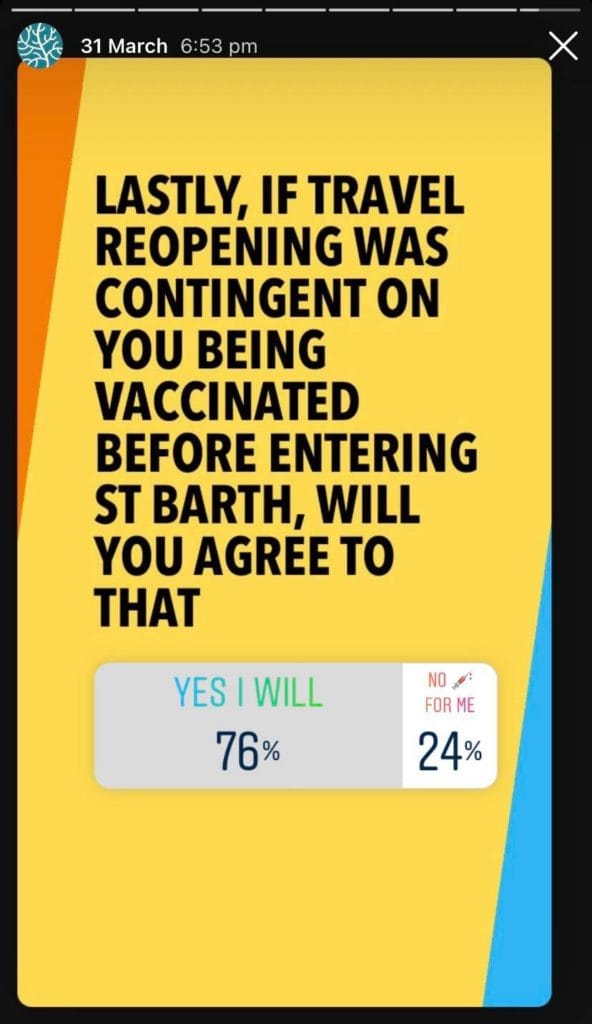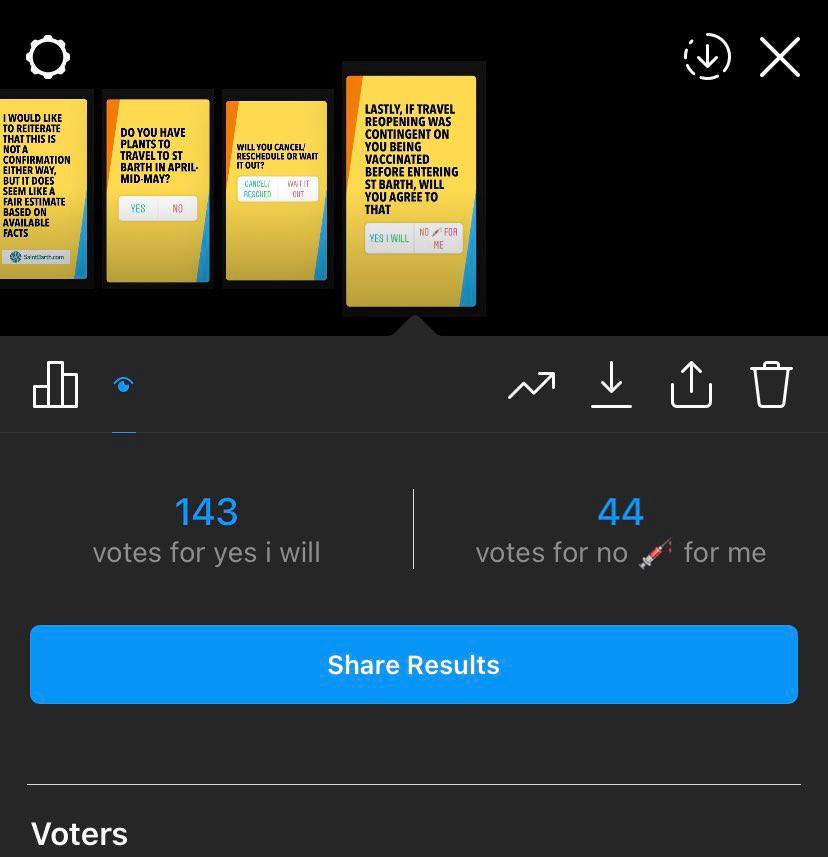 While these numbers in no way represent the entirety of those planning travel to St Barth, they can give you a neat little view of how travelers other than you are responding to news regarding travel restrictions.
Those of you who follow us on the Saintbarthcom Instagram account are a diverse set: from seasoned travelers to those planning their first-ever trip to St Barth. The community seems united, overall, in its acceptance of the vaccination efforts and complying with mandatory vaccination, should the need arise.
It is also clear that after repeat cancellations since the onset of Covid-19 in St Barth in 2020, many are choosing to roll the dice and put their faith in a mid-May reopening.
However things manifest, you can be sure that we will be sharing pertinent updates regularly on our Instagram account as they come, in order to help travelers make informed decisions. If you are here, we already know that you love St Barth. By joining our Instagram community, you get the unique opportunity to connect with others who do as well. See you there, #StBarthsTribe.