From the scintillating sand stretches that curve their way along the coastlines of the island to the luxurious resorts and inland mountains clad in verdant green, there's no question that we at villa Bel Amour and villa Domingue love everything that St. Barths has to offer! We also love the place's indelible style; a unique blend of Parisian haute, European-chic, Balinese exoticism and Caribbean energy to name just some of the influences. Here, we take a look at some of the top clothing, jewellery and cosmetics St Barths brands that have popped up here over the years, becoming central to the one-of-a-kind St. Barths look; musts for any traveller eager to fit in like a real island insider this year!
Calypso St. Barth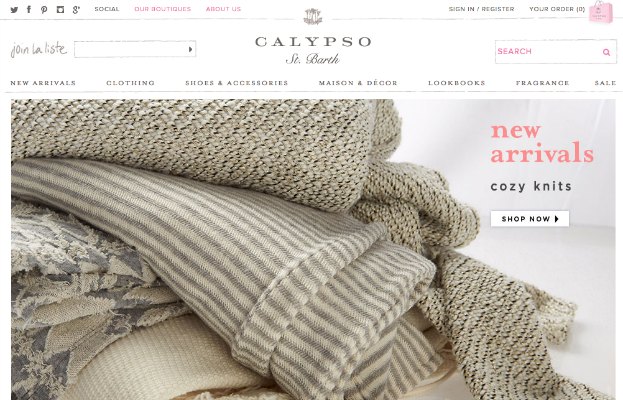 Taking classic trends like maritime and retro and reworking them to create innovative and chic pieces that are perfectly suited to the high-luxury island lifestyles of the St. Barth locals, Calypso is now unquestionably one of the most instantly identifiable brands in the region. The range displays a medley of simple yet graceful clothes and delicate bespoke frocks, ranging from colourful beachwear to dainty dresses done out in nautical designs, or sumptuous and artsy patterns with a touch of Parisian chic. Calypso has been gracing the island of St. Barths for more than two decades and now operates its historical store in the Le Carré d'Or of Gustavia, having grown to boast upwards of a whopping 50 stores across the US alone – not bad for a humble resort wear brand in just under 20 years!
Lolita Jaca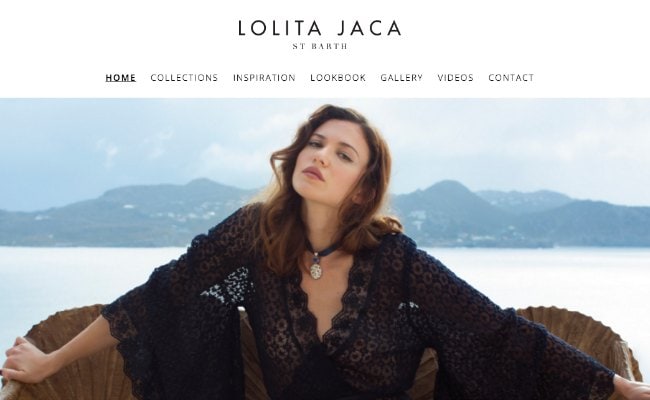 A burst of elegance and bohemian-cool vibes are what characterise the pieces of Lolita Jaca, a well-established St. Barths brand that works to fuse French styles from the 1920s and Caribbean energy. From intricately adorned earrings of pearl and emerald to sensual frocks of lace, Moorish necklaces that look plucked straight from the pages of Fitzgerald to streaming silk caftans embodying beach-side luxury, this one's collection is everything you'd expect of this exclusive island. Born and bred on St. Barths itself, Lolita Jaca's two outlets can now be found between the streets of Gustavia, with the flagship at the Le Carré d'Or Shopping Center.
Vanita Rosa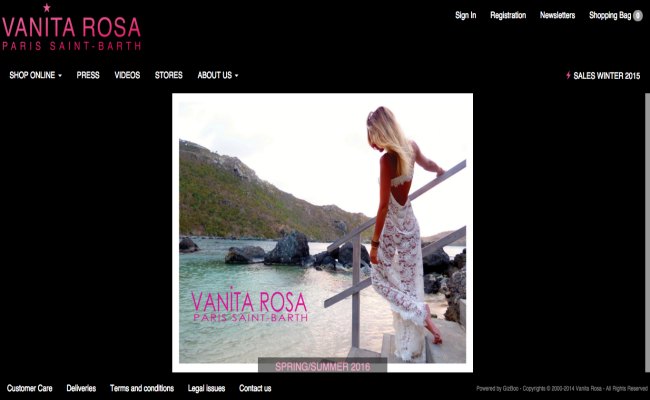 Vanita Rosa was forged by Valérie Bourdin of Dolce & Gabbana fame, who relocated to St. Barths after working as a high-profile fashion photographer in Miami and the US. Since launching in 2002, the ranges have displayed all the hallmarks of a designer inspired by the contours and cultures of the island around her. Loose hanging blouses and ponchos meet long-cut dresses and rayon shorts, all done out in a medley of tie-dye that fuses Carib colours with laid-back hippy tones and materials. Today, the Vanita Rosa boutique can be found on Rue du roi Oscar II of Gustavia, while another flagship store testifies to the French connection in Paris and other outlets abound, from Belgium to Barbados, Saudi Arabia to the United States.
Donna del Sol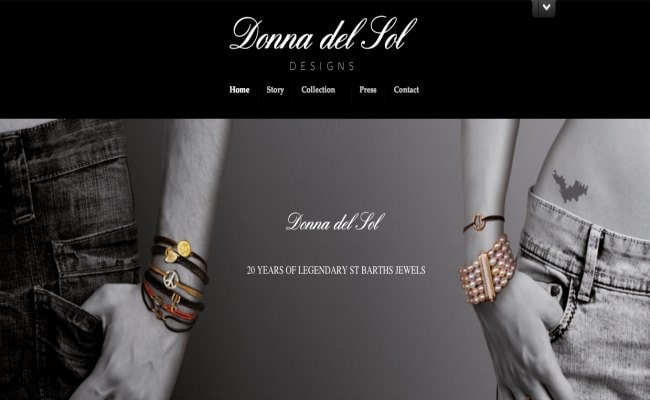 Bringing flower power sentiments circa 1969 to bear on Parisian haute, along with a dash of Art Deco charm and mystical elements courtesy of the Kabbalah, acclaimed designer Donna del Sol has ranged from Paris to Israel in search of her diverse array of influences. Today, she works out of her showroom on the top floor of the exclusive Carre d'Or shopping centre in Gustavia, where her collections of curious jewellery laden with precious pearls and rare stones – tourmaline, jade, diamond, coral – are displayed by appointment only.
Fabienne Miot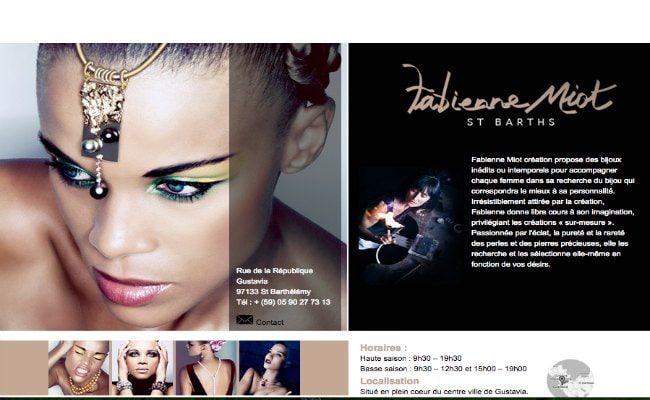 Based between the other bespoke boutiques on the Rue de la République in downtown Gustavia, Fabienne Miot is an independently owned atelier responsible for some of the most unique jewellery pieces on the island. The eponymous designer and metalworker here benefits from an unbounded level of freedom in her work, creating bold and ambitious products out of pearls and precious stones. Buyers can expect scintillating necklaces imbued with black pearl and silver casings, thought-provoking headdresses that shimmer in the Caribbean sun and elemental earrings that mimic nuggets of gold, at once rough and elegant, organic and refined.
Bijoux de la Mer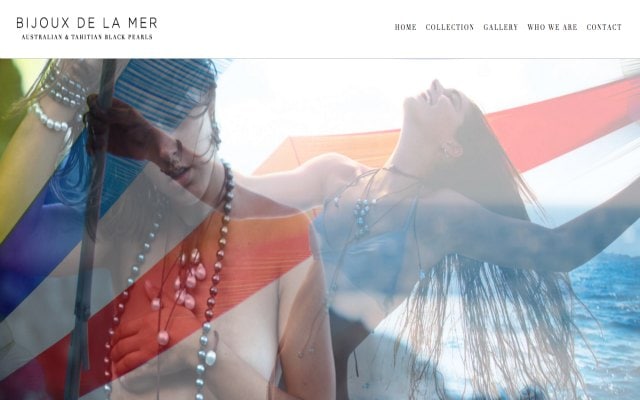 Inspired by their own worldly peregrinations and the indelible presence of the deep blue sea around St. Barths, family owners Maryvonne and Gerard Mignot are the masters behind the wonderful collections of Bijoux de la Mer. Nurturing an intimate and sensuous connection with the sea, the pieces here come replete with foraged seashells and salt-washed stones; part surfer-chic, part organic hippy aesthetic. The overarching speciality is with Tahitian and Australian black pearls, which adorn the necklaces and bracelets of Bijoux in sporadic bursts of shimmering colour and shade, imbuing the wearer with an almost Homeric, siren-esque quality usually reserved for creatures of the abyss. Bijoux de la Mer can be found exclusively on the Rue de la République in Gustavia.
Poupette St Barth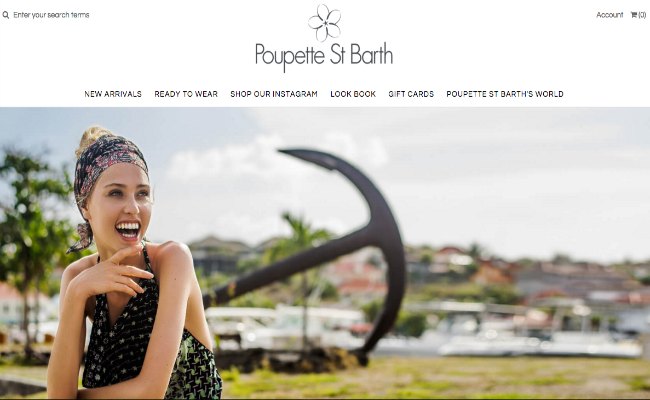 For more than 20 years, Poupette Giraud of her namesake Gustavia-based brand has been harnessing the easy-going Carib-French vibes of this corner of the West Indies and converting them into one-of-a-kind clothing pieces for the island-goers of St. Barths. With a focus on the feminine and the dainty, the ranges here go from airy dresses fringed with lace to youthful shorts imbued with floral patterns coming courtesy of the island's frangipani and bougainvillea blooms. Today, Poupette can be found working out of her flagship store on the Rue de la Republique, while a second store is now open just off the shimmering sands of Flamands Beach in the north. International distribution is also available, with Scoop and Intermix stocking Poupette pieces in the US.
Clic Gallery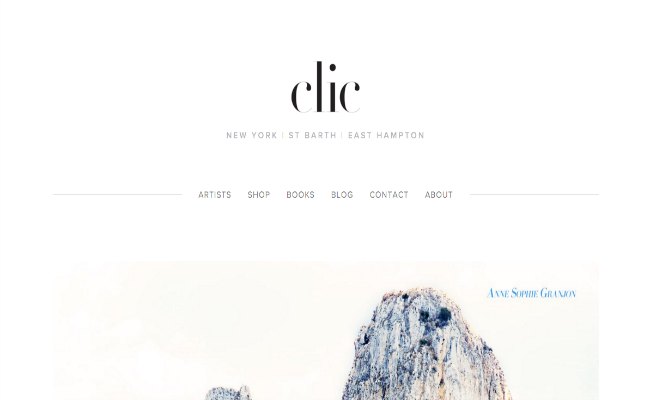 Another fine creation courtesy of Christiane Celle of Calypso fame, Clic Gallery began as a bespoke boutique showcasing the island's most modish photography and books. And while the vibrant blues and frothy whitecaps of surfing shots, or the shimmering ivory and turquoises of Caribbean beach images still adorn the walls of the New York, East Hampton and Gustavia (check out Rue de la République) locations, the brand has more recently moved to encompass everything from home furnishings to bespoke apparel. Expect chic leather-cut cross-body bags that are perfect for hitting the beach, crochet beanies with Dijon and milk colour tones, and Marilyn Monroe-esque resort wear with Francophone frills and 1920s undercurrents.
Pati de St Barth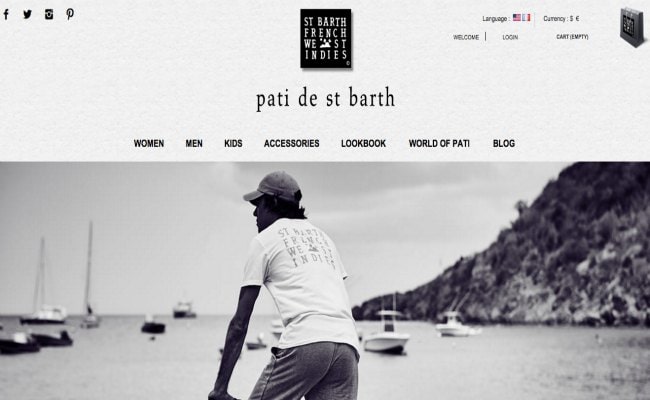 Now with three separate stores located across the island (in Gustavia, St Jean and at the Gustaf III Airport) and an intimate connection to the region that dates right back to the 1980s, when owner Patti first arrived on the shores of the French West Indies and fell in love with the surf, sun and welcoming local folk, this iconic boutique is something of the de facto St. Barths original. Most popular are the branded clothing pieces, which bear the simple, timeless logo that Patti painted on tees back before she went global. Today, these, along with plenty more ready-to-wear family apparel with the same distinct beach-side flavour, are all on offer at the various outlets, while worldwide shipping is possible to the US.
Sunbarth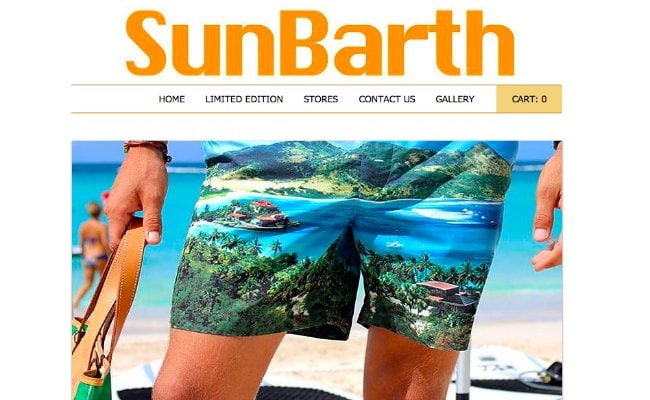 Colourful, bright, bold and indubitably Caribbean in every stitch and seam, the products of the Sunbarth brand are perhaps the perfect resort wear for this part of the world. Hawaiian-style shorts meet cerulean-blue tees that mirror the tones of the St. Barths sea; vibrant yellows echo the sun-splashed beaches and deep reds bring out that West Indian energy. Today, the flagship store can be found on the salt-sprayed Rue du Bord de Mer, right by the ocean in Gustavia, while a second boutique is open close to the sandy stretches of Long Island, New York.
Ligne St Barth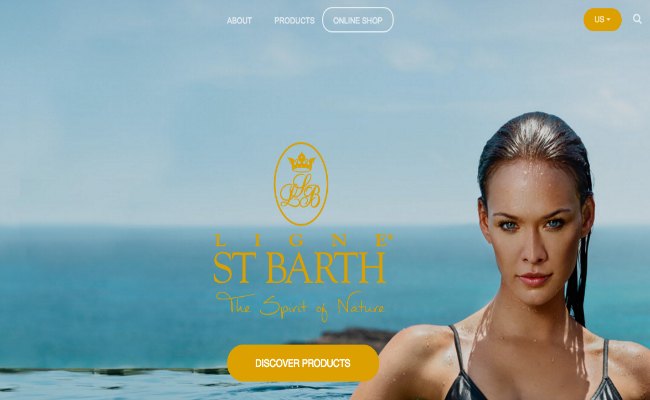 Drawing on the natural wealth of the French West Indies, Ligne St Barth presents a range of bespoke wellness products that come infused with everything from frangipani to coconut, sugar cane to mango, cocoa to avocado. Promoting an earthy wellness and balanced lifestyle, the products are as close to farm-to-table as cosmetics get, with various tonic lotions, cleansing milks and shampoos all bearing the monikers of papaya, jasmine, cotton bud and more. Don't miss Ligne's trademark high-pressure Deep Sea range, which works to re-inforce the natural barriers of the skin by using organic seaweed and salt extracts straight from the island's beaches. This family owned boutique is now run by local Hervé Brin, and makes its home on the Route de Saline, close to picture-perfect Lorient Beach.
St Barths brands: From local to global
So that's it; our selection of 11 St. Barths brands that should really help you fit in on the beaches, in the bars and between the streets of the uber-chic island this year. If you think we missed anything, we'd love to know – just add it in the comments below!