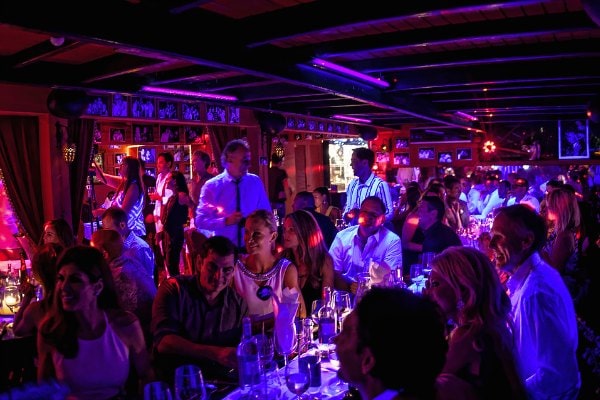 Saint Barthélemy (known as St. Barths) is a very popular tourist destination for travelers looking to enjoy the Caribbean lifestyle. With world-class restaurants, bars, and fun places like Nikki Beach and The Pearl Beach, there are plenty of options for tourists in search of a good time! Whether you want to grab some dinner at Bonito or Le Ti St Barth or just have drinks with friends at Kinugawa, this list has it all!
St Barts Nightlife: It starts with free shots of rum at the end of your meal.
I spend most of my time in the quiet area of Pointe Milou, where my villas BelAmour and  Domingue are located. I host friends at the villa for private parties. However, we all like to get out sometimes. What I like is that I can party at lunchtime, in the afternoon, and /or at night here.  This is not the New York club scene, obviously, but you can have great fun here.  
Yet, there's a nightlife in St. Barts that is much chiller than you're gonna ever imagine. The best places are usually not nightclubs, but night restaurants that turn into late-night cocktail bars with good music.
The key is to have dinner on French time (starting slowly with a cocktail at 8:30 PM-ish). If you come too early, says at 7PMn you will be done with dinner before the fun starts. Just call, book a table, and ask for advice on the best time to be there at the right time.
Bonito
 

 

View this post on Instagram

 
Dinner at Bonito St. Barts is a dream come true for seafood lovers! The restaurant offers five-course menus, which are all served with the freshest and most delicious ingredients from nearby market vendors. You can expect to enjoy dishes such as coconut shrimp soup, grilled octopus salad, lobster bisque or langoustine risotto – all prepared with the utmost care.
Bonito is a popular spot where celebrities, tourists, and locals out for a special night mingle. There's a DJ spinning every night, which turns Bonito from just another restaurant to an upscale cocktail bar. So, you can come just for a cocktail to enjoy the ambiance and avoid paying for dinner. But you would miss one of the finest dining experiences on the island
Le 'Ti St Barth
 

 

View this post on Instagram

 
Just call "le Ti" and everyone will know what you mean. For years, Le Ti St. Barth was a hot spot that links celebrities artists and passionate party goers. It is supposed to reopen in late 2021. The Night Queen Carole Gruson offers creative recipes with live dancers on stage in her Caribbean Tavern. Le Ti St Barth is famous for letting its guests borrow pirate costumes and funky wigs to party away and dance on tables under the pulsating lighting.
Dinner at Le Ti St Barth is a glamorous affair. From the moment you walk in, staff are attentive to your every need and strolling performers provide tasty bites for guests as they enjoy their cocktails. For dinner, choose from an assortment of dishes including Lobster Bisque with lobster ravioli or Filet Mignon au Poivre.
Yet, you cannot dance here until wee hours, as Le Ti St Barth closes early.
The St Barts outlet of this NYC-based chain has managed to create its own identity. Bagatelle is one of the hippest restaurants turned into nightly cocktails. Picture it as is a restaurant on the port of Gustavia where customers stay after dinner for one more cocktail, and just one more, and then end up ordering bottles of champagne and dancing on tables.
Touted for its 'innovative fresh summer Mediterranean dishes with a splash of Caribbean twist', La Petite Plage's incredible location on the harbor and warm ambiance make it a great choice.
A bohemian beach club in Saint-Jean, Gyp Sea is ideal for those who wish to enjoy a meal and cocktails with sand under their feet. Their monthly Mexican-themed full moon soiréé provides a perfect opportunity to dance barefoot in the sand with tequilas.
Where to have a pre-dinner cocktail?
Kinugawa is a cocktail bar in Gustavia, mixing French, creole, and Japanese influences. You can ask for classic cocktails as well as let the staff create something original for you (my recommendation – we are never too old to discover new things). It is right on the port, so if your idea of St Barths is sipping world-class cocktails while watching yachts, this is your place.
Le Sky Bar is another option in Gustavia. You can get cocktails, wine, and nibble on sushi.
Other places to mention:
Quarter Kitchen & Cocktail Lab: Great rum-based options
Rémy Bar at the Eden Rock hotel: No dancing on tables, but chic cocktail ambiance. The one place that is not in Gustavia, but in St Jean.
Fouquet's Bar: It is not yet on everyone's list, so make sure to give it a try as a real insider. Great sunset views over the port of Gustavia. Located at Barrière Carl Gustag hotel.
Partying in daylight:
 

 

View this post on Instagram

 
Head to the beach of St Jean for partying from lunch to early night. Pick your place: Either the Nikki Beach or the beach bar at the Pearl Beach hotel. These two hot spots are separated by her majesty The Eden Rock Hotel, but you can walk on the beach from one place to another.  
The Peal Beach hotel always has some kind of party going on: on Friday nights it's the famous "I Love Fridays" party, with its upscale dining and a live-fire show, on Saturdays, it's Bikini Brunch, an afternoon party reminiscent of Nikki Beach soirees  (only a bit more casual), and finally, Sunday evenings mean a seaside barbecue with live music by island superstars like Robb Tito (Request his famous "St. Barth Song").  
Even in the off-season, the local offshoot of the Nikki Beach jet setter beach clubbing empire has great themed parties on Sundays. This is how Nikki very simply describes itself: "Nikki Beach St. Barth is simplistic in  beauty with all-white plush sun beds, chic drapery and the brand's trademark teepees  throughout the beach club and has become known as the playground of choice for the world's  most well-known celebrities."