Traveling to St. Barts is always amazing as it brings you fresh news, activities and featured topics or conversations from people who talk about our beloved island every week. From famous restaurants, hotels, beaches, luxury shopping, villas and of course, weddings and events, St. Barts had truly become a jewel in the Caribbean bringing only the best in Travel Destination.
Let us do a recap of what news, articles, tweets and photos made it to our Best of Last Week in St. Barts.
St. Barts in the News
Caribbean Hotels Reborn
There are lots of interesting renovations going on in the Caribbean Hotels especially in St. Barts. Famous hotels in the island such as Le Guanahani went into a 4-year renovation to provide you and the other guest the most comfortable and luxurious stay in paradise. Funke Osae-Brown had written on his BusinessDay Page:
St Barths, the Eden Rock has always had an equally polarising effect, its design the embodiment of the individuality of its owners. David Matthews, formerly chairman and CEO of an automotive and finance group, and his family acquired it in 1995 from Rémy de Haenen, who built it in the early 1950s. The 34-key hotel began existence as de Haenen's own two-storey plantation-style home and grew as he acquired small surrounding cottages, resulting in a hodgepodge of bungalows spilling down the rock and along St Jean beach. About a week after Matthews took possession, two massive hurricanes slammed into the island within days of each other. But he shored up foundations, patched roofs and fortified water-treatment systems, and within a few years Eden Rock was a go-to for those lured by the buzz of St Jean (a literal buzz, as charter planes zoom in and out of the nearby airport, banking thrillingly over the bay), the brazen, vaguely rock 'n' roll style of the rooms and suites, and the staff, whom Matthews describes as having "a bit of a grin, a bit of cheek, but also superior competence. We have never enforced much in the way of rules, but we insist on a lot in the way of manners.
Non-Stop Flights from St. Barts to Anguilla
As the population of tourists and guests in St. Barts increase, the demand of daily and none-stop flights are also needed. Luckily,  these demands and requests for none-stop flights from Anguilla to St. Barts had recently been approved. On Twitter, the Caribbean Trips shared this good news to everyone!
Hooray! Anguilla Air Services now has nonstop flights from St. Barths to Anguilla. This makes island-hopping much easier! #askmehow #mixitup

— CaribbeanTrips (@CaribbeanTrips) January 15, 2015
Win a 7-Day Trip to St. Barts
WIMCO share's their Giveaway treat for "Destination – St.Barts" where a lucky winner will have a 7 night stay in the beautiful Caribbean Island of St. Barts, a dinner at Bagatelle and Gourment Groceries.
—12 DAYS—COUNTDOWN FOR REGISTRATIONÂ #DESTINATIONSTBARTHS
ONE LUCKY PERSON CAN WIN:
7 NIGHTS IN ST. BARTHS AT A WIMCO VILLA DINNER FOR 4 AT BAGATELLE ST. BARTHS GOURMET GROCERIES, 24/7 CONCIERGE SERVICE
ENTER BY FEBRUARY 2, 2015 TO KICK OFF YOUR NEW YEAR IN THE SUN.
Things To Do in St. Barts
2015Â Festival de Musique de St. Barthelemy
St. Barts official Music Festival website featured 2015Â Festival de Musique de St. Barthelemy! Amazing performances from famous ballet groups, orchestra, opera and jazz performers come to the island for this spectacular month dedicated to music.
Our January 2015 Festival on the island runs for about two weeks, from January 9 through 25th, 2015. Advanced tickets to performances are not necessary, just come to the island and pay at the door – the old-fashioned way! Or tickets are for sale at the tourist office beginning Monday, January 5. Advance tickets are available for a 10% discount during January 5 through 9 only. A "Season Passbook" is 10% less than individual tickets. Performances are free for children 12 and under. There is NO reserved seating, so arrive early for your favorite seat!
St. Barts Video of the Week
La Bulle Diving Center Introduces The Kayali Wreck Diving Spot in St. Barts
There are several things that you don't usually see in St. Barts and these are some of the most amazing videos that was captured either on land, air, sea or under the sea. La Bulle Diving Center featured this amazing diving site called The Kayali Wreck. The Kayali Wreck had become a home to several speices of fish and other sea creatures that lives in the Caribbean sea or specifically in the seas of St.Barts.
 A marine reserve since 1996, the island offers more than 22 dive sites with ship wrecks, caves, corals, canyons, reefs and many other underwater adventures just a few minutes from the harbor in Gustavia. – La Bulle
Luxury Villa Rental Owner Interview – Thibault Masson of Villa Domingue
St. Barts is the home of more than 300 villas that provides romantic atmosphere and luxury treatments. Each villa provides different style and approach and almost all of them will surely help you rekindle your love, give you an amazing 'home away from home' experience and many more. On this 'Video of the Week', you will discover the wonderful story behind St. Barts Villa Domingue in Pointe Milou in an interview of villa owner Thibault Masson from Vacation Rental Owner's Guide – Steve Sasman.

With a spacious living area that opens its doors to the vast ocean view and a relaxing deck with pool, this place is a perfect getaway if you are going to St. Barts for a romantic vacation. Go and relax in the deck and enjoy a cocktail while you watch the overlooking view of the nearby island and the romantic sunset.
The view is great and what we are trying to do is try to make it a home away from home…
St. Barts Photos of the Week:
Island guests and locals love to show off the beauty of this small Caribbean island. This is because every angle of St. Barts is a high quality postcard. To name a few, we have the beauty and uniqueness of Shell Beach or Anse de Grande Saline, which is named after the large salt pond near it and is famous for its white sandy beaches and privacy. Below is one of the most famous beaches in St. Barts. St. Jean had always been the favorite destination in St. Barts because of its crystal clear water, smooth sands and popular restaurants that is only a few steps away from the beach. In this photo, we can see the famous Eden Rock Hotel, known for its luxurious rooms and villas such as Villa Rockstar as well as the popular 'Sand Bar' and 'On the Rocks'
Sunset in St. Barts is always magnificent and romantic. That is why most tourist and guest residents prefer to have their 'Wedding Destination' here. The beautiful sunset and the splendor the the whole island is a perfect combination to rekindle the love of couples who are spending their honeymoon in a romantic villa, renewing their vows in 5 of the Best Beaches for Honeymoon in St. Barts or just dipping and spending sweet moments together in one of Lurin's vacation villas.
St. Barth Restaurants had become a legend in providing extraordinary culinary masterpiece. The staggering Sand Bar and On the Rocks in Eden Rock Hotel with their Master Chef Jean-Georges Vongerichten made dining experience luxurious and unforgettable. Even the vegetarian dish 'Portobello mushroom with shaved Reggiano' in L'isola is becoming an island guest's favorite. Famous restaurants such as Le Gaiac in Hotel Le Toiny, Bonito, Do Brazil and popular Christmas food destination Maya's are just few of the restaurants that made St. Barts a food paradise.
Celebrity Sightings:
Celebrities love St. Barts and they consider this island their escape route from the massive paparazzi who follows them everywhere. Although paparazzi are still present in the island, celebrities doesn't seem to mind them since there are only a few. This give the celebrities a time to party hard as they like or lounge around the beaches or even have a quite moment and reflect about their private life. Here are some celebrities that have been sighted lately in St. Barts.
"Rihanna CoPilots leaving St Barth lol"
Leonado DiCaprio spent his New Year in St. Barts
Leonardo DiCaprio, captivated many eyes in the social network where he was seen-
Spending his glorious days in the beach with a bikini clad.
DiCaprio spent his wonderful days in St. Barts since New Year in the famour Ultralux Villa Rockstar in Eden Rock.
Victoria Silvstedt, 40, wows in orange string bikini as she soaks up the Caribbean sunshine on St Barts getawayÂ

It's more than 20 years since Victoria Silvstedt shot to fame, after making it to the top 10 while representing her native Sweden in the Miss World pageant in 1993.

And the blonde beauty proved she's just as stunning now at 40, as she displayed her svelte bikini body while holidaying on the French Caribbean island of St Barts on Thursday. – Ryan Smith for Mail Online
St. Barts Restaurant of the Week:
Bringing up the Latin-American flavor fused with the island's flavor is Boca Loca. Gustavia's bar and grill house La Boca Loca serves mouthwatering portions of tender grilled meats, tacos and the tastiest parfaits for your sweet tooth . On this 'Best of Last Week', La Boca Loca's Master Chef Julian Larre shares his St. Barts restaurant story and how he ended up creating wonderful memories for his diners inside the Boca Loca's Kitchen.
"Julian Larre is the man behind the awesome @BocaLoca#StBarth kitchen!" #mexicanfood#stbarth#restaurantpic.twitter.com/H2UQxvLiic — SaintBarth.com (@SaintBarthcom) January 17, 2015
 St Barts Hotel of the Week:
Hotel Le Toiny is the perfect place for you to unwind and experience luxury in the island. It offers only the best services in St. Barts Hotels as well as mouthwatering cuisine in their famous restaurant Le Gaiac and La Table de Jules.
FODOR'S REVIEWÂ
The privacy, serenity, and personalized service pleases the international mogul set; it's remote, but you never have to leave if you don't want to. Rooms have all the conveniences of home. Breakfast is brought to your terrace each morning, spa services can be provided in your villa, or you can wander over to the new spa cottage. Sunday brunch and haute cuisine can be had at the alfresco restaurant, one of the very best on the island, which overlooks the Italian-tile pool. New owners added a walking trail that leads to a small private beach, but you really can't swim in the rough water there. There is a small but state-of-the art fitness center.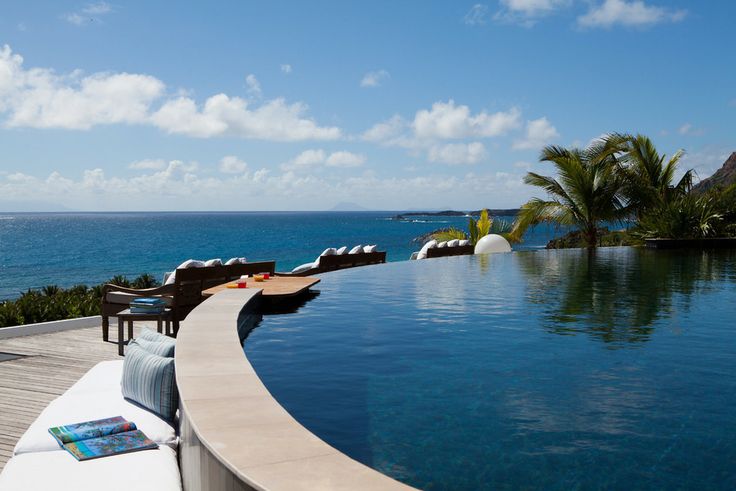 St Barts Villa of the Week:
St. Barts is an island that is occupied by 322Villa Imagine in Marigot offers chic and contemporary interiors with a dash of class and luxury.
St. Barth Properties Hillside in Marigot, this luxurious three bedroom villa is poised over Grand Cul de Sac and lays claim to dramatic views of the lagoon's turquoise waters and the ocean beyond. Chic and modern in design and décor, Its breezy open floor plan includes a spacious comfortable living room – which functions nicely as home cinema – and a sleek well-equipped kitchen.
St Barts Beach of the Week:
One of the most amazing and popular beaches in St. Barts is Anse du Gouverneur.  The amazing view, white sand beach and crystal turquoise water makes it a "Go To" for guests.
Anse du Gouverneur provides a perfect blue water and romantic scenery. Although there is nothing much to see here, it is a perfect spot if you are in St. Barts for your honeymoon or renewal of vows. And, although there are no hotels in Anse du Gouverneur, the ideal way for you and your love ones to stay and watch the sunset together is by anchoring your boat or rent a villa that is perfect for honeymoons, where you can see a clear view of the ocean and the sunset.
There are lots of things that you can do when you visit St. Barts and every week gives you different reasons to go there. These are just some of the best reasons why you should visit St. Barts as soon as possible or have it in your next Vacation list!