There are two murder mystery novels that take place on St Barts Island; they're called "St. Barts Breakdown," and "Murder in St Barts."
St Barts Island :: "St Barts Breakdown"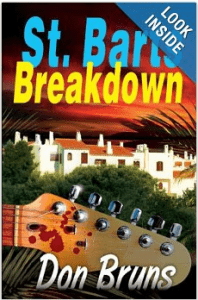 Written by Don Bruns, this story involves a famous musician that's had one to many girlfriends go missing.  When a rock 'n roll jounalist heads to the island to interview him, he has a few nearly fatal incidents.  He begins to wonder if his next published article is going to be his obituary.
In "Murder in St Barts," an American designer is found murdered on the island. It just so happens that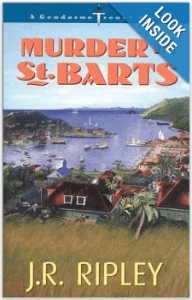 the island has recently inherited a gentleman from the Gendarmerie Nationale, who speaks a bit of English, and is therefore automatically assumed to be the best investigator for the case.  The story takes you through his case, and to its conclusion in a very easy read.
Although neither of these books are literary works of genius, they do take place on the island, and it's funny to read them while you're soaking up the sun on Shell Beach or enjoying a cold beverage while sitting at Saline Beach!
The island is so small that you know exactly where the action is supposed to be taking place.  If you've ever been to the island, you may find these a quick read that will take you back to some of the places you enjoyed the most during your stay.  If you read these before you come visit, you can play detective yourself and be on the lookout for any discrepancies between the books and St Barts Island itself!