St Barts may be a tiny island, but there is always something happening here. Soon, the 2015 St Barths Bucket Regatta and the 2015 edition of Les Voiles de Saint Barth will be taking place around our little island of Saint Barthelemy. Social media chatter is getting higher, as amazing yachts will be competing again in every St Barts Regatta 2015. This week's roundup is not just about sailing, but also about arts as several exhibitions are taking place on the island.
1. St Barts in the News
1.1. The 1st St Barts Regatta 2015 is coming
Australian sailing website MySailing.com.au is featuring a long article about the upcoming 6th edition of Les Voiles de Saint Barth. The much anticipated epic battle between yachts Comanche and Rambler 88 is the center piece of the article:Â Comanche v Rambler 88 at Les Voiles de St Barth.
When it comes to regatta headlines, nothing beats having Comanche and Rambler 88, the yachting world's two newest and most sophisticated (a.k.a. mind blowing) racing machines, compete head-to-head for the first time ever. Add to that a slew of famously talented sailors on teams rounding out to 75 or more against the postcard-perfect backdrop of St. Barth, with its ever-blue water, dependable trade winds and relentlessly active shore life, and you have the developing story of the sixth annual edition of Les Voiles de St. Barth, scheduled for April 13-18, 2015.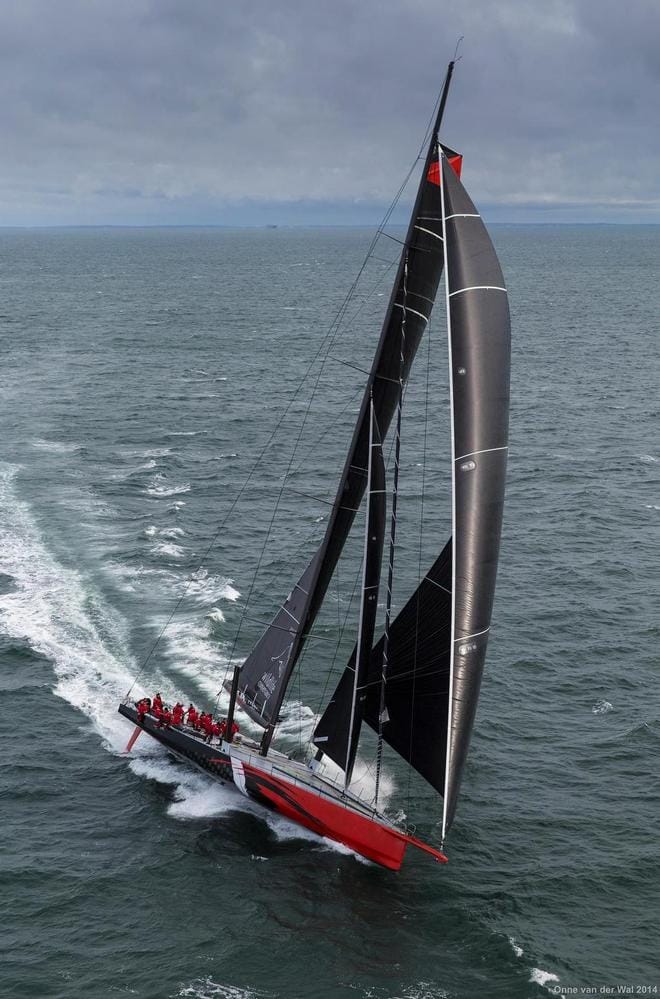 1.2. American Artist Nicole Etienne's Menagerie Exhibition at Space SBH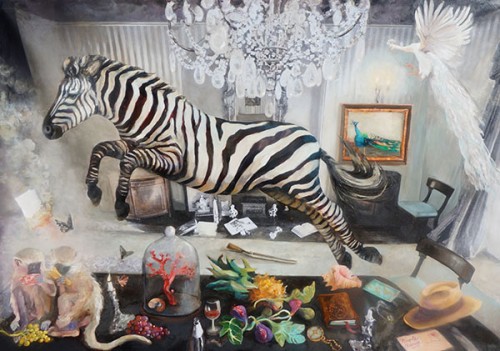 American artist Nicole Etienne shows her "Menagerie" paintings atSpace SBH, a contemporary art gallery located in Gustavia. Show runs 12th -24th February 2015.
In this series of paintings, Etienne has created her own menagerie –  a sumptuous feast of animals, colour, beauty and opulence, as is characteristic of her style. These imaginative pieces are wild and exciting. The compositions mix these exotic animals set in what would otherwise be ordinary but elegant interiors, setting the scene for the animals to bring a beautiful chaos.
Space SBH – Contemporary Art Gallery
Carré D'Or – Gustavia – St Barthélemy – French West Indies
1.3. Valentine's Day: Kate Kova at St. Barts Ortega Art Gallery
On Valentine's Day, at Ortega Art Gallery in Gustavia, artist Kate Kova welcomed lovers with a glass of champagne. Her trademark "Red Apples" series was the highlight of the event, but she also featured other kind of works, such as paintings of the port of Gustavia.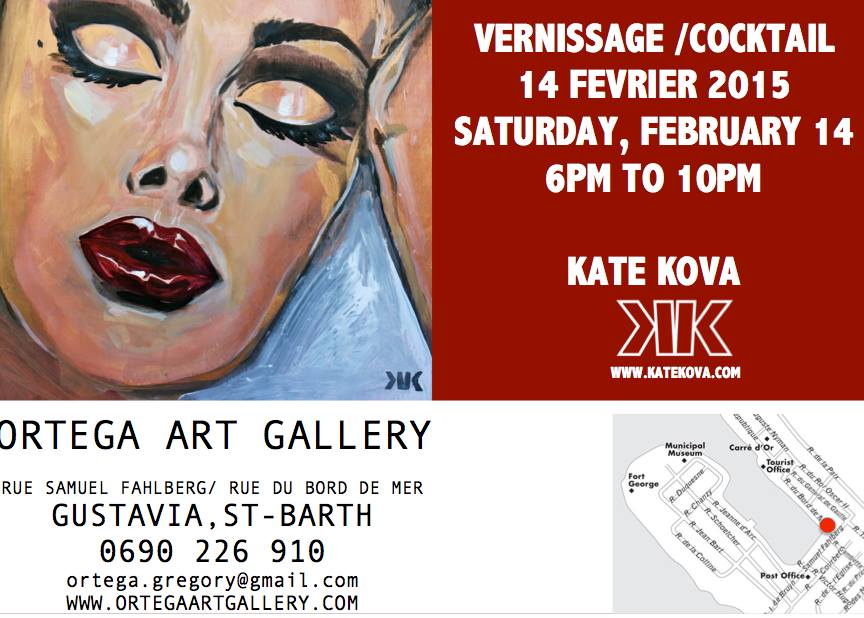 2. St Barts Style in Social Media
2.1. Riding the brand new Moke in St. Barths
Check out the New #Moke in #StBarts– Shipment arriving in #StKitts in a few weeks pic.twitter.com/V7dHcMxQOd

— Moke International (@The_New_Moke) February 16, 2015
 
2.2. Flying from Antigua to St. Barths on Pilatus
Flying @VirginAtlantic to Antigua today, then to St Barths on a Pilatus PC12 with Tradewinds – booked via @flyvictor pic.twitter.com/Q5dEOceHdc — Clive Jackson (@CJ_flyvictor) February 14, 2015
 
2.3. You, Me, St. Barths … Love
LIFE ROCKS !!!! LOVE & SUNSHINE from ST BARTHS pic.twitter.com/8yZrsbNOMl — Shawn SWIM Pereira (@ShawnTeam) February 13, 2015
3. St. Barts Video of the Week
 Whale Watching by Voyager St Barth
This spectacular video shot by local ferry company Voyager St Barth shows a whale playing in the surface of the Caribbean sea. Whales are better seen around St Barts in December, January and February.
4. St. Barts Photos of the Week
The Eden Rock – St Barths is the most famous hotel on the island. Even if you do not stay there, you can have lunch on the private beach of the Eden, at the Sand Bar. This week's favorite was Burratina, Tomato, Olive Oil and Balsamic Vinegar by Chef Jean-Georges.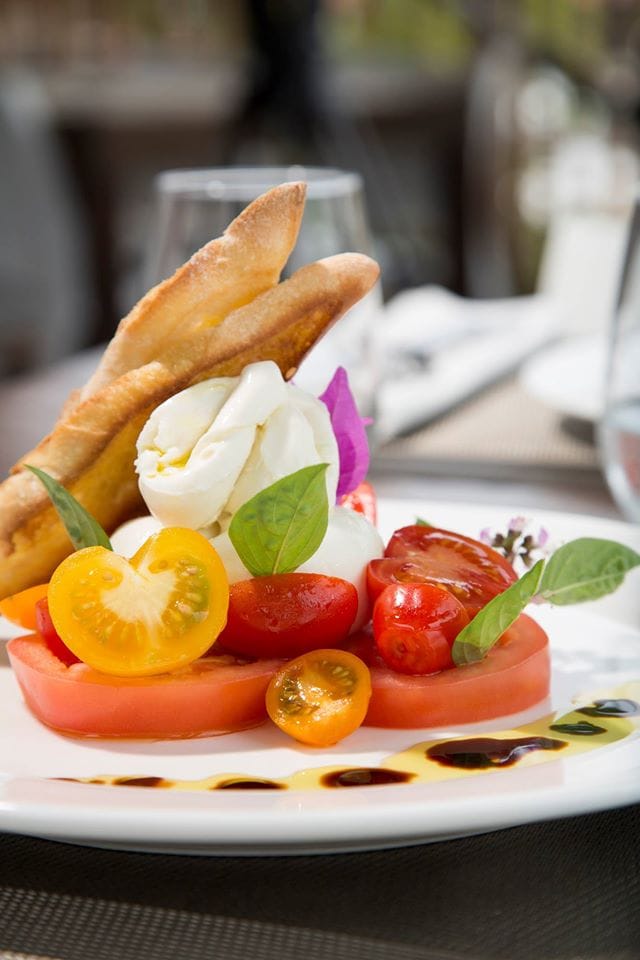 St. Barts Hotel of the Week
For more than 60 years of spectacular services and 5 star accommodations, Eden Rock Hotel in St. Barth was chosen as the Number 1 Best Hotel in St. Barths by US News for 2015. This luxury hotel sits in a well-known location, the rock in St. Jean Bay, that provide tourists an access to a pristine beach, a coral snorkeling area, parties on the beach, gourmet and brunch stations.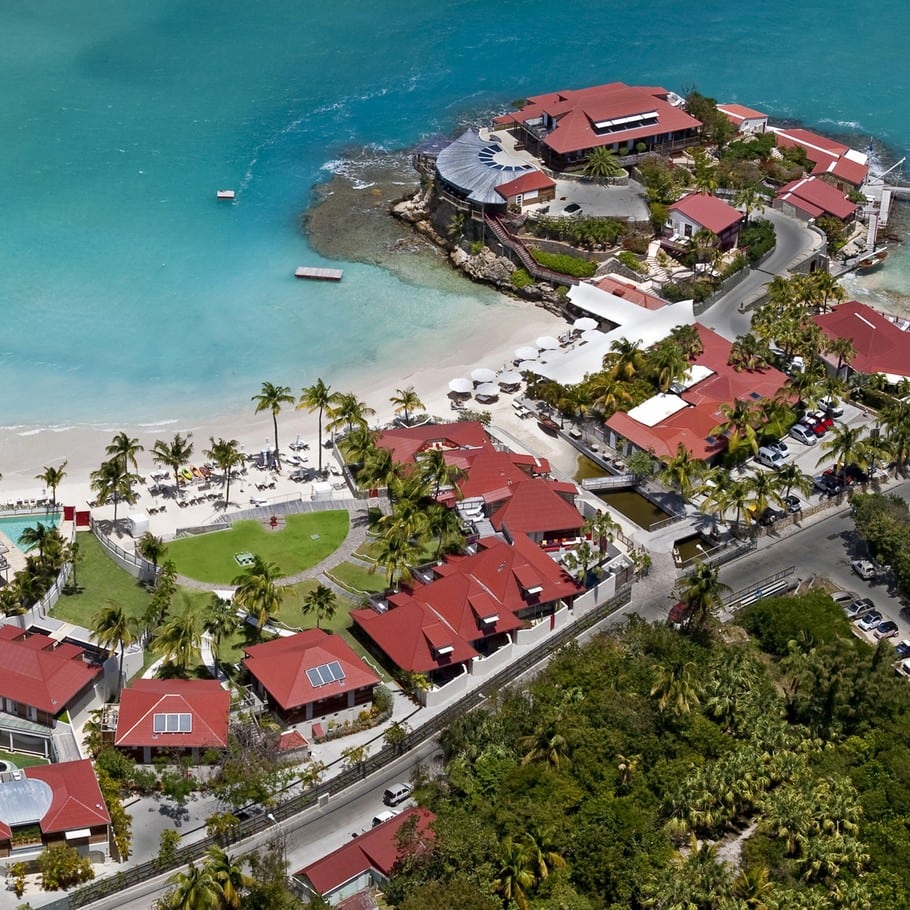 St. Barts Villa of the Week
Last week, my very own Villa BelAmour was featured several Caribbean travel blog such as Caribbean Journey Weddings, Uncover Your Caribbean and Travel2theCaribbean.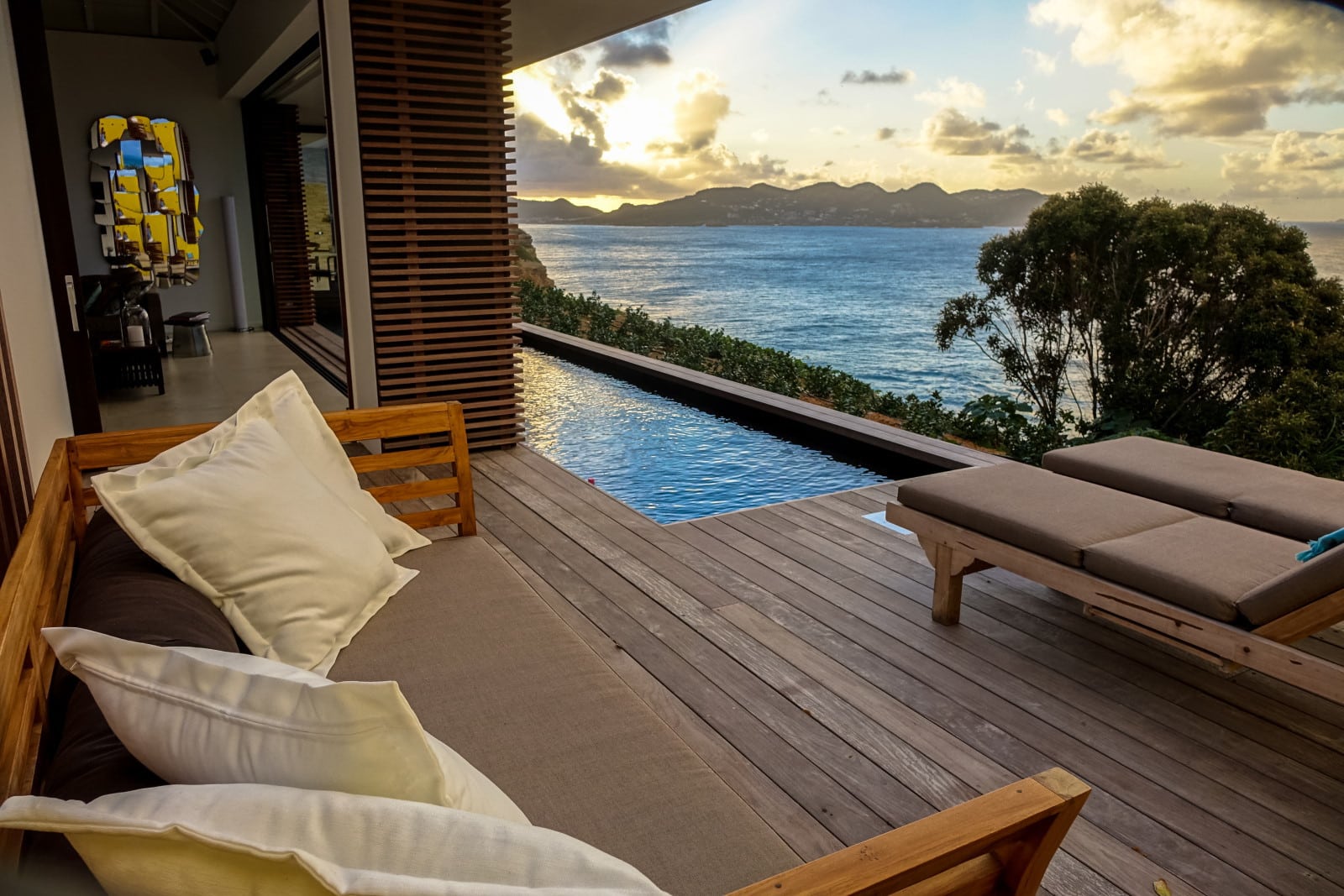 St. Barts Beach of the Week
Gouverneur beach may not be as famous as Saline, but its turquoise water is really amazing. I love going there early morning; It is popular with local families on Sundays.