Short update: It is May 20, 2022, and we are happy to confirm that St Barts is now open if you meet certain testing and/or vaccination criteria. On the island, most COVID-related restrictions are over (no more curfew, restaurants open hours back to normal, no need to show vaccination proof to enter restaurants). Entry is easy for US travelers and now for UK travelers too.
Longer update about the relaxing on on-the-island restrictions:
On April 1, 2022, the French government has relaxed almost all on-the-ground restrictions in St Barths:
M

andatory mask-wearing

remains only at the hospital, in pharmacies, on planes, and on ferries.
COVID-19 requirements cheat sheet for US, Canadian, European, UK, and most South American travelers to St Barths (all countries on the green list – see the map below)
St Barths vaccination and testing requirements
if you are fully vaccinated, you do not need anymore to provide COVID-19 test results.
if you are not vaccinated, you need to show either a negative PCR test taken within 72 hours or an antigen test taken within 48 hours before the departure flight to St Barths
St Barths entry requirement for children and teenagers:
Children and teenagers under the age of 18 traveling with their vaccinated parents do not need a vaccine to enter St Barths, and travelers younger than 12 are exempt from testing.
Children and teenagers aged 12 or older traveling without their parents must be vaccinated or provide a compelling reason for travel.
US travel advisory for St Barths:
The CDC has put back St Barts to Level 3, the highest level possible: "High Level of COVID-19 in Saint Barthelemy".
The CDC's advice is: "Avoid travel to Saint Barthelemy."
Return from St Barths back to the US
Before boarding a flight to the United States, you are required to show a negative COVID-19 test result taken no more than 1 day before travel. (several pharmacies on the island offer the option, among which is the one across the St Barths airport).
Traveling through SXM / Sint Maarten airport? You still have to fill in the EHAS form.
While travel requirements have relaxed everywhere, you still need to go to the St Maarten official site https://stmaartenehas.com/ to fill in the Electronic Health Authorization System (EHAS) form. Then you need to wait AT LEAST 12 hours for the local authorities to email your final authorization back to you. Then, you need to take it with you (tip: Print it).
St Barths reopening: Borders are still open
The French authorities officially have relaxed the entry conditions to St Barths. Yet, some restrictions are still in place. Here are the rules as of May 20:
Vaccinated travelers no longer need to present any test. Proof of complete vaccination is sufficient to arrive in Saint Barth, regardless of the country of origin.
For unvaccinated travelers, the obligation to present a negative test to travel to France remains, but the measures on arrival (test, isolation) are lifted when they come from countries on the green list (see below the list of countries).
When unvaccinated travelers come from a country on the orange list, they must continue to present a compelling reason justifying the need to come to Saint Barts.
Understanding the requirements: Green vs Orange countries- As of 31 March 2022
The requirements depend on whether your departure country has been classified as:
GREEN: (no active circulation of the virus, no variants of concern identified): European Union countries as well as Andorra, Iceland, Liechtenstein, Monaco, Norway, San Marino, Switzerland and the Vatican, as well as Angola, Argentina, Bahamas, Bahrain, Bangladesh, Belize, Benin, Bhutan, Bolivia, Botswana, Burkina Faso, Burundi, Cambodia, Cameroon, Canada, Cape Verde, Colombia, Comoros, Congo, Saudi Arabia, South Africa, Ivory Coast, Cuba, Djibouti, Ecuador, Egypt, Eswatini, Ethiopia, Fiji, Gabon, Ghana, Guinea, Guinea Bissau, Honduras, Hong Kong, Mauritius, India, Indonesia, Iraq, Jamaica, Japan, Kazakhstan, South Korea, United Arab Emirates, United States of America, Kenya, Kuwait, Laos, Lesotho, Madagascar, Malawi, Mauritania, Morocco, Mozambique, Myanmar (formerly Burma), Namibia, Nepal, New Zealand, Nicaragua, Niger, Nigeria, Oman, Pakistan, Panama, Paraguay, Peru, Philippines, Qatar, Uganda, Democratic Republic of Congo, El Salvador, Rwanda, Saint Kitts and Nevis, Samoa, Senegal, Seychelles, Sri Lanka, Sudan, South Sudan, Taiwan, Tanzania, Chad, East Timor, Togo, Tunisia, United Kingdom, Vanuatu, Venezuela, Vietnam, Zambia, and Zimbabwe.
ORANGE (also called AMBER): All the countries not in the list above, such as Russia.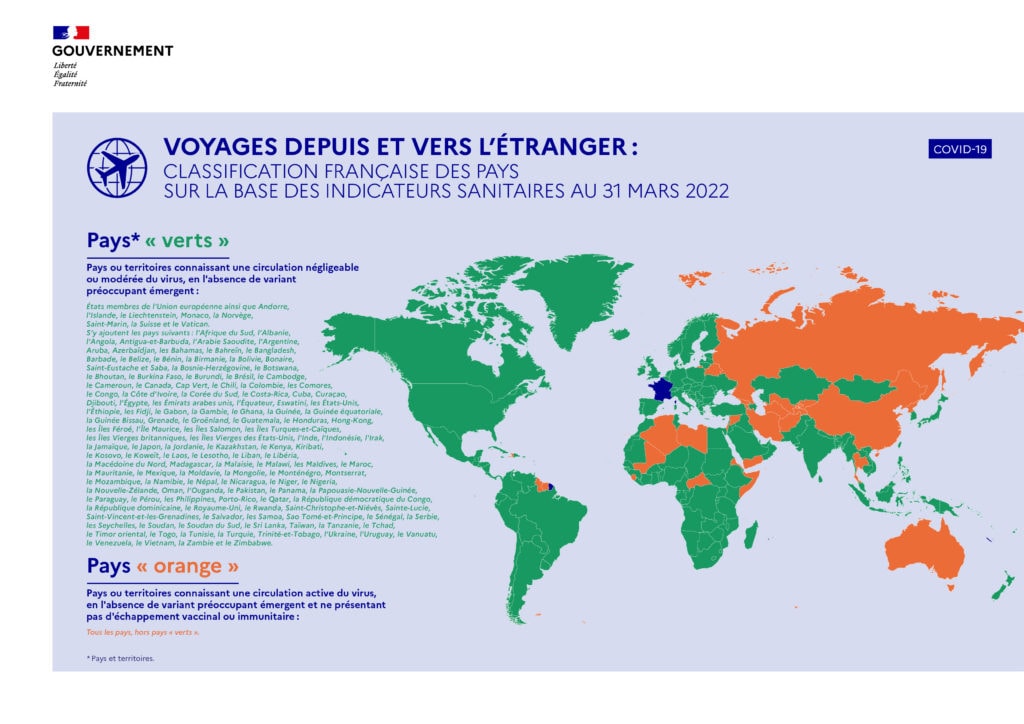 Important note #1: What does "fully vaccinated" mean in the eyes of the French authorities?
You need to be able to show proof of vaccination and observe a time lag between your last shot and your arrival on the island. Precisely:
2 weeks after the 2nd injection for double injection vaccines (Pfizer, Moderna, AstraZeneca) ;
4 weeks after the injection for vaccines with a single injection (Johnson & Johnson);
2 weeks after injection (only one injection required) of a vaccine in people with a history of Covid-19.
Important note #2: How about children and teens?
We are getting a lot of questions from families, so we found it important to clarify the process. As per the note of the President of the St Barths Tourism Bureau:
Visitors under the age of 18 do not need to be vaccinated (from 10 to 18: no vaccine, but test required)
Visitors under the age of 12 do not need to get tested (under 10: no vaccine, no test)
---
Better news for US travelers: Easier re-entry into the US but St Barth is back at Level 3 on the CDC travel advisory board
---
You can come in as long as you follow the steps explained below. It is great to see that our island of Saint Barthélemy has now moved towards a full official re-opening.
St Barths: Digital health pass / copy of CDC card no longer needed anymore to visit restaurants and bars
Since mid-March 2022, you do not need a health pass in St Barts if you are going to a restaurant or a bar.
---
Key to all travel restrictions lifted: The success of the St Barths vaccination drive
As usual, the local St Barths authorities are using the island's small size and good logistics to get things done fast; just as they did after Hurricane Irma struck the island.
As of May 2022, the vaccination rate in St Barths is:
87% of the adult population with at least 1 vaccine short
84% of the population with at least 2 vaccine shots
55% with a booster shot.
St Barts travel advisory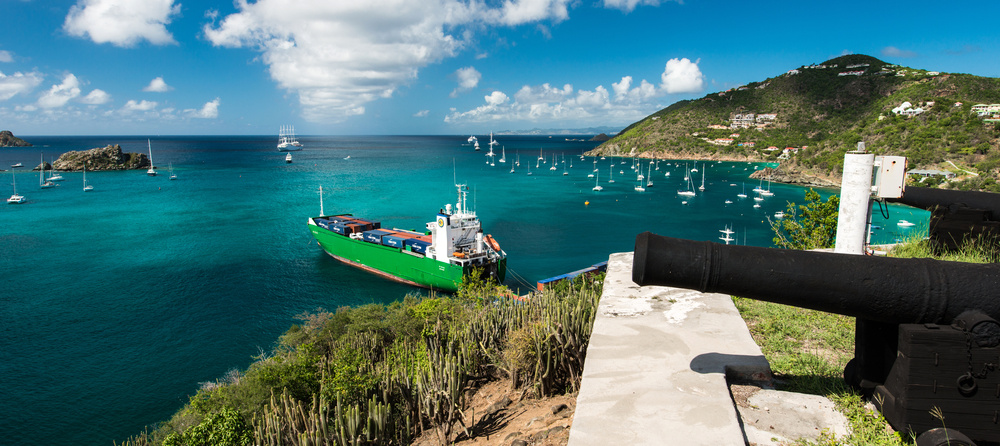 Is St Barths open for travel and tourism?
Can you travel to St Barths right now? Yes, you can, provided you are fully vaccinated and you are either on the green or orange list of countries
Due to COVID-19, you need to know about travel restrictions in St Barths, as well as from and back to your own country. We will focus here on the US, Canada, and France, where most of the island's guests are from.
Are people traveling to St Barth's right now? Yes, they are, but they need to be vaccinated against COVID-19 or show a negative COVID test result.
Yes, people are traveling to St Barths. St Barths is proving to be a popular spot for US travelers, for the second year in a row.
What is the official U.S. travel advisory for St Barths?
As of early May 2022, this is what the CDC was showing for St Barths:
Level 3: High Level of COVID-19 in Saint Barthelemy
Make sure you are up to date with your COVID-19 vaccines before traveling to Saint Barthelemy.
If you are not up to date with your COVID-19 vaccines, avoid travel to Saint Barthelemy.
Is St Barts on the quarantine list?
US travelers: No, St Barths is not on the quarantine list. The CDC has put St Barths on Level 4 for high risk, but no quarantine is required
UK travelers: No, St Barths is not on the amber / quarantine list, travel restrictions were lifted on October 4. The United Kingdom is now letting fully vaccinated travelers return to the UK, with no quarantine (testing requirements apply).
St Barts COVID test entry requirements, rules, and restrictions
The local St Barths authorities have invested early and heavily into testing and vaccinating the population.

St Barts COVID testing centers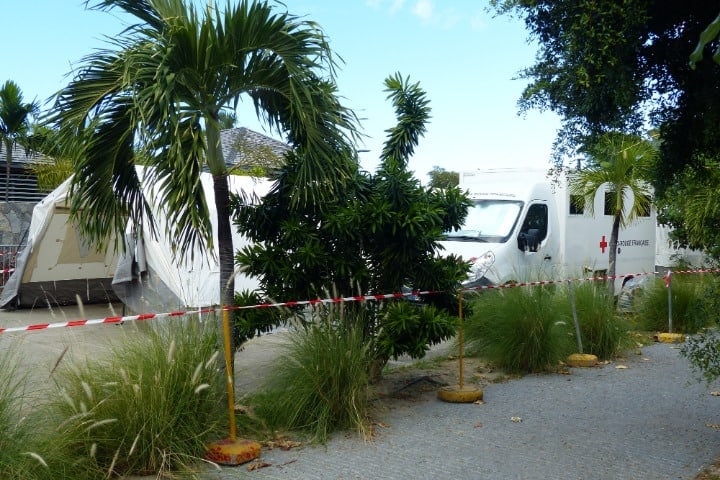 COVID-19 testing centers located on the island of St Barths:
PCR , RT-PCR, and Antigen, run by the local authorities, the Red Cross, and the French health authorities: The COVID-19 drive-through testing facility is located in the Saint-Jean parking lot in front of the cemetery. Note that only non-resident travelers can get an Antigen test there (cost: €40).

Monday to Friday from 8:00 am to 1:45 pm, please arrive before 10:45 am for the RT-PCR test
Saturday from 8:00 am to 11:45 am, please arrive before 9:45 am for the RT-PCR test
The testing center is closed on Sundays and holidays.

Antigen tests are available at local pharmacies
PCR test: Symptomatic persons or contact cases are invited to be tested by PCR at the Bio Pôle Antilles laboratory in Gustavia, open from 12 to 1 pm from Monday to Friday and from 9 to 10 am on Saturday.
A few resources you need to get checked in the US prior to coming to St Barths
What if you are connecting to St Barths (SBH) via Sint Maarten / Saint Martin (SXM)?
For updated travel requirements to St Maarten (Dutch side), visit the official site: https://stmaartenehas.com/
The application must be completed in order to be processed. This includes proof of a negative COVID-19 test result, information on the vaccination status (including proof of completed vaccination in case fully vaccinated) and the purchase of the mandatory COVID-19 insurance in case required. Children must have the online health form filled out by their parents. Provide a working email address on which you are reachable.
No more COVID tests since November 1 2021, if you are vaccinated.
If you are traveling to St Barts via St Martin, you will also be required to complete an application form for entry to St Martin and submit it before your departure, along with information on your COVID-19 test results.
Sint Maarten requires that everyone completing an application form purchase a $30 medical insurance policy, but this is NOT necessary if you are not spending the night in St. Maarten. You can find the form online at https://stmaartenehas.com/application-form/ .
Please note that you will also need to apply for entry to Sint Maarten on your return flight, although no additional testing is required.
Before boarding, you will have to show proof that you respect St Barths's entry requirements (i.e., a negative rt-PCR test within 24 hours + vaccination proof). See above our paragraph about St Barths requirements for more details.
What if you are connecting to St Barths (SBH) via San Juan / Puerto Rico (SJU)?
If you are traveling to St. Barts via the San Juan airport (SJU), you do not need to fill out the online travel request form required to travel to Puerto Rico.
You may need to show your negative Covid-19 test result and vaccination proof. You can then connect to your flight to St. Barts.
The same applies when you travel through San Juan on your way home.
Mask-wearing and social distancing rules in St Barths
Locals and visitors are no longer required to wear masks indoors (e.g., boutiques, supermarkets).
People are no longer invited to practice social distancing. For instance, restaurants have reduced their capacity to provide more space between tables.
St Barts COVID numbers (April 2022 update): Coronavirus cases, COVID rate of infection, and risk level
Here's an infographic from the government website / Préfecture de Saint Barthélemy et Saint Martin from May 11, 2022: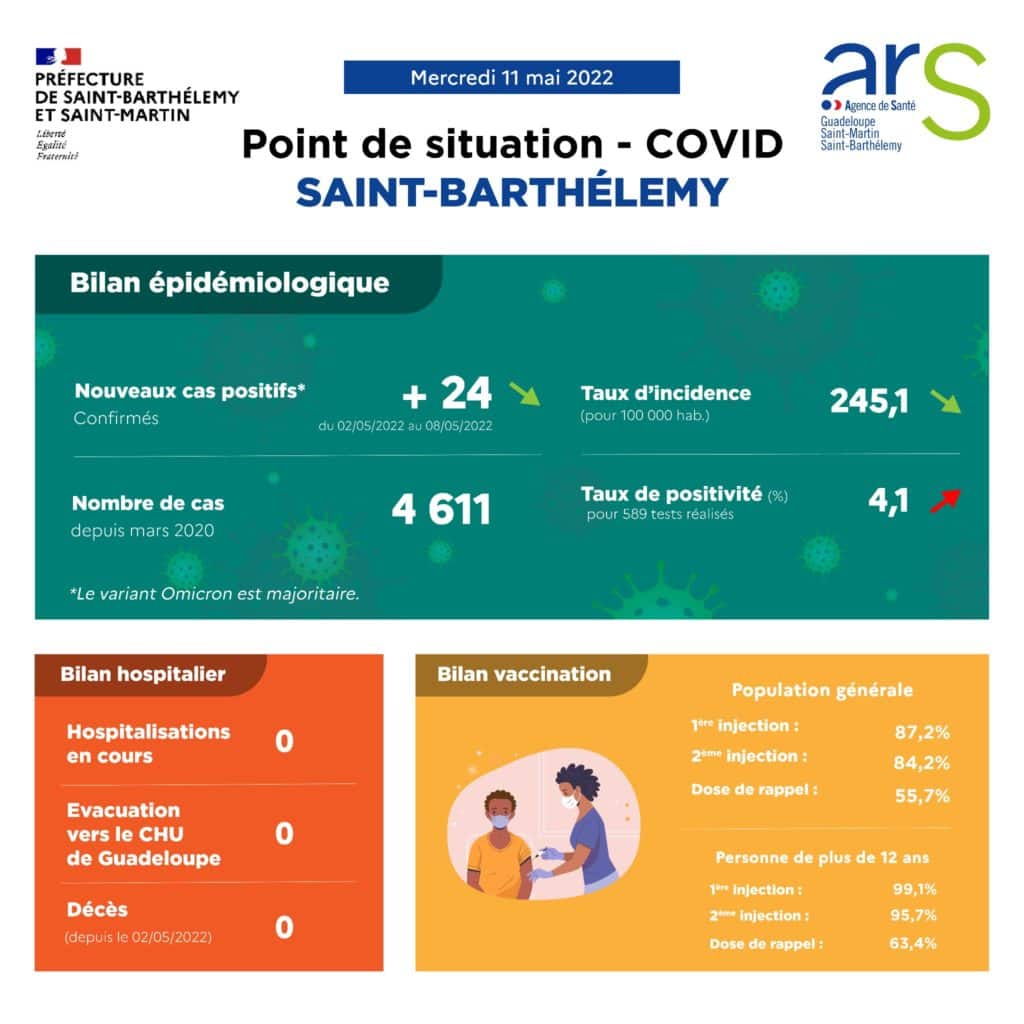 Here's how it reads:
New COVID cases in St Barts from May 2 to May 8: +24 (downward trends)
Total number of COVID cases on the island since March 2020: 4,611
0 people at the hospital
0 death since May 2
These are the official coronavirus data SINCE THE START of the pandemic in March 2020. As of early May 2022, the number of new infections is decreasing again, but no one is currently hospitalized.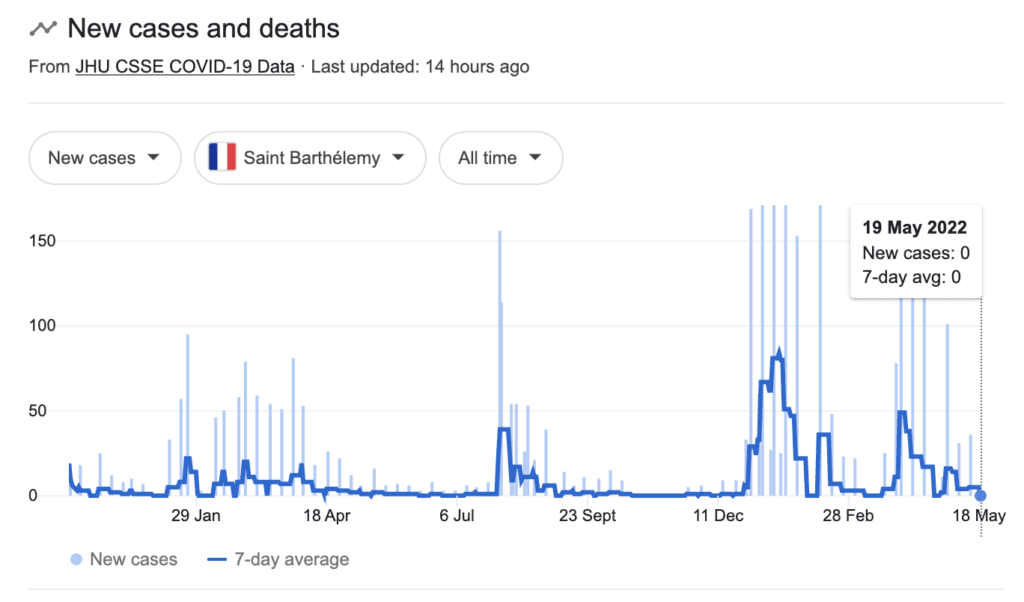 Since the first case of COVID-19 has been recorded in St Barths in March 2020 (Source: COVID-19 Data Repository by the Center for Systems Science and Engineering (CSSE) at Johns Hopkins University):
From March 2020, up until early May 2022: 4,616 COVID-19 cases
From March 2020, up until early May 2022: 6 deaths were attributed to COVID-19
The St Barths COVID numbers are increasing slightly since all restrictions were lifted but at a controlled level.
Note that the local population has access to free COVID testing, which helps track cases earlier. It also results in higher figures than on nearby islands with less access to labs. The island's authorities are very reactive and organized. They can also count on a resourceful and resilient population, as proven by the fast recovery after hurricane Irma.
When looking at the data, you see several trends:
The first wave of coronavirus COVID-19 hit the island in April 2019, right at the end of the high season. A strict local lockdown in May and the absence of inbound tourists stopped the virus from spreading.
In fall 2020, as the season was about to re-start, more hospitality workers and visitors started arriving.
Despite a very busy 2020 Thanksgiving in St Barths, the number of cases remained under control.
A busy New Year's Eve led to a stark increase in the number of cases (+100 cases in 2 weeks), but things are stabilizing again.
The French authorities in Paris were nervous as another French Caribbean island, Guadeloupe, has seen a rise in cases. In early March, a curfew was imposed in Guadeloupe, but not in St Barths where things remain open.
Since mid-April 2021, some travelers are welcome to the island again, provided they follow the entry steps detailed at the beginning of this article.
In early August 2021, new lockdown / curfew rules were in place, as the Deta variant is increasing case numbers among unvaccinated youger people.
Since September 1, restrictions have been lifted, as the health data has notably improved.
As of early November, the number of cases wend down. The health pass / QR code remains in place.
Durng the Christmas and New Year's Eve season, the flow of tourists and the number of well-attended parties by locals and travelers combined to create a new wave of cases. The difference with 2021 is that 70% of the population is vaccinated, which limits hospitalization numbers so far.
In March 2022, the situation looks under control and most restrictions have been dropped.
As of April 2022, cases are rising again, with the lifting of all restrictions. Yet, no one is being hospitalized for COVID in St Barths.