It is April 2021, and we are sad to confirm that our island of Saint Barthélemy is still closed for travel and tourism. In short, everything is open on the island, yet tourists cannot enter anymore, and public events like the St Barths Bucket regatta have been canceled.
April 9, 2021 update on St Barts travel restrictions
On March 3rd, 2021, the Préfet, who represents the French government, confirmed that St Barths was staying closed to non-essential travel (e.g. tourism). The French and St Barths authorities have agreed to re-open the island once a massive vaccination drive has been conducted. The officials are targeting mid-May 2021 to reopen the island to travelers.
The number of COVID cases has stabilized in St Barths (see our data tracking at the bottom of this article). The number of cases has been dropping and vaccination is slowly ramping up.
The island's testing capacity is high, as the local authorities understand the need to protect the population, show to the French government in Paris that things are under control, and get the borders re-opened to travelers.
The vaccination campaign has started, and more than 788 locals have received at least their first shot.
Travel and testing requirements since February 2021
Since February 3, 2021, new travel restrictions due to the COVID-19 pandemic and imposed by the French government in Paris have kicked in. They are making it harder for tourists to reach our shores. The local St Barths authorities are fighting it hard to relax these new restrictions applicable on all French territories. Yet, the number of cases has risen after a very busy New Year's Eve season.
In a nutshell, here are the travel and testing requirements to enter St Barths:
Travel to and from St. Barths and the French side of St. Martin is limited to travelers who can demonstrate "compelling reasons

" for it:

of a personal or family nature,
emergency health care,
or professional activity that cannot be postponed.

A sworn statement and one or more documents to prove compelling reasons must be presented at the time of boarding.
Travelers are also required to present a negative COVID-19 rt-PCR test (nasopharyngeal preferred, nasal also accepted) taken within 3 days prior to arrival in St Barths. Antigen tests are no longer accepted.
Children age 10 or younger are exempt from this requirement.
Download the certificate of travel to St Barths and France for compelling reasons ("Attestation de déplacement et de voyage")
The French government has issued a document that you must fill in. This attestation for entry to St Barths lists acceptable reasons for travel, the sworn statement that you must make, and the supporting documentation required.
The document's official name is "Certificate of travel for compelling reasons to metropolitan France from a country outside the European area classified in an infection circulation area for citizens of third countries.
The French government has a list of documents you have to fill in, depending on your citizenship and destination on this official page.
To save you time, we have collected 3 forms from this site:
Our advice with the current travel restrictions to St Barths
Visitors who are on the island are free to either leave when they were supposed to or to extend their stay, as confirmed by the French authorities ("Préfet de Saint-Barthélemy et de Saint-Martin")
Visitors who have upcoming reservations for March should contact their travel agency, travel insurance company, villa rental management company, or the villa owner.
Will these harsher travel restrictions be lifted soon?
In 2020, the St Barths authorities managed several times to overturn blanket travel bans imposed from Paris when the pandemic data on the island were backing up their claim that Paris' travel restrictions should differ from those imposed in Gustavia. We'll keep you posted as things change.
The local St Barths authorities have been extremely fast in investing in rapid test devices since March 2020. On top of that, social distancing and mask-wearing have been made mandatory, following French law. Yet, no lockdown and no curfew in St Barths these days, unlike in Mainland France or some other Caribbean destinations. The vaccination campaign started in St Barts in late January 2021.
If you are thinking about traveling to St Barths, here are official rules and data to help you make the right decision for yourself:
St Barts travel advisory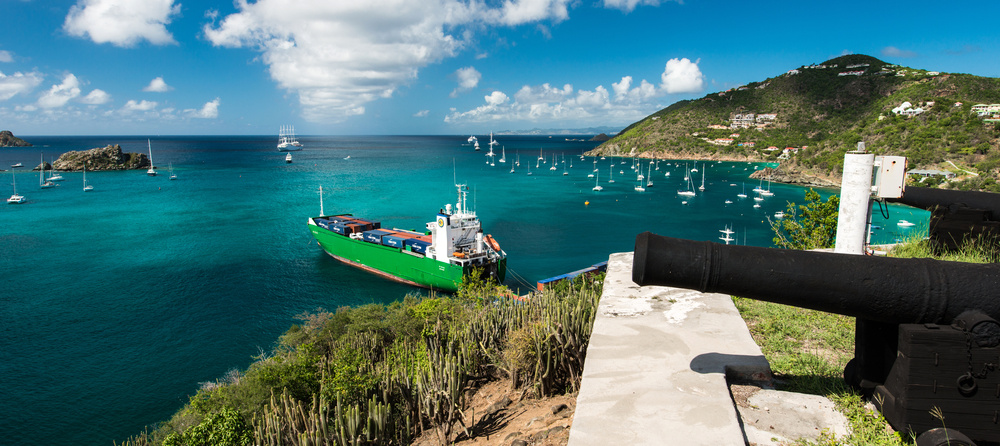 Is St Barths open for travel and tourism?
Can you travel to St Barths right now? No, you cannot. From June 22, 2020, to February 3, 2021, St Barths had been reopened to travelers and tourists. For the moment, travelers from the US, France, and any external territory cannot enter unless they have "compelling reasons" to do (see above)
Due to COVID-19, you need to know about travel restrictions in St Barths, as well as from and back to your own country. We will focus here on the US, Canada, and France, where most of the island's guests are from.
Americans and Canadians had been able to come back to St Barth's since summer 2020. It stopped on February 3, 2021. While Europe was mostly closed to US travelers, St Barths had remained one of the few French territories to be open to North Americans. The local St Barths government had been very active in getting the right to welcome its loyal American tourists. As our island sits in the Americas and has close economic and human connections with the US, it made sense to make St Barths open for travel and tourism.
Are people traveling to St Barth's right now? No, they are not. Unless they have urgent and compelling reasons to do so.
Over the year 2020, the number of airport arrivals managed to reach 118,813, a 35% drop compared with the record year of 2019. Overall, airport and port trafficked picked up again in summer 2020 and in October. The island was mostly closed off from April to May. Thanksgiving 2020 and Christmas / New Year's Eve 2020 were pretty active, even if we had fewer tourists (airport arrivals were down by 17% for the last week of the year 2020, compared with 2019).
Restaurants, hotels, villa rental agencies, beaches, supermarkets are all open. Only famous cabaret Le Ti St Barth is closed for varied reasons. Yet, the new travel ban has temporarily made it impossible for visitors to reach the island.
What the official U.S. travel advisory for St Barths?
As of early April 2021, this is what the CDC was showing for St Barths:
Level 4: Very High Level of COVID-19 in Saint Barthelemy
Travelers should avoid all travel to Saint Barthelemy.
Because of the current situation in Saint Barthelemy even fully vaccinated travelers may be at risk for getting and spreading COVID-19 variants and should avoid all travel to Saint Barthelemy.
If you must travel to Saint Barthelemy, get fully vaccinated before travel. All travelers should wear a mask, stay 6 feet from others, avoid crowds, and wash their hands.
Is St Barts on the quarantine list?
US travelers: No, St Barths is not on the quarantine list. Although Saint Barthélemy (St Barths) is a French territory, it is not part of the European Schengen Area whose travelers are prohibited from entry to the United States. The CDC simply advises travelers to get tested with a viral test 1–3 days before travel. Also, get tested 3–5 days after travel AND stay home for 7 days after travel. This is advised but not a mandatory quarantine.
UK travelers: Yes, St Barths is on the quarantine list, as all travel corridors to and from the UK were shut down on January 18, 2021. The United Kingdom has removed St Barths from its travel corridor list: You need to self-isolate if you're traveling to England from Saint Barthélemy.
St Barts COVID test entry requirements, rules, and restrictions
The local St Barths authorities have invested early and heavily into testing and vaccinating the population.

St Barths coronavirus COVID-19 testing rules
Visitors (age 10+) are required to show a negative Covid-19 test on arrival. Some airlines or transiting airports (e.g., Sint Maarten and Puerto Rico) may ask you to show proof of a negative Covid-19 test before boarding your flight to St Barths.
Since January 18, 2021, local authorities require an rt-PCR test (within 72 hours prior to arrival). Please note that Antigen tests are NO LONGER ACCEPTED.

COVID rt-PCR test for St Barths entry:

Visitors must take the COVID-19 PCR test within 72 hours (3 days) of their arrival. The date shown on your test is crucial; make sure to plan ahead.
PCR is the abbreviation for "polymerase chain reaction." A COVID-19 PCR test checks whether there is genetic material (RNA) from the COVID-19 virus in the nose or pharynx. A swab is taken from the nose and throat with a cotton swab. This is sent to the laboratory, where it is examined for the presence of the virus.

Note these entry requirements also apply if you are disembarking from a ferry or a private boat.
St Barts COVID testing centers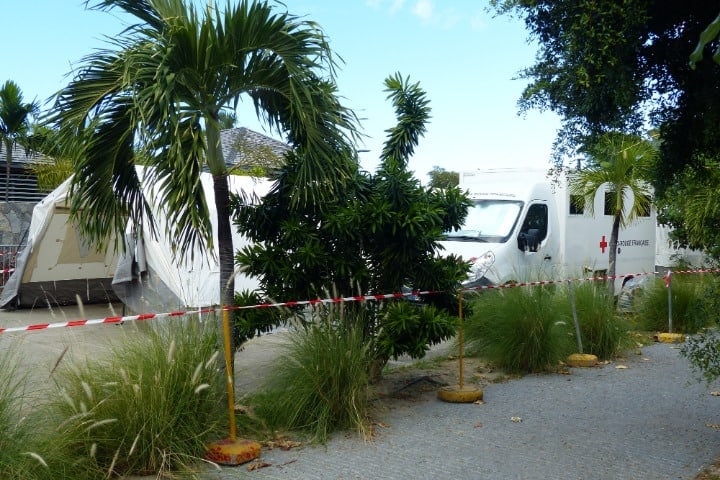 COVID-19 testing centers located on the island of St Barths:
Free rapid test (Antigen), run by the local authorities, the Red Cross, and the French health authorities: The COVID-19 drive-through testing facility is located in the Saint-Jean parking lot in front of the cemetery. The site is open Monday to Friday from 8 am to 3 pm, and Saturday from 8 am to 12 pm. It is closed on public holidays. Results in 30 to 40 minutes. The free service is open to both locals and visitors:

Travelers to Mainland France transiting through the Juliana Airport (SXM)
French or foreign travelers needing an antigenic (Antigen) test to travel to a foreign country (back to the United States, for instance)
Visitors to Saint-Barthélemy in possession, by mistake, of a test of more than 72 hours upon arrival on the island.
Travelers who have been on the island for 7 days want to be tested to secure their stay.

PCR test: Symptomatic persons or contact cases are invited to be tested by PCR at the Bio Pôle Antilles laboratory in Gustavia, open from 12 to 1 pm from Monday to Friday and from 9 to 10 am on Saturday.
A few resources you need to get checked in the US prior to coming to St Barths
What if you are connecting to St Barths (SBH) via Sint Maarten / Saint Martin (SXM)?
For updated travel requirements to St Maarten (Dutch side), visit the official site: stmaartenentry.com
As of January 27, 2021, and until further notice, a travel ban is in place for persons who have been the past 14 days in these countries:
An rt-PCR test for the SARS-COV-2 virus obtained from a nasopharyngeal swab performed within 120 hours (72 hours starting Feb 12) prior to departure to Sint Maarten (last leg in case of connecting flights) is required for all travelers originating from a country that is categorized as high risk. Antibody tests and tests performed outside of the 120 / 72 hours period will not be accepted.
If you are traveling to St Barts via St Martin, you will also be required to complete an application form for entry to St Martin and submit it before your departure, along with information on your COVID-19 test results.
Sint Maarten requires that everyone completing an application form purchase a $30 medical insurance policy, but this is NOT necessary if you are not spending the night in St. Maarten. You can find the form online at https://stmaartenehas.com/application-form/ .
Please note that you will also need to apply for entry to Sint Maarten on your return flight, although no additional testing is required.
Before boarding, you will have to show proof that you respect St Barths's entry requirements (i.e., a negative rt-PCR test within 72 hours + compelling reason to be traveling). See above our paragraph about St Barths requirements for more details.
What if you are connecting to St Barths (SBH) via San Juan / Puerto Rico (SJU)?
If you are traveling to St. Barts via the San Juan airport (SJU), you do not need to fill out the online travel request form required to travel to Puerto Rico.
You need to show your negative Covid-19 test result and connect it to your flight to St. Barts. Again
The same applies when you travel through San Juan on your way home.
What if you are staying in St Barths for more than 7 days?
If you are staying in St Barths for more than 7 days, it is recommended that you be tested on the island on the 7th or 8th day using a rapid Antigen test.
What are the COVID rules for the 2021 St Barths Bucket Regatta and Voiles de St Barth?
Mask-wearing and social distancing rules in St Barths
Locals and visitors are required to wear masks indoors (e.g., boutiques, supermarkets). In some restaurants, you may be required to wear a mask when you are going to or leaving your table.
People are invited to practice social distancing. For instance, restaurants have reduced their capacity to provide more space between tables.
St Barts COVID numbers (March 2021 update): Coronavirus cases, COVID rate of infection, and risk level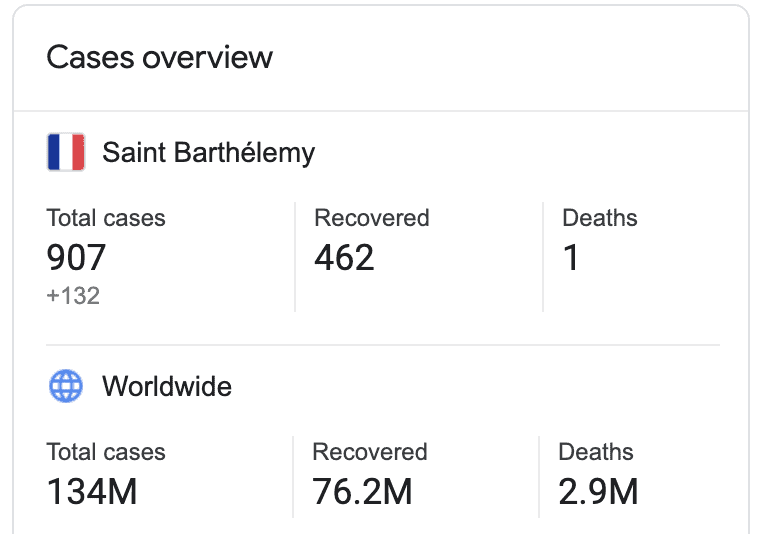 Since the first case of COVID-19 has been recorded in St Barths in March 2020 (Source: COVID-19 Data Repository by the Center for Systems Science and Engineering (CSSE) at Johns Hopkins University):
Since March 2020: 907 COVID-19 cases
Since March 2020: 1 death attributed to COVID-19 (with other co-morbidities)
The St Barths COVID numbers are low. Note that the local population has access to free COVID testing, which helps track cases earlier. It also results in higher figures than on nearby islands with less access to labs. The island's authorities are very reactive and organized. They can also count on a resourceful and resilient population, as proven by the fast recovery after hurricane Irma.
When looking at the data, you see several trends:
The first wave of coronavirus COVID-19 hit the island in April 2019, right at the end of the high-season. A strict local lockdown in May and the absence of inbound tourists stopped the virus from spreading.
In fall 2020, as the season was about to re-start, more hospitality workers and visitors started arriving.
Despite a very busy 2020 Thanksgiving in St Barths, the number of cases remained under control.
A busy New Year's Eve led to a stark increase in the number of cases (+100 cases in 2 weeks), but things are stabilizing again.
The French authorities in Paris are nervous as another French Caribbean island, Guadeloupe, has seen a rise in cases. In early March, a curfew was imposed in Guadeloupe, but not in St Barths where things remain open.
Sadly, 1 death has been officially linked to COVID-19, in early December 2020. No death has been recorded in 2021, as of April 9, 2021.
Here are some data for the week of March 29 to April 4, 2021:
Number of weekly tests: 898
New coronavirus cases: 18 (against 50 the week before)