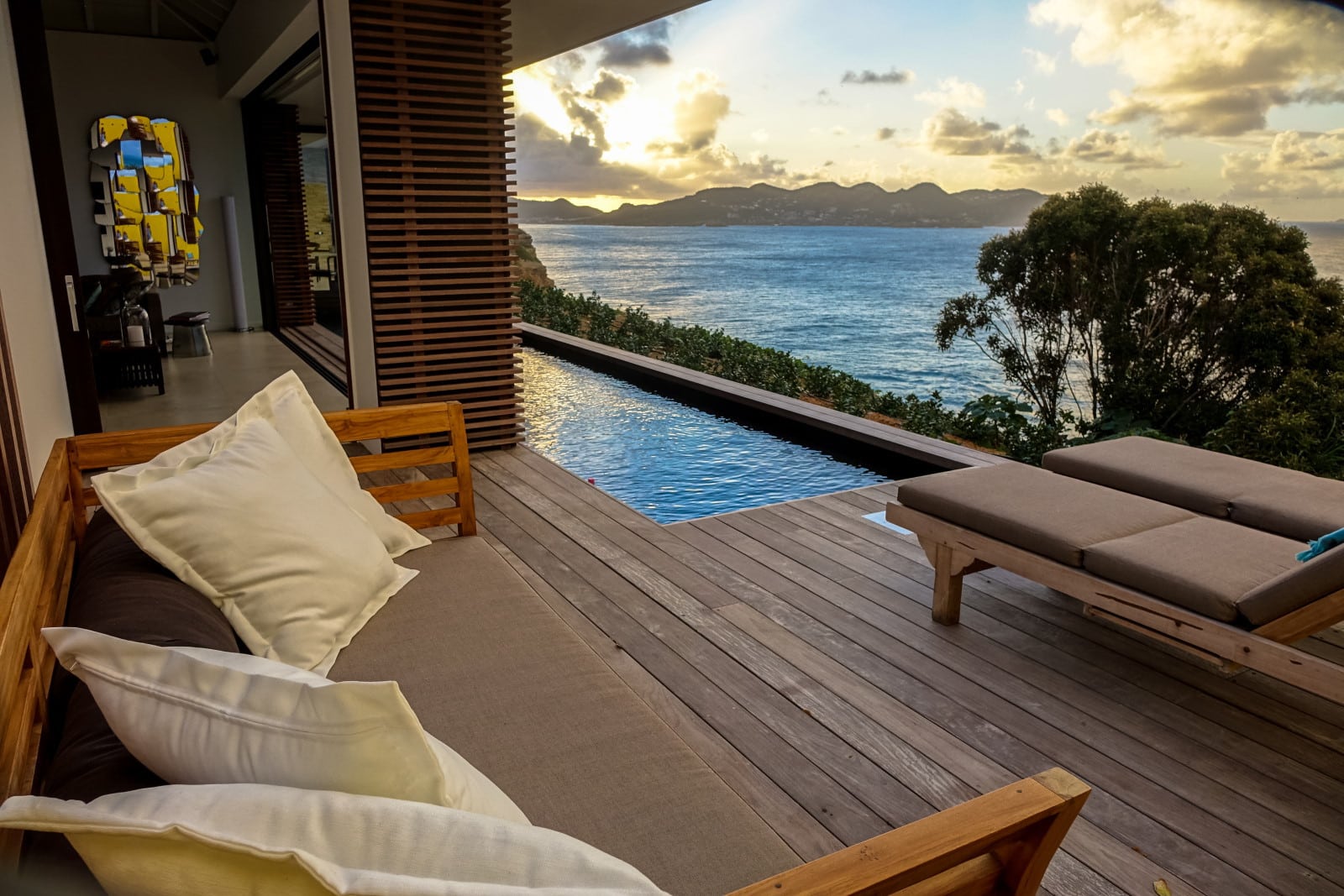 All right, this article is just one huge piece of self-promotion for my newly launched Villa BelAmour in Pointe Milou, St. Barths. Why? Because I want to share with you, dear St Barts lovers, the great news that BelAmour has received a lot of attention online, in online publication from the US, France, the UK and all over the Caribbean. I send a very big and sincere thank you to the editors of these news sites and travel blogs.
Here's a roundup of the coverage that BelAmour has received, with a screenshot and a link to read more for each article.
1. "Honeymoon at BelAmour Villa, Saint Barths" by Caribbean Journey Weddings
Caribbean Journey Weddings is a wonderful ressource for those of you dreaming of a Caribbean wedding. Their team of Caribbean destination wedding specialists can set up everything for you. They were kind of enough to publish a nicely illustrated article about BelAmour titled:  "Honeymoon at BelAmour Villa, Saint Barths".
A few quotes from the article:
Nestled atop a cliff, BelAmour is the quintessential luxury vacation rental for lovers who value privacy.
Thanks to its high walls, BelAmour offers maximum privacy. Feel free to relax on the deck, to cuddle on the bench and to skinny dip in the 12 metres long heated pool. 

Villa BelAmour in Caribbean Journey Weddings
2. "Suite of the week: BelAmour, Pointe Milou, St Barts" 

by 

A Luxury Travel Blog

A Luxury Travel Blog is the #1 blog of its category. If you are a luxury traveler, you may have already read at least one of its features. The site is quite active on Twitter as well.

BelAmour was chosen as the Suite of the Week. It is very nice to be featured alongside suites of luxury hotels, this is exactly what I had in mind for my guests when I decided to build the villa.  The article is called: Suite of the Week: BelAmour, Pointe Milou, St Barths.

A few quotes:
What makes it special: Celebrate your love in style at BelAmour, the most luxurious, yet most intimate, villa for 2 in St. Barts, perched atop a cliff, with sweeping views on the Caribbean Sea.
The most romantic place on the island of Saint Barthelemy where to celebrate a special moment, like a honeymoon or a wedding anniversary.
This is a villa built for lovers who want a very special place where to rekindle their passion.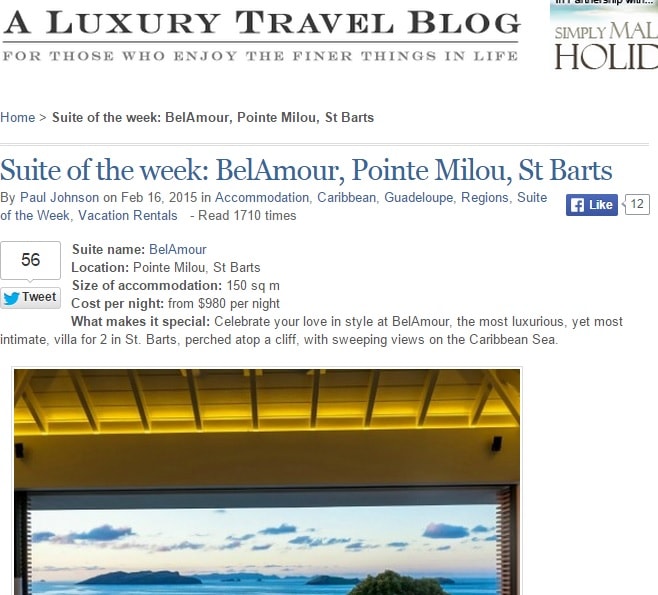 3. "St. Barts: Finding Romance at BelAmour" by Uncover Your Caribbean
BelAmour was the main feature for the week of Valentine's Day on Caribbean travel blog "Uncover Your Caribbean". The article is called: St. Barts:  Finding Romance at BelAmour: .
A few quotes:
It's the season of love and romance! Today we look for romance on one of the most romantic islands we know, St. Barts. Thibault Masson of the villa BelAmour and the travel blog www.saintbarth.com shares with us what Valentine's Day, or any day of romance, would look like on St. Barts.
TYou get up light-footed, while your spouse is still stirring in the bed. You walk to the curtains, open them and soak in the fantastic view over Baie de St. Jean and all the Western tip of the island. In the far back, you can see hilly St. Martin and flat Anguilla.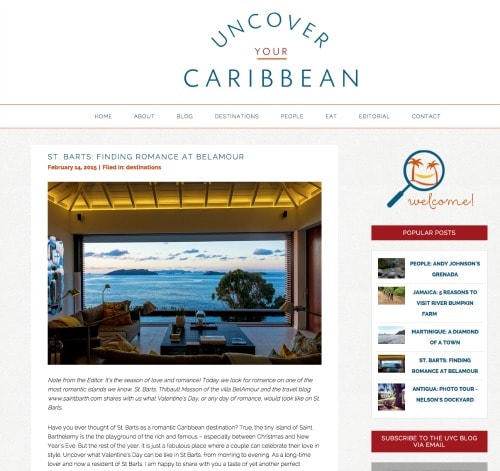 4. "Discover the Most Romantic Villa in St. Barths" by Travel 2 the Caribbean
Caribbean travel blog "Travel 2 The Caribbean" was kind enough to name BelAmour "the most romantic villa in St. Barths".  Discover the Most Romantic Villa in St. Barths
A few quotes from the article:
BelAmour is the perfect place to spend a romantic week on the French island of St Barths. There is no other place on the island than can compares with the rare, luxurious and intimate experience that BelAmour offers.
The state of the art roof top opens to let the ocean breezes flow into the villa. In the evenings enjoy romantic sunsets on the sea, with the clouds over St. Martin taking spectacular, yet always different colors.  

Villa BelAmour in Travel 2 the Caribbean
5. "Love in Saint Barth by Jean-Charles de Castelbajac @ Villa BelAmour" by Jet-Society
French jet set lifestyle blog Jet-Society was impressed by the mural painted in BelAmour's patio from French artist Jean-Charles de Castelbajac. The article, in French, is titled; "L'Amour a Saint Barth par Jean-Charles de Castelbajac @ Villa BelAmour".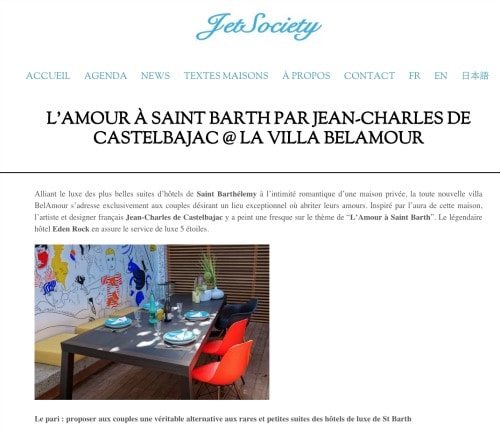 6. "BelAmour, villa chic et romantique a Saint-Barth" by Yonder
Yonder is French luxury travel blog dedicated to upscale accommodations such as luxury hotels and best-you-can-get villas. I really like how the journalist created a list of 5 reasons to add BelAmour to your travel bucket list for 2015. He really captured the mood of the villa in a few words.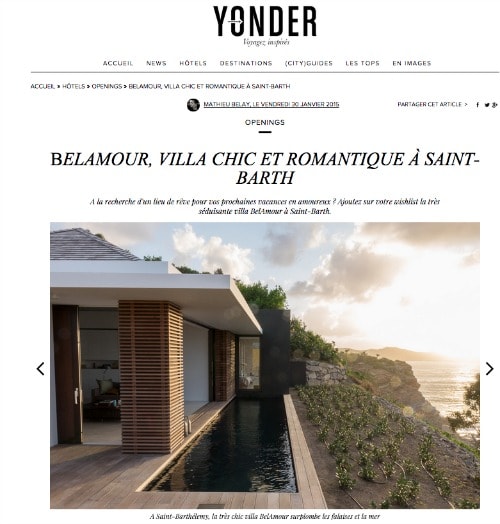 7. "BelAmour, une villa dédiée aux couples à Saint-Barth" by Journal du Luxe
Le Journal du Luxe is a reference in France when it comes to luxury blogs. The angle of its article was the fact the BelAmour is one of the very few villas for couples in St Barts.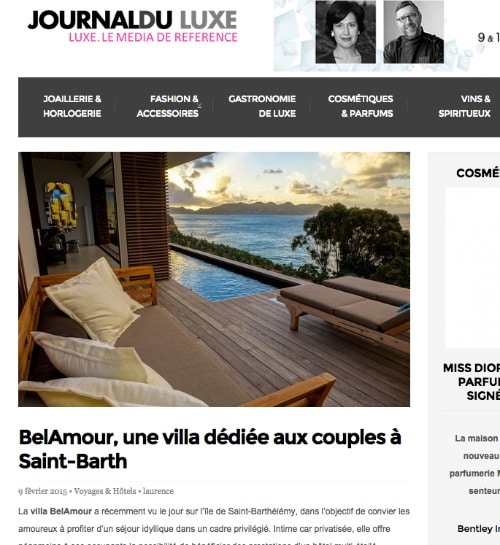 8. "BelAmour, la nouvelle villa romantique de luxe a Saint Barth" by SuperYacht.fr
French luxury sailing blog SuperYachts.fr opened its article by explaining that most couples had trouble finding a hotel room in St Barts, as this is really more of a "villa island". So, BelAmour is a good option for people who want the luxury of a hotel room with the privacy of a villa.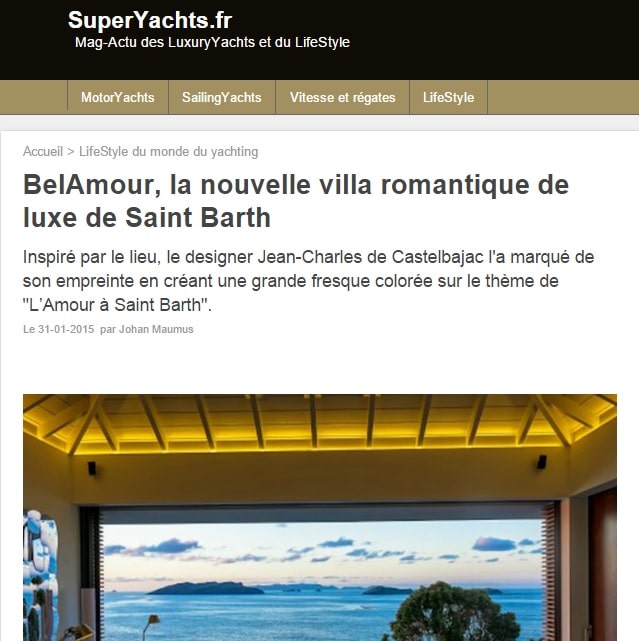 9. "Heading to St. Barths, Check Into the Villa Belamour" by Infinite Legroom
Infinite Legroom is an online resource for migrant lifestyle and luxury travel that help travelers with their need of information and advise. They provide wonderful photos of my villa as well as a small details about the interior design and amenities.
A few quotes from the article:
If you still don't feel the urge to leave the office behind for a week, then the Villa Belamour will change your mind.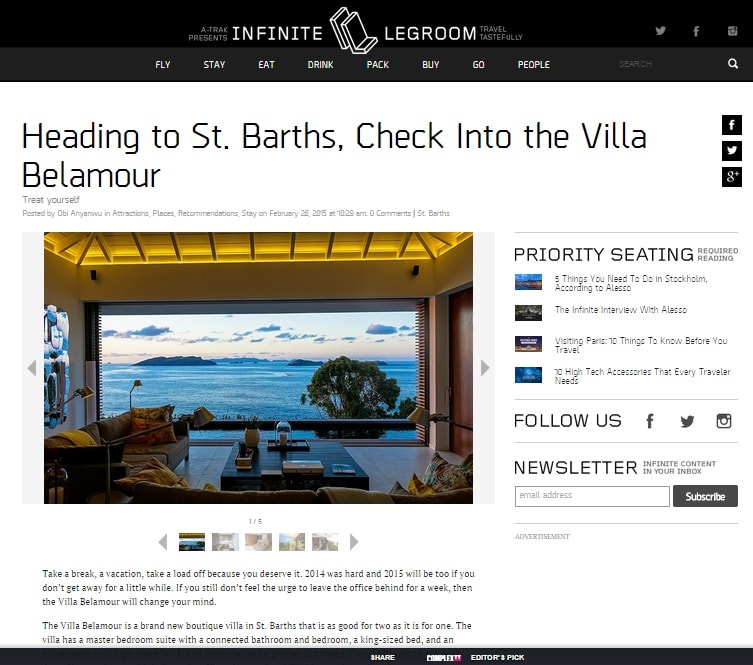 Thank you to all the journalists and editors of these publications for spreading the word of villa BelAmour. Feel free to visit its official site for more photos and videos: https://www.saintbarth.com/belamour .