You, my lucky readers, will be the first to preview my very first video posted on YouTube, about St Barts Villas.
Villa Maco Lodge is a rental property available through St Barth Properties and is described as "stunning."  And really, it is.  Just take a look at this photo of the living room area.
St Barts Villas :: Villa Maco Lodge 
Located on Pointe Milou, this villa touts 6 bedrooms  and 6 1/2 bathrooms. It offers unmatched panoramic views of St Marteen, the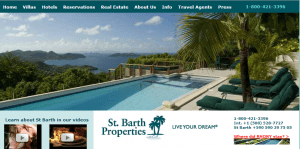 sea, and the sun as it sets behind the hills of St Barts.
There are two buildings located on this property, one of which is the main house, and the other is spoken of as the "pool area." Both buildings offer luxurious accomodations and sleeping quarters, the second building actually has "kid's quarters" that are sectioned off with Chinese sliding doors and bunk beds that sleep four.
For those that want to relax, Villa Maco also offers a spa area with a massage table, set up next to a private jacuzzi.  Ligne St Barth products are lined up on deck if you choose to use them.
Did I mention that this property has two swimming pools? Very family friendly, a continental breakfast is served daily.  This truly is the picture of understated luxury .
Rental prices for the villa start at just $5,570/week starting in 2008.  If you're coming to St Barts, this villa is worth a look.