After cooling their heels for months, and in some cases over a year, travelers are once again excited about returning to their favorite island in the Caribbean. Restrictions have been lifted in St Barth, and tourism is officially open for fully vaccinated visitors. You will find everything you need to know about getting to St Barth and Covid-19-related testing requirements on our page about St Barths travel restrictions. If you are the type of person who prefers to receive important notifications about the island directly in their inbox (I know I do), simply scroll all the way to the bottom of the page to sign up for our monthly newsletter.
If you are preparing for some time in the Caribbean sun, whether you are a first-time visitor or a seasoned insider, having access to a community that shares your adoration for the place can really help elevate a holiday. Being able to ask questions, seek recommendations, clarify doubts, or meet like-minded people are only some of the benefits of being part of such a group, and this is what we foster in our communities dedicated to St Barth on Facebook and Instagram. Things often get quite lively, when talking about tipping etiquette in St Barth for example.
Since summer has arrived, we've put key recommendations shared by our community together for you, in case you need help planning your next adventure to St Barth or if you already on the island and looking for things to do:
When's the best time of the year to visit St Barth?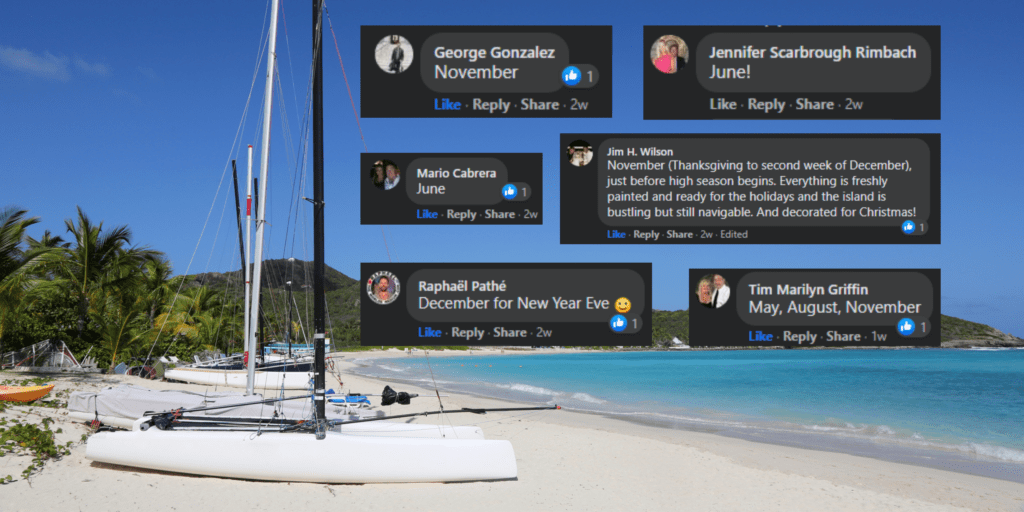 The best time of the year the to visit St Barts for you depends on your specific needs, however it is easy to see from our community's recommendations that May-June and November tend to be favored by most.
Between April to June, sunny days are occasionally punctuated by storm clouds, giving way to some breathtaking sunsets, much like in the Instagram post below that shows off a gorgeous St Barth sunset as seen from my villa Domingue in Pointe Milou, captured by our guest Vikki Bowman. Because of the showers, it is easy to find reasonable hotel and villa rates while still enjoying nearly everything St Barths has to offer.
November on the other hand provides that sweet spot when hurricane season has completely subsided and 'highest season' is just about to begin. In this time, travelers can enjoy most of the perks they will in Dec-March – which is easily the most expensive time to visit St Barth – while still finding better deals. In either scenario, planning ahead will work in your favor always.
What do you not pack for St Barth?
When going into golden sunshine and pristine beaches, it is easy to figure out what to pack: swimwear, credit cards, and loads and loads of sun protection. We asked our community members to tell us one thing they think you wont ever need in St Barth and this is what they had to say: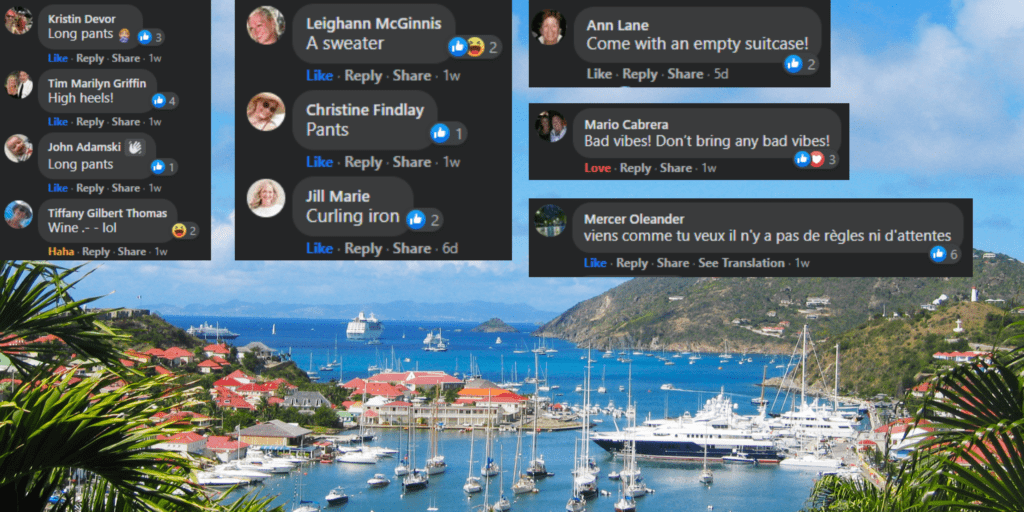 In Caribbean weather, long pants, sweaters, and curling irons clearly have no space. In addition, St Barths is a French island, and shares in its passion for wine, and is home to the best vintners.
Like Mercer Oleander so eloquently put above, 'come as you want there are no rules or expectations,' St Barth allows you to remain free from prying eyes. Your business is your business, and your business should ideally be good vibes, as Mario recommends.
Lastly, Ann Lane's recommendation is a no-brainer. St Barts is a haven for shopping the best brands. Speaking of shopping…
Where to shop in St Barths?
When we asked our Instagram community about their favorite stores to shop in St Barth, they offered up a host of fantastic recommendations.
The most common response was Anna Chriqui Strok's store: Laurent Effel. Scroll through the comments in the post for more suggestions including Pasha, Poupette, Ligne, and some hidden gems!
We hope this round-up has opened you up to some new possibilities for when you next spend time in St Barths. Whether you are debating the virtues of shorts vs. no shorts when going for dinner in St Barth or looking for a spot for your next exceptional cocktail there, you will find that the saintbarth.com community has some sage advice to dispense. Hope to see you on Facebook or Instagram or both!