BEST BEACHES ON ST. BARTHS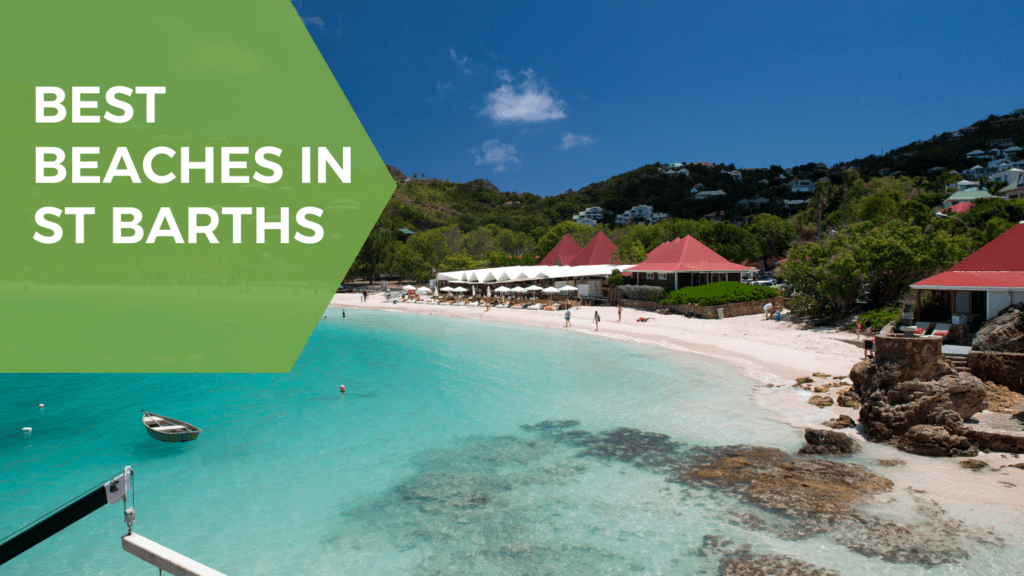 Saint Barthélemy, also known as St. Barts and St. Barths, is the postcard image of white, sandy Caribbean beaches with immaculate turquoise waters filled with marine life and colorful coral reefs, all with a lush, verdant mountainous backdrop. St Barts beaches are diverse, offering varied slices of paradise that will satisfy any beach goer's desires.
St Barts Beaches
I will share some insight and descriptions of the best beaches on the island, so you can plan the most epic beach vacation. Whether you are an adventure seeker, a young family, or looking to relax by day and party by night, there is a beach for you. Shell Beach, Gouverneur beach, Saline Beach, Colombier Beach – the list of best beaches in St Barts is sprawling.
Shell Beach
Located minutes away from the center of Gustavia, St. Barth's capital city, Shell Beach is named for the beautifully colorful array of shells covering its shores. No white sand on this lovely beach, but ample opportunities for epic shell hunts with the children! The water in Shell Beach is crystal clear with lake-like serenity, perfect for swimming.
 

 

View this post on Instagram

 
Moreover, since Shell Beach is considerably urban, you can enjoy lunch or dinner oceanside; Shellona restaurant is a particularly good choice. 
 Gouverneur Beach
 

 

View this post on Instagram

 
Located along the southside of St Barts, Gouverneur Beach is an off-the-beaten-path, pristine beach that has white sand, lush vegetation, and turquoise water. Due to its remote location, Gouverneur Beach doesn't get too crowded but be prepared for full parking lots during high season. There's still parking on the side of the road if you don't mind a short walk to Gouverneur Beach.
Colombier Beach
 

 

View this post on Instagram

 
Colombier Beach is accessible by boat or on foot but be prepared for a lovely 20-minute hike. You'll thank yourself for the effort when you see the magnificent panoramic views of the island, including a 1960's tropical mansion built for David Rockefeller as well as other islands neighboring St Barts to the west. I recommend making the trek in the morning to Colombier Beach to avoid crowds. 
At Colombier Beach, there is good snorkeling to be had in this beach's turquoise waters, and it's a great place for a picnic, so pack your own food, drinks, and sunscreen. If you want to take advantage of spectacular sunset views, I recommend the catamaran sailing trips off of Colombier Beach.
Saline Beach
An island favorite, Saline Beach is wild, pure, and unfettered Caribbean nature at its finest. There are no hotels or any other man-made structures along this unspoiled stretch of beach, making you feel like you are one with nature. People are so inspired by the wilderness here, that many often enjoy Saline Beach sans clothes! It's a great beach in the sense that it has become a gay-friendly, live-and-let-live nudist beach that welcomes visitors of all kinds onto its beautiful shores.
Flamands Beach
A spectacular northern shore treasure, Flamands Beach is the largest white sand beach on the island and the very paragon of paradise. One portion is filled with numerous private villas along, enhanced with beautifully verdant plant beds full of marine life that are protected by the St. Barth's marine reserve. This part of Flamands Beach is a popular destination for locals.
 

 

View this post on Instagram

 
The other part of Flamands Beach is home to the very glamorous Cheval Blanc hotel, which boasts an upscale beach club feel replete with luxurious lounge beds lining the shore. The water along the beach is calm and perfect for swimming, while the ample white sandy beaches give you plenty of space to spread out, play volleyball, or pick up soccer games and enjoy the ocean breeze.
Saint Jean Beach
 

 

View this post on Instagram

 
Saint-Jean is one of the most visited beaches on St Barths and consists of two separate beaches lying on either side of the world-famous Eden Rock Hotel. One side of St. Jean Beach lies right next to the airport, so you can watch the comings and goings of planes as they land and take off directly above you. 
 

 

View this post on Instagram

 
The other side of Saint Jean beach is lined with upscale hotels, delicious restaurants, and a lively beach bar party scene with tons of DJs. I recommend Nikki Beach and The Pearl for a wild party, and the newest Gyp Sea beach club if you're looking for a more relaxed restaurant and beach bars experience without any wild dancing.
No matter which side of Saint Jean in St Barts you choose to throw down your towels, the water is calm, turquoise, and every bit as paradisiacal as you would hope the Caribbean to be. There is good snorkeling, plenty of sailing, an abundance of birds and other wildlife, and lots of places to rent paddle boards and all manner of water sports equipment and other beach supplies. 
Anse des Cayes Beach
Anse des Cayes Beach is a north coast beach and one of the most famous beach for surfing. There are plenty of big waves to catch for a full day of surfing. The beach also has a nice stretch of white sand for lounging and watching the surfers. While the water is swimmable, there are far too many coral rocks for my liking, so swim at your own risk!
Lorient Beach
 

 

View this post on Instagram

 
Lorient beach lies on the northern shores of St Barts, and is much different than the others on the island because it has a varied topography that influences the tides. One part of Lorient Beach consists of various little pools protected by a coral reef system. The water in this part of the beach is tranquil and perfect for small children and families to enjoy. 
At the other end of the beach, rocky outcroppings mixed with coral reef systems create large waves suitable for surfing. The best part about it is that it is a local spot with relatively few visitors. Lorient is the closest beach to the west of my private villas, and a true gem for beachgoers of all tastes. 
Marigot Beach
Marigot Beach is a narrow beach of white sand along a vast and beautiful shallow bay that lies in a protected marine reserve on the western end of the island. The shape of the coastline shields strong winds, so the waters are clear, calm, and teeming with wildlife and plant life. 
This is one of my favorite beaches and it's a short walk from one of my private villas. You'll get a great bird's-eye view of the beach from the hill of Mont-Jean. 
Grand Cul de Sac Beach
This idyllic lagoon has shallow turquoise and completely transparent waters that are perfect for snorkeling, kite surfing, and windsurfing. Grand Cul de Sac Beach is one of the most popular beaches in St Barts thanks to its varied water activities, tourism, and having the longest stretch of beach on the island. There is a vast expanse of shallow water followed by a deeper expanse with a flourishing reef that houses all kinds of marine life including giant sea turtles. 
Grand Cul de Sac Beach is perfect for small children due to the shallow waters, and the reef is easily explorable with plenty of water between you and the spiky coral. You will also find a wealth of beachside restaurants on this St Barts beach for your dining pleasure on this famous beach. There are three large resorts on this beach, so you might feel encroached upon as a visitor, but the water activities make up for it.  
Petit Cul de Sac Beach
If you are vacationing with family in St Barts, or you are looking for a popular beach among locals, Petit Cul de Sac Beach could be the optimal experience for you. You will find this beach to be a local favorite that is also off the beaten path. 
When it comes to wildlife, birds and crabs are abundant as this beach acts as a mating ground. Pack a picnic and head to this St Barts Beach with family and friends!
Toiny Beach
Toiny Beach is a surfer's haven due to its sizable waves and strong undercurrent. However, swimming is not recommendable here, for even the strongest swimmer is no match for the ocean currents at this tempestuous beach. If you aren't into surfing, there are other options, such as paddle board and boogie board rentals. Or, if you'd prefer to relax, you can just come to Toiny for the trendy, hip beach scene epitomized by the addition of a chic new hotel.
Grand Fond Beach
If you are looking for an oceanside sunset stroll, Grand Fond Beach is ideal. You get a beautiful, everchanging view no matter which direction you are heading. The coastline is rocky and severe with strong ocean breezes. Waves crash dramatically against the rocks spewing a refreshing ocean mist around you as you gaze out over the horizon. Unfortunately, due to the rocky coastline and strong winds, this beach is not suitable for swimming, but you can still enjoy its beauty on foot.
Public Beach
While you might not think this name is very original, Public refers to the neighborhood surrounding this tranquil beach. It is also, of course, a public beach open to neighborhood residents and visitors alike. Here, You'll get to enjoy a relaxing swim in this beach's calm waters while watching a barrage of sailboats floating by as Public is also home to the island's sailing school.
Public Beach is in a residential area, but it is located in an industrial area, so the backdrop of the beach may be lacking in greenery. Still, it is worth a visit. 
Corossol Beach
Unlike the white sandy beaches characteristic of St Barts and the Caribbean, Corossol Beach has a darker shade of sand that fits well with the colorful, quaint traditional fishing village that encircles it. You will see plenty of old fishing boats as well as artisans crafting hats and trinkets out of dried palm fronds. What better way to commemorate your trip to St Barts than endorsing local artists while taking home a little piece of nature woven into art?