ALL ABOUT THE ISLAND OF ST BARTS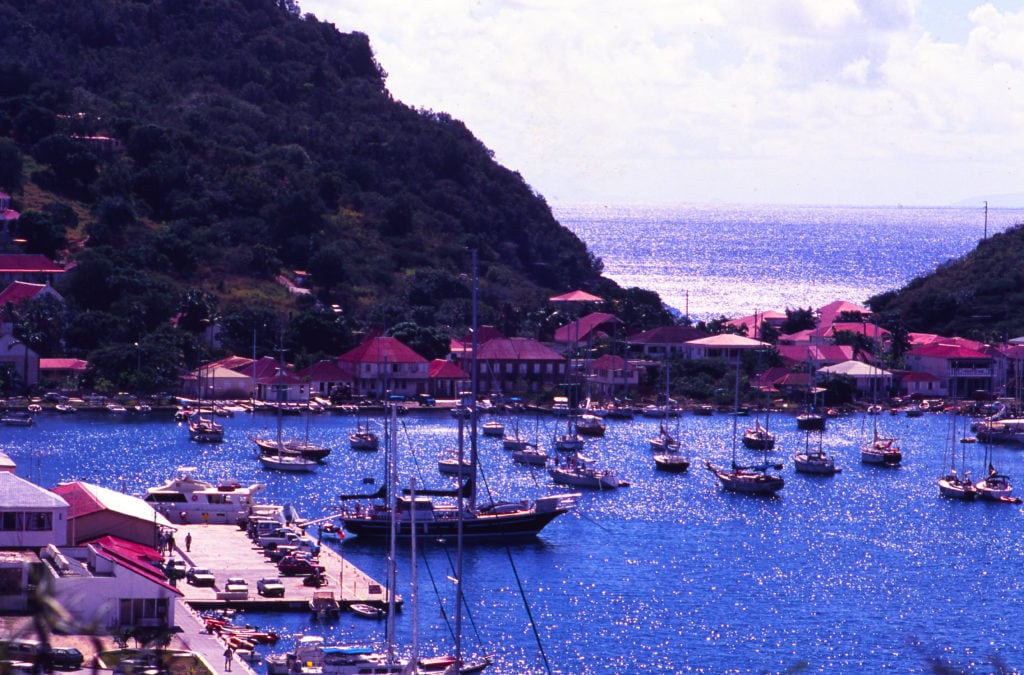 Saint Barthélemy is an island that feels bigger than it actually is. The tiny island does not feel overcrowded with its hills and different landscapes while being home to 5-star hotels, luxury villas, gourmet restaurants with a dense concentration all in one place. This magic of Saint Barths is sometimes hard to convey to future guests who inquire about how far from my villas are from the actions. While the villas are peaceful and secluded, no point on the Island is more than 15-20 minutes away by car. But there's too much uphill walking here – you'll want your rental wheels!
The St Barthélemy is a tropical paradise with beaches of pristine white sand stretching to turquoise water; small mountainsides covered with vegetation and villas; heavenly views from your hotel room or villa terrace overlooking one of several protected bays and the marine reserve; an island culture that exudes relaxation and lavishness while still being very French. The climate is warm year-round – it averages about 80 degrees Fahrenheit during winter months but rarely drops below 60 degrees. What does this mean? You can leave the heavy clothes at home! The rainy season starts end of August and ends in early October.
Where is St. Barths? 
Saint Barthélemy is a French Caribbean island, located between the Franco-Dutch island of St  Martin / St Maarten and the archipelago of Guadeloupe, at 17°55N and 62°5W. It measures just  25 square kilometers (9.6 square miles). 
At a distance of 8,500 km from Paris and 2,500 km from New York, this small island floats in the  Caribbean Sea at 17°55 North and 62°5 West. While the island of Saint Barthélemy seems minuscule with its 25 square kilometers of rugged terrain, the most recent census revealed that  9,500 residents live here, or 335 residents per km2. But again, people are really spread out. For instance, Gustavia, the main town, has just 3 or 4 main streets. 
Considered one of the oldest volcanic islands in the Lesser Antilles chain, its dry, rocky soil does not lend itself to agriculture. But its jagged coastline encircled with sparkling white sand makes the island one of the hottest vacation spots, aside from the large tourist destinations. 
Connecting flights from Saint Martin and San Juan link to the island to the US, Canada, South America, France, and The Netherlands.
What country does St Barts belong to?
St Barts belongs to France. It is part of the French West Indies but is an overseas collectivity with a degree of autonomy. As such, St Barts is not an independent country and the locals have no desire to part ways with France. The distance from Paris, the capital city of France, and Gustavia, the capital town of St Barts is 6,712 km (4,170 miles). The island has the freedom to make many decisions without Paris' interference, but its inhabitants are still part of France and must answer to their capital city when it comes time for voting in elections or for border control matters. St Barths sends a representative to the Sénat (French parliament).
Saint-Barthélemy, also called St Barts, is an island of the Lesser Antilles in the eastern Caribbean Sea. An overseas collectivity of France since 2007, it was formerly a commune of Guadeloupe from 1976 until 2003 when it and its sister island St Martin became two separate French Overseas Regions.
During the Swedish period, St Barts Island was turned into a free port. This heritage is still intact and St Barts has no income, corporate or value-added tax. There is only a local tax called "droit de quai" of about 5%.
Is St Barts part of the EU?
St Barts Island is not technically part of the EU, but the territory belongs to France, a member state of the EU. The French Caribbean island of St. Barthélemy became an overseas territory of the European Union on January 1, 2012, but its inhabitants maintain their citizenship and EU status. The local territorial council can edict its own laws. The currency used on the island is the Euro (€) but the U.S. dollar (US$) is widely accepted.
Is St Barts safe?
Yes, St Barts is safe. It is among the safest, or maybe the safest of all, Caribbean islands. Men can wear expensive watches and women can show off pearl necklaces without risk. St Barts Island is a place where the jet-set can come and relax, without having to think about safety. Some celebrities may bring bodyguards to St Barths, but it is not really necessary as most locals and travelers know the unwritten rules about not batting an eyelid when someone famous shows up at a table near you.
The island had its own local police force as well as a representation of the French gendarmerie. You may see them patrol the island from time to time. The real danger may come people partying a bit too hard and driving too fast at night. You can get fined pretty easily for drunk driving.
Affluent tourists come to the island and they can mingle effortlessly everywhere, from local supermarkets to bars, beaches to restaurants. The divide between tourists and locals is not as big as on other islands, fostering an easy cohabitation.
Petty theft can happen, for instance, if you leave cash in your unlocked car. Empty and unlocked private villas can sometimes be "visited" by people searching for cash. Most villas have a safe in each bedroom. Be smart and put your cash and passport in your safe
How expensive is St Barts?
The St Barts paradox is that luxury goods (e.g. Hermès bags, Cartier jewelry, Louis Vuitton suitcases) are tax-free, so about 20% cheaper than in the US or France. Yet, daily necessities, from fresh vegetables to house rents, are very expensive compared with the US.
Restaurants are not cheap, yet prices are not as crazy as on the French Riviera, the food is better, and the service is actually nice.
Most travelers stay at a villa, splurge on restaurants from time to time, and shop for food at local supermarkets the rest of the time. The island stores offer food imported straight from France, and also from the US, the quality is pretty good.
Beaches are very diverse, from the preserved Colombier beach to the long white sand stretch of Flamands beach, the clubby atmosphere of Saint-Jean and the clothing-optional Saline.
Coming and going can be expensive too: The connecting flights from nearby islands such as Saint Martin are not a bargain. Paying for rental car is a necessity during your stay, as there is no way that you can walk from one place to another under the hot sun.
Note that wine, alcohol, and gas are cheaper than in Mainland France: The island has kept in line with its past as a free port and does not add punitive taxes to these items. So, as long as all you do is drink rosé and shop for handbags, you are saving money. In a way.
Most hotels and private villas are expensive, but the quality is high as well. When you visit St Barths, you know that your budget will be quite high.
What is St Barts known for?
The island of Saint Barthélemy (a.k.a. Saint Barts) is known for its luxury lifestyle, its laissez-faire attitude, its calm waters, its villas, and fabulous restaurants. St Barts restaurants are also known for their world-class cuisine and sophisticated, yet laid-back atmosphere.
It's also known as a mecca for jet-setters, celebrities and the super rich. The island offers incredible shopping options: from designer boutiques to high-end watch stores. It is the perfect destination for shoppers, as well as those looking to experience a glamorous and relaxing vacation in one of its luxury hotels or villas.
The island offers a range of beautiful beaches, from the white sand and turquoise water at Grand Cul-de-Sac to the lively beach bar scene in Saint Jean. While the island can feel overbuilt to some old-timers, it has managed to preserve gems such as the wild Colombier beach. It is the best to organize a chic picnic lunch.
St Bare island, but diverse population 
Even if St Barths now has its own President, it remains part of the French republic and most  French laws apply here. Due to its history, St Barths remains feels more like a French village than a Caribbean island. The official language is French, Euro is the legal currency, bakeries serving fresh croissants are hot spots and women can tan topless on the beach. C'est la vie!
The 9,500 inhabitants are made up of 4 groups:
The "Saint Barth": People whose ancestors emigrated here 3 to 4 hundred years ago. Family names like Magras, Gréaux, Lédée, Blanchard will alert you that you are talking to a "real" local.
The "Métros": They come from Mainland France (a.k.a. "La Métropole). Some have been living here almost all their adult life. Others are seasonal workers who are here for a few months or a few years. I belong to the Métros group, as I was not born here.
The Portuguese: More than 2,500 Portuguese live in St Barths. They arrived in the last 20  years, as construction workers for example, during the real estate boom. They are hard workers and can stand working in the sun. This is why the Catholic church now has a service in  Portuguese as well. 
The Américains: Americans who live here half or full-time. Just hang out at the Santa Fé restaurant in Lurin or at Andy's Hideaway in St Jean to meet them. They are lovely people always ready to give you some tips about the island.
St Barth, a US-Friendly French West Indies island 
The island is very French, but as you can see also very cosmopolitan: Venezuelan and British hôteliers, Russian villa owners, Italian and Brazilian jet-setters… quite a diverse crowd! No wonder that English is everybody's second language. As a tourist, you will not encounter any language barrier. A strong French accent, like mine, yes, but we all can speak English. For instance, store owners recruit only bilingual shop assistants, as 70% of the clientèle speaks English.
Americans feel very comfortable in St Barths: They can ask to be charged in US dollars if they want, all villas and hotels have US satellite TV and Netflix (For instance, my guests at Villa Domingue have an Academy Awards party every year, with on eye on the TV and the other on their cocktail glass), some American food products are available in convenience stores and at fancy deli stores like American Gourmet in Gustavia, all the villas and hotels have converters for shavers and iPads, etc.
Laws: Mostly French, very open-minded
When it comes to Law, most French laws apply here: 
As this is a French island, it is OK for women to tan topless, for anyone who wishes so to be naked on Saline beach (it is tolerated, just sit on the sides of the beach), same-sex marriage is legal, and the privacy of famous people is seen as something important (You are not supposed to bat an eyelid when you notice Rihanna or DiCaprio walking down the street. ). 
Security: The Gendarmes enforce the law. They will not bother you if you wear your seatbelt while driving your car and your helmet while riding your motorbike. However, beware of their breathalyzers when leaving Ti St Barth, Nikki Beach, or La Plage! 
Property: Real estate is governed by French laws. Realtors need to have the proper French real estate license.  
Working in St Barths: If you are a European Union citizen, you are free to live and work in St  Barths. If you are American, you need to get papers done, but the St Barths authorities are pretty fast with this cumbersome paperwork. 
Health: You must have travel insurance. If something bad happens, you will be transferred to  St Martin, and the hospital will take care of you. If you are French, it is almost free of charge.  But if you are not, it will be costly. Make sure that your travel insurance papers are in order.
Neighborhoods (quartiers) of St. Barths  
The mountainous landscape of the island determined the creation of distinct neighborhoods, some of which encompass a beach, others offer a perfect little harbor for fishermen, or embrace the interior charm of the island. It wasn't that long ago that the absence of roads and transportation made communication between villages difficult other than by boat, thus allowing each neighborhood to develop its own particular character. Whether one is looking for peacefulness or a lot of activity, someplace picturesque or unspoiled, there is always a  neighborhood in Saint Barthélemy that suits the mood of the moment.
Gustavia and Shell Beach
 

 

View this post on Instagram

 
Gustavia is known for being the most stylish and fashionable town in the Caribbean, with more than 50 boutiques and luxury shops. Originally called Carénage, the name of the town was changed to Gustavia in honor of Swedish king Gustav III. Monuments and forts, such as Fort Karl, remain as witnesses to the island's interesting past. Gustavia's only beach is Shell beach, a cute little stretch of sand often covered with shells.
Public  
Once primarily a salt pond, this is now the principal industrial zone on the island. Close to the port of Gustavia, the beach in Public is home to the island's sailing school. A perfect place to see magnificent sunsets! 
Corossol
A small, traditional fishing village, Corossol is the last place where dried palm fronds are woven into straw objects.
Flamands
Bordered by a large, magnificent beach, this discrete neighborhood has typical Saint Barth charm. The nearby natural cove, La Petite Anse, provides a peaceful place to swim. Its plant beds are considered one of the nurseries within the marine park, and fishing here is prohibited. Flamands beach has a local feel on one side, while it is very glitzy on the other as it is the location of Cheval Blanc hotel.
Lorient
 

 

View this post on Instagram

 
Lorient is one of the oldest neighborhoods on the island, and according to certain sources, the cradle of its Catholicism. The church, destroyed several times by hurricanes, looks out over the picturesque cemetery near the beach, and also hosts concerts during the St Barth Music  Festival in January. The beach is popular with families, as well as numerous surfers who consider this one of the best spots to hang ten on the island, due the coral reefs.
Colombier
An exceptional panorama unfolds in front of the lookout point encompassing the northeast coast of the island, the outlying islands, and the sea. Further to the west, on a clear day, you can see St  Martin. Access to the beach in Colombier is only by boat or via a footpath. A very pleasant hike, a great place for snorkeling and for a picnic! 
Grand Fond  
This neighborhood is the most dramatic on the island. One side features a craggy, undeveloped coastline with stiff breezes and waves that crash against the rocks in a mist of ocean spray. The other side comprises a peaceful hillside area with houses nestled in tropical gardens. 
Anse des Cayes
A popular spot for surfers who love the strong waves, this neighborhood has a varied landscape, from gnarled rock and irregular coastlines that evoke the island's tumultuous geological past.  Enjoy the natural scent of the sea spray and tropical flowers while walking through the neighborhood. 
Vitet  
The highest point in Saint Barthélemy at 940 feet, the mountainside in Vitet shelters charming,  traditional cottages that dot its slopes. 
Saint-Jean  
Saint Barthélemy's touristic hot spot, St Jean has two superb beaches lined with restaurants,  hotels, and beaches. Nature lovers can spot numerous species of marine birds as well as various flora and fauna around the salt pond. From the top of the "Col de la Tourmente," there is a great view of the airport and its spectacular landings. 
Mont-Jean and Pointe Milou
 

 

View this post on Instagram

 
These are two very residential areas, located on the North Coast, on top of the Mont-Jean and Pointe Milou hills and known for the spectacular views that they offer, especially sunrise for MontJean and sunset for  Pointe Milou. My villas BelAmour and Domingue are located at the tip of Pointe Milou. 
Marigot  
This calm, relaxing bay is the perfect invitation to daydreaming. The beach is sheltered from the wind, and the area comprises underwater plants as well as abundant flora and fauna. Located within the protected zones of the marine park, the bay is off-limits for fishing. 
Grand Cul de Sac
A lovely turquoise lagoon, perfect for water sports such as kite surfing. Sea turtles abound. The longest beach on the island, but not walkable because it has rocky areas. The reef makes this a great place for children to play and parents can take them out into deep water without worrying about their feet touching ground. There are multiple restaurants that serve quality food available near the shore as well as three luxury hotels: Redwood Le Guanahani, Le Sereno, and Le Barthélemy Hotel & Spa.
Petit Cul de Sac 
A local feel, with a nice low-key St Barth beach hidden there. The salt pond is a reproduction zone for birds and crabs living on our Caribbean island.
Saline  
Until 1972, the salt flats here were exploited as a source of income. Marine birds and freshwater birds continue to populate the deserted landscape where small, natural salt sculptures can be seen. At the end of the road, a paved parking lot leads to a path over the dune to one of the most beautiful beaches on the island. The Grand Saline beach is worth a trip: It is a long beach, officially called "Anse de Grande Saline" and one of the best places to enjoy the very relaxed St Barths atmosphere.
Anse du Gouverneur
After passing Lurin, a long descent leads off the beaten path to the beautiful beach in Gouverneur, which is rarely crowded. Legend has it that the pirate Monbars hid his treasure here. Gouverneur beach is a true gem, loved by many.
Toiny
The best surfing spot on the island (with Lorient beach), but strong currents discourage swimming. The nearby hotel has transformed part of the beach into a hot spot (albeit quieter than in St-Jean).