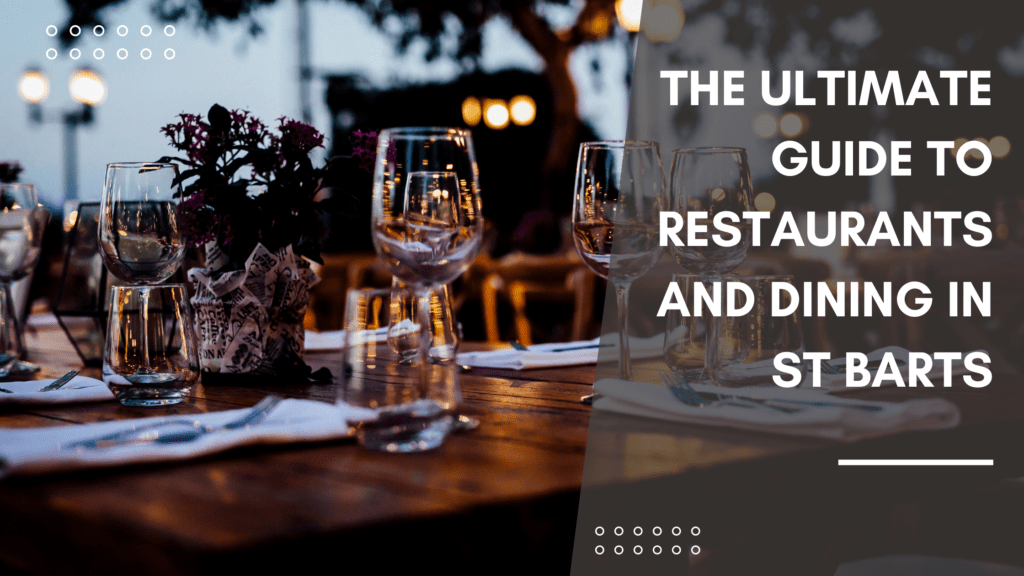 The island of Saint Barthélemy is the one of best Caribbean islands where to enjoy fine dining, attentive service, a relaxed atmosphere, open-air dining, French cuisine, local seafood, and people in casual-smart attire.
The best restaurants in St Barts are not always the most expensive, depending on what experience you are looking for. From French cuisine, Thai chefs, Mediterranean cuisine, to authentic Italian cuisine, restaurants in St Barts have something to offer to everybody.
My favorite restaurants in St Barts  
This is by no means a comprehensive list of the best restaurants in St Barts, as the island offers an impressive array of dining options. You will find St Barts cuisine to be varied as can be, with French classics, creative cocktails, and contemporary takes on well-loved classics. In no particular order, here are my favorite restaurants in St Barts:  
Bonito 
 

 

View this post on Instagram

 
This chic St Barts outpost has an amazing view of the port and of Gustavia, great food, stylish but smiling service. Expensive. I  go there to celebrate special occasions. Chef Laurent brings bold flavors of South America to St Barts through fresh Caribbean seafood dishes and a ceviche bar. The restaurant routine rates among the best restaurants on the island.
Le Tamarin 
Our beloved Kate / Cat was the soul of the good old Tamarin in St Barts for years. After she decided to step back, this hippie-chic retreat fell into disarray. Now, the new Le Tamarin has been the hot new place to be: Wonderful romantic setting in a tropical garden, delicious cuisine, cool music, and a very professional couple at the helm. Book a table, it is often very full!  
Fish Corner
A tiny place, but the best St Barts restaurants to enjoy local fish. Incredible fresh seafood dishes, fresh lobster, fresh fish tacos, tuna and other local seafood favorites. The atmosphere is welcoming and even the house champagne is nice (so St Barts!). This place has a friendly owner who really cares about your experience here. The team is always looking to create innovative dishes.
Black Ginger 
My favorite Thai cuisine and Asian food place in St Barts. Very fresh. Located in the heart of Gustavia, Black Ginger serves up a 100% Thai cuisine with an authentic and refined style. These dishes are concocted by three chefs from Thailand who have been crafting their recipes for years. A unique interior courtyard is open to starry nights matched only by its contemporary design that combines red and black colors along with minimalist furniture like Charles Eames chairs. I use them for taking out and also to offer nice things to nibble on when I host a party at my villas.  
L'Esprit
The restaurant L'Esprit is one of the best restaurants in St Barts, without a doubt. "A must-visit place as fast as possible," "Passionate about his art." The success of this Saline establishment goes to its talented chef Jean-Claude Dufour, who was for 10 years at the helm of the Eden Rock. Open-air dining, relaxed atmosphere, fine dining, gourmet French cuisine, and excellent wines are just one of the view things that make it one of St Barths' best restaurants. Their lobster ravioli and duck spring rolls are iconic.
Grain de Sel 
One of the best restaurants and personally my favorite place for real Créole food in St Barts. Very rich, but very yummy. Real Caribbean cuisine by Saline beach.  Super simple setting and totally casual vibe right near the Saline beach parking lot. Yet, it is so good and authentic. Service can be a bit slow, so enjoy the Caribbean rhythm and bring friends to have fun and enjoy a delicious meal in St Barts. Great accras, cabri (goat), and fish of the day.
Arawak Café
Between Hermès and Cartier, this outdoor restaurant in St Barts is actually a great place to have a  drink early evening and to have great food at dinner. 
L'Isoletta
This is the little sister shop to the (expensive) great Italian restaurant called L'Isola in St Barts. Best pizza slices in town, high-end Italian deli. Great for lunch.  
La Crêperie
My guilty pleasure, crêpes just like in France. Low prices on salads, friendly family-owned place in St Barts.  I go there for a very simple but delicious lunch in Gustavia when I have to wait for the shops to open again in the afternoon.  
Brunch at Le Gaïac
Hôtel Le Toiny hosts my favorite brunch on the island, every Sunday. Book in advance. Very good.  
Shellona
If you are looking for a barefoot meal right at one of St Barts' stunning beaches, then Shellona welcomes you to the famous white sands of Shell Beach. The beach restaurant is in a prime location just below Hôtel Barrière Le Carl Gustaf St Barth and right in the heart of Gustavia on Shell beach. This amazing but tiny beach bar has an incredible view where your lunch may be accompanied by live music or DJ's, sun beds for relaxation, and exquisite cocktails with stunning views of the Caribbean sea and Greek cuisine!
The Sand Bar
Located right on St Jean beach, one of the most famous St Barts beaches. The restaurant is part of the Eden Rock hôtel resort. The menu is overseen by famous chef Jean-Georges Vongerichten. Truffle Pizza, crispy salmon and DJ's with a taste for island vibes. This is The Sand: the culinary heart of Eden Rock Resort & Spa St Barths – its unique setting represents St Barts' laid-back beach style.
Aux Amis
Its location on the Grand Cul de Sac bay is just one reason to love Aux Amis. With its newly opened wine bar and delicious tapas, it offers a perfect place for any occasion from business meetings to casual dinners with friends. Grand Cul de Sac is the best place to find luxury hôtels and beaches. The beach has a lot of white sand and it's home to many water sports such as jet skiing, kite surfing, parasailing, fishing trips, etc…
Le Ti St Barth 
Restaurant cum cabaret show, Le Ti is an institution. Surprisingly good food for a nightspot.  Dancing on tables. Good fun. It is a night place, do not show up at 7:30 PM for dinner, but rather at 9 PM. It is 10 minutes away on foot from my villas Domingue and BelAmour, so you can enjoy the party, drink, and walk home.  
Alternatives to St Barts restaurants: Take Out & Eating at the Villa  
In between sampling the best restaurants in St Barths, you may need other options. If you are going to eat at your villa in St Barts, have a picnic at Colombier beach, or a delicious snack while sailing around the island, you will need to buy food from the local stores. Here are my cliff notes:  
Supermarket: Super U  
If you are staying in a villa in St Barts, there is an 80% chance that if you go shopping for groceries, you will visit the Super U supermarket. It is located right across from the airport. You will find fruits,  vegetables, meats, wine, canned food, sauces, and more. The store brand "U" is actually quite good.  
Take-out  
Eden To Go: The Eden Rock has taken over Maya's To Go in St Barts. Fewer selections of salads and sandwiches, but still convenient. Where: Between St Jean beach and the airport.

Black Ginger: Great Thai Food, the take-out is next door to the restaurant. You can actually call beforehand and request a dish of the menu to be ready for taking out, so that offer more than you can see in their tiny shop.
Food places to check out:  
Le Ti'Marché: Fresh vegetables and fruits from Guadeloupe. Go there if only for the nice smell and the nice colors. Located in Lorient, St Barts. 

The fish market: Right at the entrance of Gustavia, the best place to buy fresh fish. Be there before 9 AM, before the fishermen pack and go home.  
Booming: Private Chefs  
As the number of villas is increasing and as restaurants are expensive, St Barts has become a  great place for private chefs to work. Here are a few (I have not tried them all, this is just a list):  
There's nothing quite like dining out in St Barts. The food is amazing, the atmosphere is perfect, and the people are just so friendly. It truly is a dining experience like no other with some of the best restaurants the Caribbean has to offer.
Whether you're looking for a romantic dinner for two or a fun night out with friends, St Barts has something to offer everyone. From French gastronomy to Italian cuisine, fine dining to relaxed settings, you'll be sure to find the perfect spot to suit your mood.
So what are you waiting for? Bon appetite!