Up and coming Japanese-born, American-educated, Paris-based designer Yasu Michino shares a strong connection with our tiny island of Saint Barthélemy. Just like St. Barths, his handbags ooze pure sophistication, chic cachet and good taste. He has worked for wonderful maisons such as Yves Saint Laurent, Givenchy, Sonia Rykiel and the Belgian leather goods company Delvaux.
I've been luck to meet Yasu a couple of years ago: He had been looking for a place where to stay as he wanted to extend his vacation on the island and a friend of ours had asked me to host him. So, Yasu booked a bedroom at my Domingue villa, while I was staying there as well.
This is how I met this fun, creative and gifted leather designer. And we became friends. He's been back at villa Domingue several times already. It is quite incredible to look at him sit at the table, gazing at the view while at the same time sketching handbags for famous fashion brands and for his eponymous brand michino.
I wanted Yasu to share with my readers why he likes St. Barths so much. He kindly obliged. Merci Yas'!
Yasu, you were born in Tokyo, raised in New York and based in Paris. How did you feel in love with St. Barths?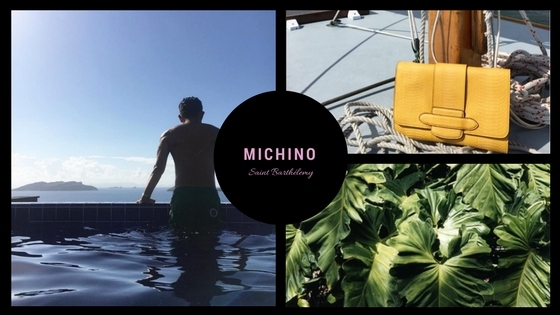 I love St Barth because of its beautiful nature. I love the sea and I can never get tired of watching the sea surrounding St. Barth. There are several little islands around St. Barth and also St. Martin and I love the different views and perspectives that you can find from different angles depending on where you are on the island.
When you look at the island from another part of the island , it is so different each time, depending on where you are. At the end, I think the reason why I am drawn to this island is this diversity. You can look at the same thing from different angles, and it's always different.
Isn't that one of the most important thing in life? Seeing things from different points of view and always discovering something new?
Your travels influence your work, whether you are working for your own brand, michino, or your working as consultant for Parisian and international houses. What impact has St. Barths on your creativity?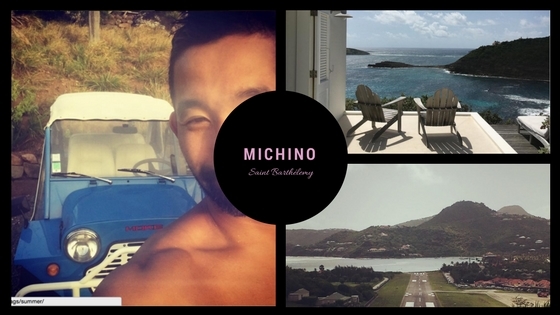 Being on the island is always an inspiration.  'Island life' is just so different from daily life in cities like Paris or my frequent travels to New York and Tokyo.  It's not the same thing when you are on a small island and the environment is so different.
I think change of atmosphere is always important for inspiration.  And for me, the nature and living a healthier lifestyle are real sources of recharge.  Every time I am in St. Barth – I am reminded that everything is a matter of flow, it's a cycle, it's a circulation like the sea that will never stop move.
To have creativity, to give out energy, you need to gain resource and to recharge.  To emanate ideas and positive energy, you need to get that from somewhere and I think that if you can find a place where you know you can recharge – that leads to creativity.
What makes women who live or vacation in St Barths special?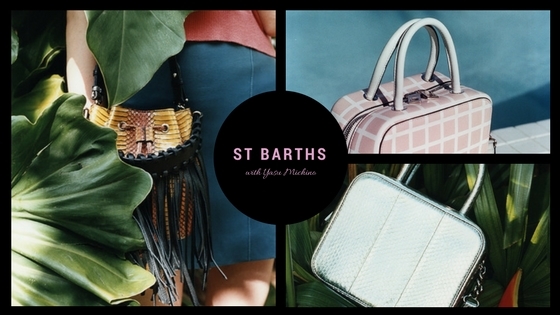 Women (and also men) who live on St Barth or come here for vacation are above all independent individuals. Nature lovers, of course. The independent minds who come here make this island special.
While we may all be searching for different things and come here for different reasons – I believe most people will agree that the exclusivity and the authenticity of the island are two amazing aspects of St. Barth. These two words can also describe the people who come here – they are special because they are authentic, they are also special because they are also themselves looking for special experiences – that's what makes people special.
What are your 3 favorite places on the island?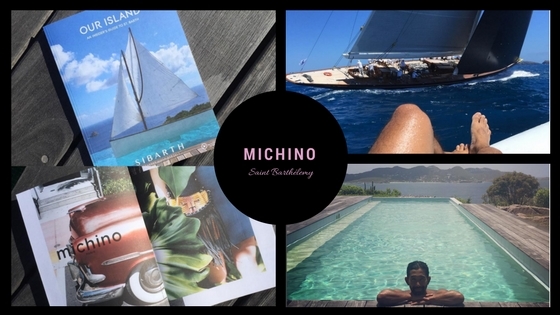 Colombier, Point Milou and Gustavia.
Anything else that you'd like to share about Saint Barthélemy?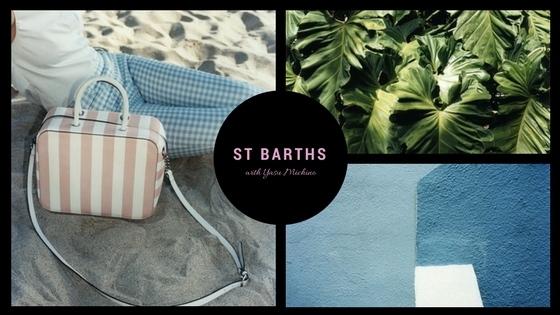 St. Barthelemy is a special – sauvage but also sophisticated at the same time. Nature is strong but fragile. Help preserve the island by respecting the nature. Don't litter outside, share car rides, recycle and keep in mind the reason why we all love St. Barthélemy…
Finding out more about Yasu Michino bags
Yasu's official website is michinoparis.com. You can find his wonderful handbags in New York at Barneys, Isetan, Mitsukoshi and Strasburgo in Japan, as well as at Liberty in London.
You can order online at barneys.com and liberty.co.uk.
On the island, you can find Michino bags at
Carla Saint-Barth
Les Hauts du Carré d'Or
Gustavia, 97133
Saint Barthelemy – France
Tel: +590 590 276 403