Today's single race for each of 10 classes sailing at Les Voiles de St. Barth determined overall winners and marked the fourth and final day of the regatta. The event has been growing steadily since its inception in 2010 and hosted 70 boats in this sixth edition, all with their own brand of famous sailors aboard from around the world. Boats competing ranged from speedy multihulls such as Lloyd Thornburg's Mod 70 Phaedo 3 to technologically sophisticated new-builds such as George David's Rambler 88 and Jim and Kristy Hinze-Clarke's Comanche (at 100 feet, one of the largest boats here) to the more traditional grand prix racers in the 50-70 foot range and smaller racing/cruising boats. There was even a one design class for Melges 24s (the smallest boats competing) that are as fun, physical and demanding in teamwork and skill as their larger counterparts.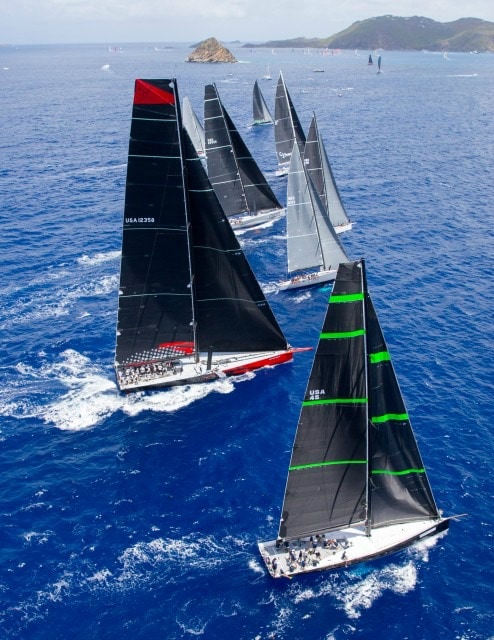 While teams in six classes had clinched their overall victories yesterday (some did not have to sail today's last race but chose to do so anyway), four classes went down to the wire in 15-20 knot winds that were stronger than yesterday's but not as strong as on the first two days of racing (Tuesday and Wednesday, April 14-15).
"It was a very interesting race course," said Lupa of London's winning skipper Jeremy Pilkington (UK) about his Maxi 2 class's 28 nautical mile course. It started off Gustavia and went in the opposite direction from days before, wrapping around the western end of St. Barth before using buoys, rocks and islands as waypoints and turning marks on an oblong windward-leeward course set in the Atlantic Ocean. "There was much more going on today than there was on the courses that were set earlier in the week, so it kept us busy. We had a few little challenges and a few ups and downs going around, but we were very pleased with how we did. We had to finish top-three and were assuming that Selene was going to win on handicap, and we did a little bit better than that." (On corrected time, Selene indeed won, and Lupa of London placed second today to secure the class victory overall.)
In the Spinnaker 2 class, which sailed a shorter version (23 nautical mile) of the 28 miler, Ramanessin, chartered by Germany's Christian Zugel, had to watch itself against El Ocaso and Ventarron, since they were all one point apart going into today.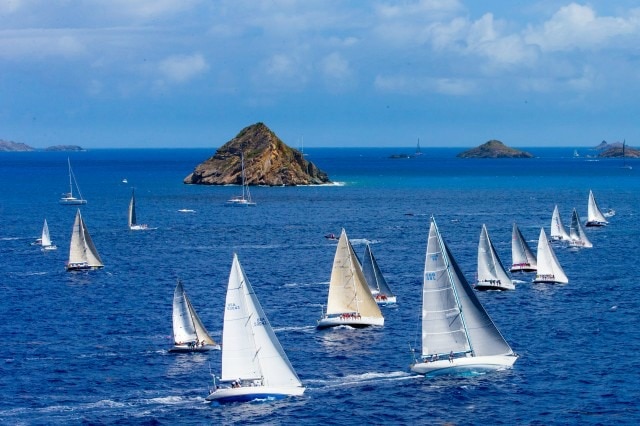 "Today it was very tight. We started with one point up, so if we had finished second today we would not have won," said Zugel. "Right at the start line we were lined up very nicely, but one boat came from the left on the port side and hit us, so you can see some pretty big scratches on the front of our boat but luckily no further damage. We decided to keep going and managed to win." This is Zugel's third time at the event, and he has chartered a different boat each time.  Like many others here, his crew is quite international so it's hard to really say the boat is a German entrant. "I'm German but live in the U.S., and I am crewing with a team of Irish and English sailors who have sailed all over the world, so it is a great experience for us all to be here."
Claude Granel's Martinique entry Martinique Premiere-Credit Mutuel won today's race in Spinnaker 4 (sailing a 17 nautical mile course) to secure overall class victory after going into today with a slim lead. His closest competitor from yesterday, Maelia, slipped to third in the overall standings while Zarafa wound up second. "It was a very tough race, and at the end we just won the race by one second," said Granel. "What was very difficult was that two team members could not race today, so we went from seven to five onboard, and it was windy – much windier than we thought it would be – but it turned out to be a great race for us."
James Blakemore's South African entry Music, in Spinnaker 3, posted another first today to add to his three others from the three previous racing days. "The race was great today – good steady breeze between 16 to 20 knots and great sea conditions," said Blakemore. "My guys sailed the boat really well; we got off to a really great start, and from the first weather mark, I don't think we lost the lead in our class from then on. Every day has been good for us.  Yesterday the conditions were a bit tough because we were dealing with the squalls coming through and very light breezes, but fortunately we got through just in time, before the boats really came to a halt. We've really thoroughly enjoyed ourselves this week. It's fantastic coming here; it's a fantastic regatta."
Spinnaker 0's winner Vesper (Jim Swartz, U.S.) finished the regatta with all first-place finishes in the five races it sailed over the four days of racing. "You go into these regattas where you're in good shape going into the last day, but there is only one way to sail these boats and that is at 100 percent," said Vesper's tactician Gavin Brady about the fact his team didn't need to sail today in order to win. "Today we pushed as hard as every other day, which is the best thing for the boat and the best thing for the team."
It was a different sort of day on the left side of the island, because more time was spent negotiating wind shifts in flat waves, making it more tactical than on the right-hand side where the fleets had sailed for the previous three race days.
Lloyd Thornburg's U.S. entry in Multihull class, Phaedo 3, spent its regatta leaving the seven other Multihull class entries in its wake and won again today for a fourth time over four races. "It was a great event," said Thornburg, who on Wednesday established the Multihull record for a newly introduced 43-mile course that will be repeated here each year. (Comanche and Odin established the records for Maxi 1 and Maxi 2 classes, respectively) "Today the wind came back, which was nice, whereas yesterday was a little bit light for us. For our boat, this was the most challenging course, so it was a lot of fun."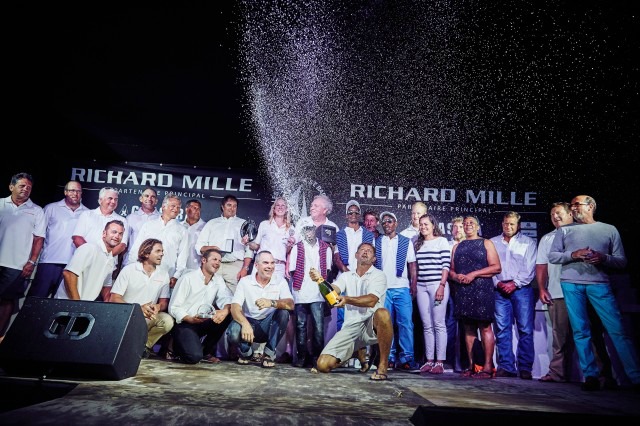 Not so much fun was Gunboat G4 Timbalero III's dramatic capsize today. No one was injured, and the brand-new foiling catamaran was righted within two hours.
Puerto Rican entrant Lazy Dog, skippered by Sergio Sagramoso, also added another victory to his score line of all firsts to win Spinnaker 1 class. "Racing was a lot of fun today, and the start was incredibly critical. There were four classes (on the line), around 40 boats, so it was probably the hairiest start I've ever done. The first start was a general recall; the second start, our main competitor (Hamachi) was hit, so it was pretty dramatic. But we had a great time, and the conditions suited us. It was beautiful like usual. We'll be back next year; great racing and hands down the best organization we've ever seen."
Bobby Velasquez (St. Martin), winner of Non-Spinnaker class  in L'esperance, agreed: It's wonderful here in St. Barth, and it's a wonderful organization. We'll definitely be back for the regatta again next year." L'esperance had nothing but bullets in its score line.
In Melges 24s, the St. Martin team of Budget Marine GILL topped the leaderboard. Skipper Andrea Scarabelli said, "This is one of the events we love the most. Racing in one-design is always nice because you are racing at a similar pace. The goal is to keep building the Melges 24 class. This year we were only four boats, but we hope to get more."
The event's largest, fastest boats sailed in Maxi 1 class, and it was George David's Rambler 88 that won the four-race series there. All eyes had been on Rambler 88 and the larger Comanche during the first two race days, since no one had yet seen the two boats sail against each other. The powerful Comanche showed blazingly fast speed, taking line honors in every race. It was Rambler 88, however, that prevailed with corrected-time performances that gave the team three first-place finishes in a row. By today, when Rambler 88 took second to Hap Fauth's U.S. entry Bella Mente, the focus had returned to who was doing the best on ratings. Rambler 88 maintained its place at the top of the scoreboard, but Bella Mente was able to replace Lucky as runnerup. Bella Mente, Lucky and Comanche had all shared the same point score after today's race, but Bella Mente's performance handed the tiebreaker to their team.
"I'm very happy," said David. "I think we sailed very well to rating, and we are just a click off Comanche. Of course, they have the big-boat edge and get in front, and that tends to help a little bit, but I am impressed by how fast we are. In fact, I'm very impressed. This boat is wicked quick and I think we'll do even better in the future. I don't count us out for records, including the Transatlantic Race 2015 this summer, which we hold already (with Rambler 100)."
At the prize giving, Principal Event Partner Richard Mille presented George David, who also was the overall winner of the Maxi division, with a Richard Mille Caliber RM 60-01