SAINT BARTH HOTELS VS. SAINT BARTH VILLAS: WHICH IS BETTER?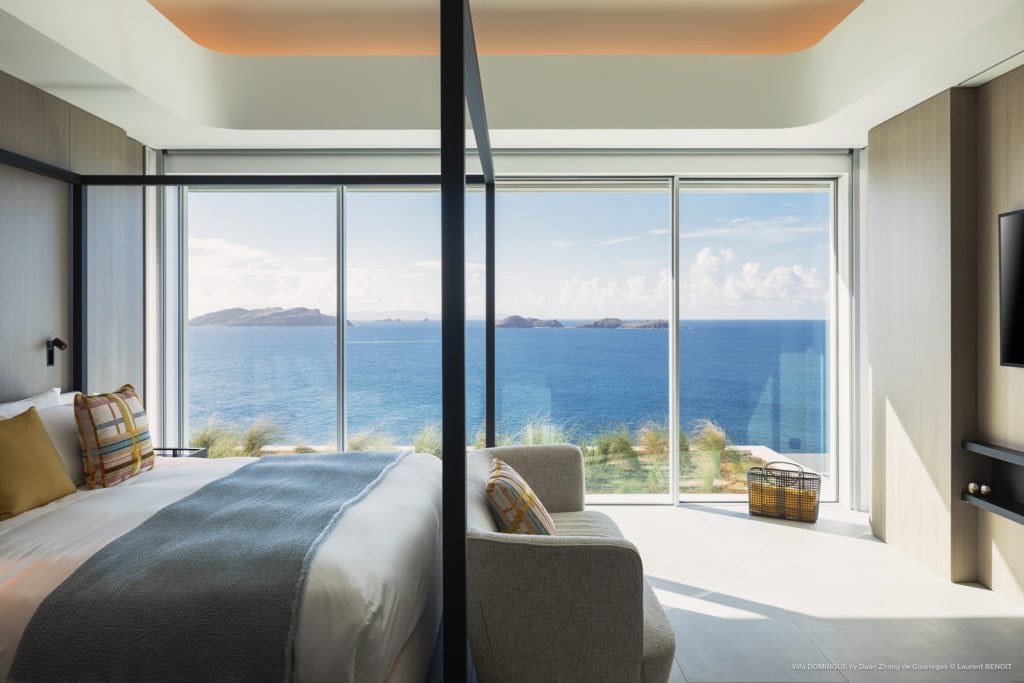 The French West Indies island Saint-Barthélemy (aka St. Barth, St. Barths, or St. Barts) is internationally renowned as a destination for those who seek the very best of world-class elite luxury and tropical paradise combined. 
Visitors come for the island's top-level restaurants, stunning beaches, some of the world's best hotels and villas, lush tropical gardens, and luxurious lifestyles. St. Barts is also secluded and exclusive. That's why it's such a traveler's hotspot and favorite escape for the rich and famous. 
But what is the best in luxury vacation rentals when you visit? St. Barts luxury villas or a luxury hotel? 
Luxury Villa vs. Luxury Hotel
I relocated to St. Barts in 2013, and I have two lovely luxury villas recently rejuvenated (Maison Domingue and Villa BelAmour). I love to share my insider's insights on St. Barts so that visitors have the most unforgettable time on the island.   
For your first St. Barts vacation, you may wonder which housing option is the best for you and your party. Though they may offer similar amenities and en suite bedrooms, there are a few key differences between their services, price value, and privacy. 
Overview
In general, hotels are great for full-service amenities and addons, while villas are ideal for people looking to have a more private, independent stay.
St. Barts' best hotels offer on-site amenities like direct beach access, a beach suite, concierge services, a fitness center, spa, massage room, and complimentary breakfast. Many St. Barts hotels also have fine dining and other perks like a beach bar with breathtaking views. You may want to look at places like Eden Rock, Le Barthélemy Hotel & Spa, Cheval Blanc Saint-Barth Isle de France, Villa Marie, Hotel Christopher, Hotel Manapany, or Rosewood Le Guanahani. Grand Cul de Sac is one of the most popular destinations for people looking for a string of luxury hotels (Rosewood Le Guanahani, Sereno, and Le Barthélemy).
But for those seeking privacy for a romantic couple's getaway or friends and family trip appropriate for young children, the charms and benefits of staying at private villas is an unrivaled experience. By searching through sites like Eden Rock Villa Rental, you can find an entire luxury home for yourself, and you call all the shots when it comes to activities, food, entertainment, and more.
With this understanding of the primary difference between the two experiences, let's dig deeper into the specific details you'll experience comparing villa vs. hotel. 
Services
St. Barts luxury villas and hotels both have staff members who can assist you—either at the site or the island's rental company office. On-call concierge teams can help you make reservations, choose restaurants, find transportation, and provide guidance or other recommendations during your trip. They can also help you troubleshoot any issues you may have.
Both housing options also provide included transfers to and from the airport. You should also be able to rent a car from the hotel or rental company. 
Villas
Both villas and hotels have maid service daily. However, unlike hotel rooms, you don't need to leave the premises in a villa to give space for the maid to clean. Some St. Barts villas also offer a private chef service and chauffeur for an additional cost. 
Depending on what you are willing to pay, villas can provide varying degrees of staff support. Some travelers prefer this flexibility.
Hotels
St. Barts luxury hotels provide daily maid service and turndown service, though you generally have to leave your room during service times. 
The best hotels also generally have 24/7 on-call concierge support and 24/7 room service. If you prefer pushing a button and ordering a cheese plate at 2 am over making it yourself, you may want to stick with hotel life.
Privacy
If absolute privacy is what you want, a villa is the way to go.
Villas
Villas offer much more privacy than hotels. You can feel like you have the entire island to yourself just by looking out the window. Since St. Barts luxury villas are typically more isolated or secluded on a private beach or hillside, you can avoid too much noise from life outside and other guests peeking in. 
You also don't have to worry about bothering others, allowing you to have more freedom to go about your day or night doing whatever you feel. 
At a villa, you can play music on a private terrace, get a tan at your private pool, or have a quiet morning coffee watching the sunrise. Though you may like the life of Gustavia or Flamands Beach, you can feel more relaxed returning to a space that feels like your own. 
Hotels
Some St Barts hotels may feel more private, but they usually block the sides of your view with plants or walls, and you'll be aware of other people nearby. If you're more accustomed to city life or enjoy the bustle of other people around you, you'll probably enjoy the hotel experience. However, you'll have to sacrifice on the privacy front.
The best hotels may offer private pools in some suites and other special accommodations, but generally, you will share the space with others.
If you want the best of both worlds, you may want to explore a boutique hotel option.
Food & Entertainment
One of the drawbacks of staying in a more secluded area in St. Barts is the (relative) distance to restaurants. Hotels are usually situated near local entertainment options, like the Grand Cul de Sac, or have restaurants and entertainment on-site. Villas vary in this regard depending on their location. 
Regardless of where you stay, you will want to take the car to visit the different restaurants scattered around the island. The roads are all toll-free, making the entire island of St. Barts easy to access.
Villas
While you may not have direct access to restaurants, St. Barts luxury villa rentals usually have a full-service kitchen and the option to have a chef cook for you right at your rental home. For many travelers, the chance to have an on-site chef to prepare precisely the meals you want is even more appealing than a restaurant.
Villas may also have the option of free parking, beach access, an infinity pool, or even access to a private yacht.
You may also enjoy cooking as a family or a couple, in which case having a full-service kitchen is a beautiful villa benefit.
Hotels
The best hotels in St. Barts have an advantage by having assets like a chic bar, complimentary yoga, outdoor pool, fitness center, beach club, and upscale restaurants. Usually, these are either connected to their property or several options nearby.
St. Barts' hotels offer exceptional dining experiences. Some are top class, and many are famous for their impeccable cuisines. If you prefer to toss out any meal planning and simply dine at the best restaurants, a hotel will provide perfect accommodations. 
The best restaurants also tend to be clustered near hotels for easy access to their visitors, and most hotels have direct beach access. You will likely be within walking distance of everything you need.
Price & Value
For space, services offered, and privacy, luxury villas in St. Barts typically come at a better price value than hotels.
Villas
It is possible to spend more on a rental villa overall, but you receive more for your money regarding quality. St. Barts villas are also typically more economical than luxury hotels. You can opt-in or out of certain services, and you can usually fit more people into a villa, which can help with the cost.
Often, groups of friends or family will go in on a villa together and split the cost. Spreading out the rental cost like this can help you budget for add-ons and experiences.
Hotels
Hotels may cost less overall than a villa, but you can't split the cost with friends. The best hotels in St. Barts may be even more expensive than a villa. You also have less control over how much you spend at a hotel after you've chosen your room size and accommodations. However, if you are traveling with just a romantic partner, hotels may be less pricey in the long run.
Interior
Villas and hotels in St. Barts offer a wide range of interior designs and accommodations. 
Saint Barts villas and hotels can vary when it comes to the interior. You can choose a minimalistic hotel room or villa or go with a more upscale interior. While hotels typically offer one room or more expensive suites, villas always have more than one room and usually require you to rent the entire property. 
Villas
In general, you will likely find a unique design experience at a villa. Villas are often one-of-a-kind architectural and design properties. You can find modern beachfront homes with cool tiled floors, penthouses near St. Jean beach, most villas offer a private pool, and more. 
Most villas also have sofas, a furnished dining area, a stereo, television, and much more space for you and other guests to enjoy comfortably. Most villas also include a pool for you to swim in the sun or soak in after dark.
Hotels
Many hotels in St. Barts offer the best in modern design and comfort, though you will have less space to yourself. However, the interior of hotels can offer sweeping views, vast private spas, green spaces, multiple pools, restaurants, and more. 
Setting
Every area of the island is beautiful, and both hotels and villas aim to capture the exceptional scenery and great beaches of St. Barts. 
Villas
The setting for luxury villas in St. Barts can significantly vary. You can choose from beachfront villas, villa suites with an outdoor pool, villas on hilltops with ocean views, and villas that blend into the natural landscape. Most of them provide a 180-degree view with glass walls or large windows. If they are higher up in the hillside, you will be able to enjoy the spectacular view all around Saint Barthélemy. 
Hotels
Hotel rooms are placed close together out of necessity and may not offer a panoramic view of the Caribbean Sea. They are usually closer to the action or on the beach, featuring the best beaches on the island. While you might have lovely ocean views, you may not get to see more of the island from your window. 
Boutique hotels often offer more variety in terms of setting, with features like free parking, a beautiful beach, and elite spas comparable to the Hotel Christopher's Sisley Spa.
Final Thoughts
The choice between different types of luxury vacation rentals in St. Barts depends on what kind of traveler you are and what experience you want. 
If you want more independence, personal choice, and privacy, a villa will provide everything you need. If you prefer to go into complete relax mode, have all the decisions made for you, and entertainment and dining options available 24/7, you may want a hotel.
In the end, whether you choose a private villa or luxury hotel room, your visit to St. Barts will be unforgettable.