Like other Caribbean getaway spots, Saint Barthélemy offers up beautiful weather, enchanting turquoise waters, and charming beaches.  Unlike other islands, St. Barths has mastered an ambience of sophisticated seclusion.  Continental elegance in a mellow Caribbean setting makes this island something special for those who enjoy the finer things in life and seek new and breathtaking experiences when they travel.
The island's French history has left it with a legacy including some of the world's finest European restaurants and an appreciation for boutique shopping that rivals the best Paris has to offer.  And best of all, this tiny island has preserved its carefree character by eschewing sprawling commercial resorts and embracing small, chic hotels and vacation villas.  There are only about 25 hotels on the island, most with no more than a dozen or so rooms; the vast majority of visitors opt for one of the many uniquely alluring private villas.
If you want to know about about St. Barths, you can read my other blog posts about the island:
By concentrating on quality and luxury rather than rampant development, this captivating Caribbean community has created what can truly be called a paradise.  And one of the best ways to experience this one of kind island jewel is to stay in one of its stunning villas.  Whether you prefer to be tucked away in a lush, hidden location or to wake up to a view of dazzling azure seas, whether you're seeking a family-friendly space or something more romantic, you'll find your perfect fit on Saint Barths.
Of course we're partial to our own two offerings—Villa Domingue and Villa BelAmour—but we also recognize that there are as many different styles and preferences as there are personalities. Here are our top 11 choices:
Villa Domingue
Villa Domingue, a 4 bedroom villa that easily accommodates 8 guests, combines some of the island's most striking ocean views with contemporary Caribbean luxury.  An exquisite multi-level deck allows you and your family and/or friends to enjoy the incredible vistas from the relaxing comfort of a delightful blue-tiled pool or while sunning on one of the many relaxing lounges.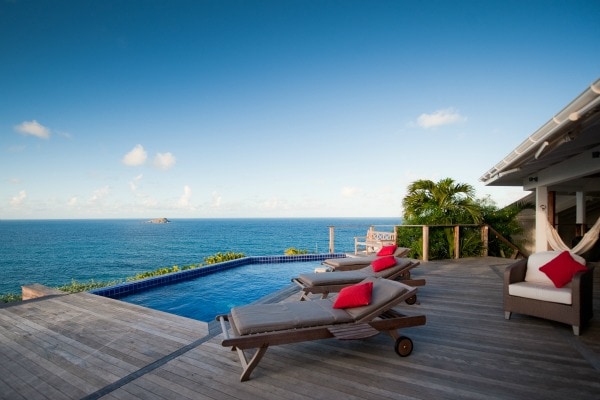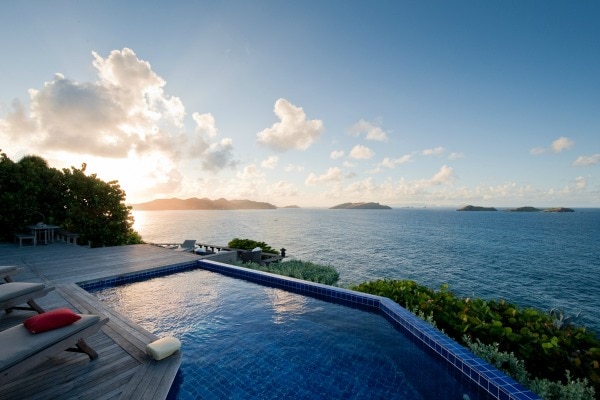 But it isn't simply the interior luxury or the beautiful views that make this villa something very special.  Villa Domingue is perched on the side of a hill in prosperous Pointe Milou, approximately a twenty minute drive from Gustavia, providing guests with an unusual level of privacy and creating a peaceful oasis to which they may withdraw to cherish their time with their friends and family.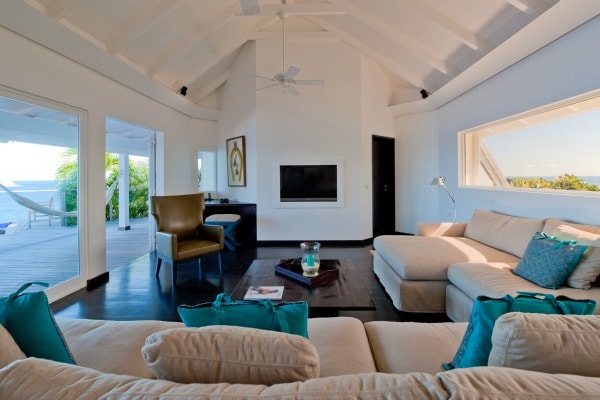 Villa BelAmour
Perhaps your trip to St. Barts is to be a more intimate affair—a trip for two, to celebrate or reconnect. There are relatively few single bedroom luxury villas in Saint Barthélemy, making BelAmour a highly sought after romantic escape.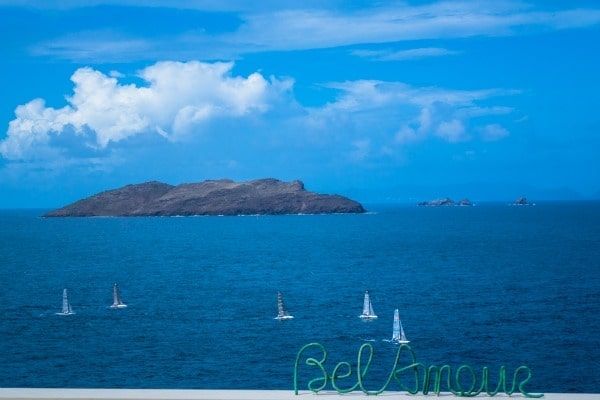 Everything about BelAmour is, as its name might imply, designed to evoke sensuality and romance.  From the "Miracle of Love" mural designed by French designer artist Jean-Charles de Castelbajac to the privacy walls that allow you to enjoy the pool and patio in complete, comfortable seclusion, the dedication to passionate appeal is indisputable.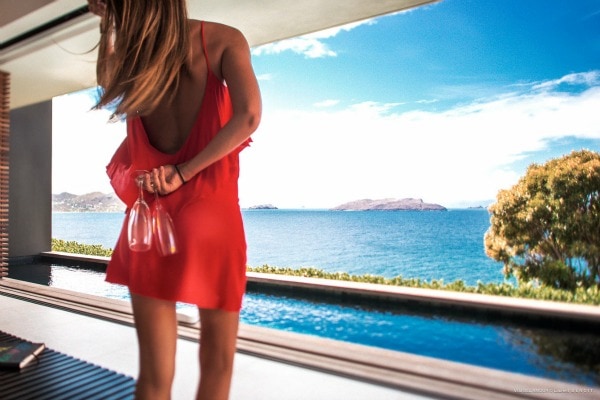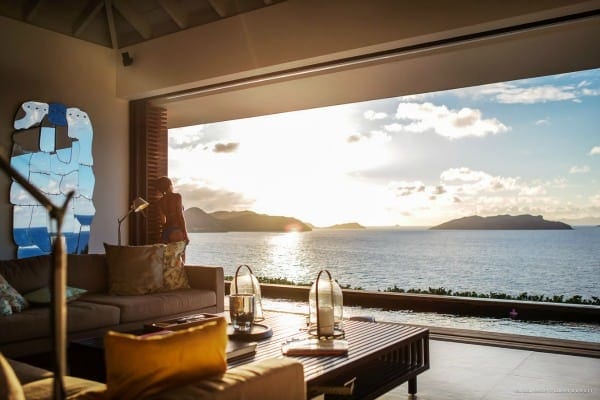 Imagine
This 3 bedroom villa combines the contemporary with the exotic, featuring artsy-but-comfortable modern furniture juxtaposed with natural wood, Bali stone, and tropical landscaping, only five minutes from Grand Cul de Sac beach and twenty minutes from Gustavia. With a vast deck, ample outdoor furniture, and numerous glass walls, Imagine blends indoor comfort and outdoor living seamlessly.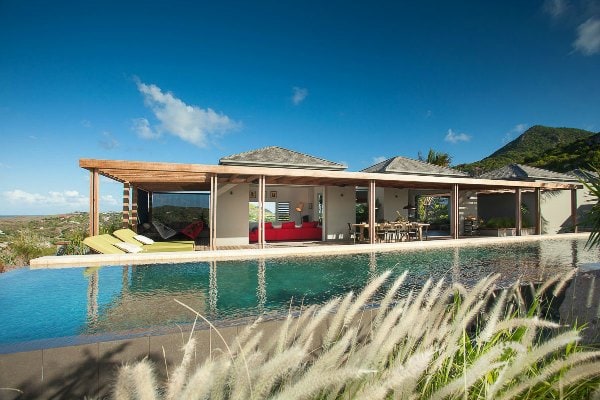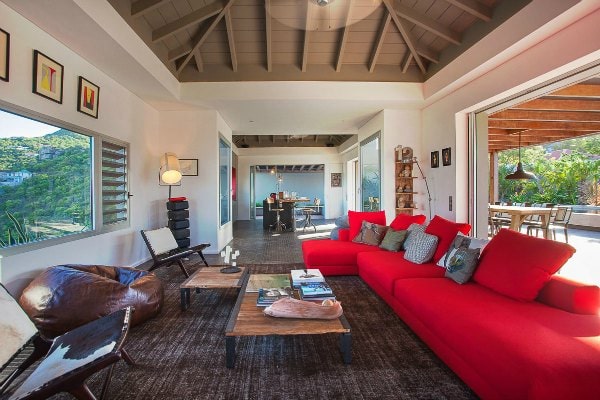 Have a drink on the deck in the evening, and enjoy the warm tropical breeze through the palm trees surrounding you, or laugh and lounge with your fellow guests in the large living area.  Take a trip into Gustavia for the nightlife, or relish your solitude and prepare a meal in the fully stocked kitchen.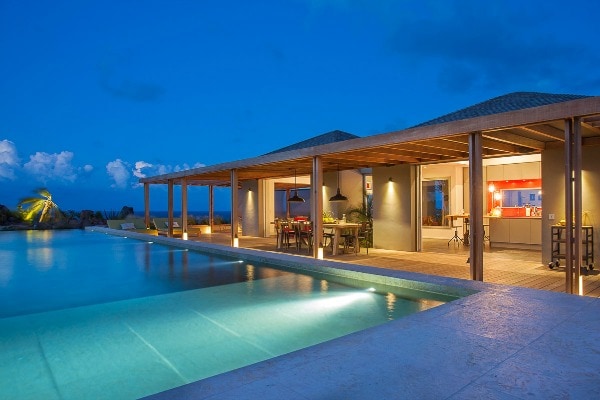 Le Boudoir
True to its name, Le Boudoir is an exceedingly intimate, sexy studio with a style very much its own.  Art deco meets mid-century Hollywood flair in this romantic, open-plan gem.  A golden claw foot tub, a harlequin design marble floor, and a circular mosaic pool all contribute to the unapologetic sensuality of this very special little villa.  If it's over-the-top design that screams both luxury and love that you're after, look no further than the white, black, and gilt accommodations of Le Boudoir.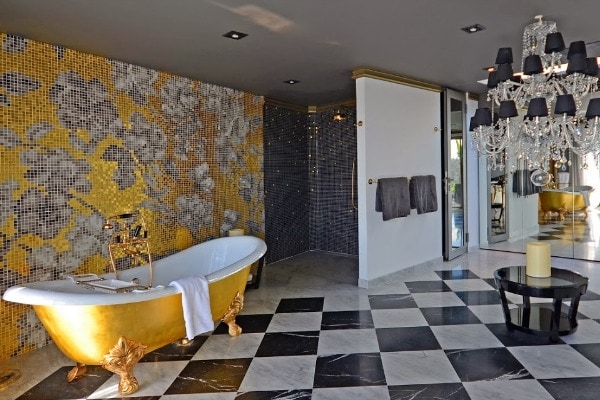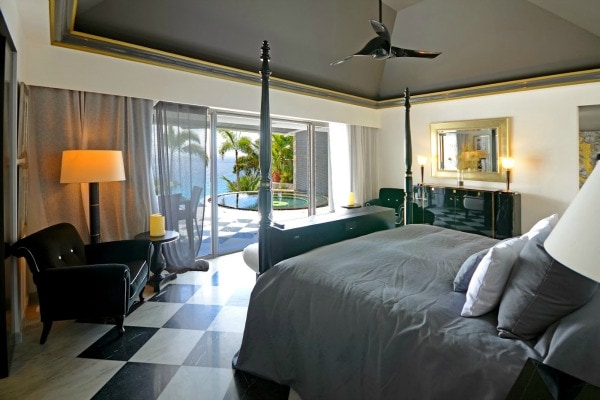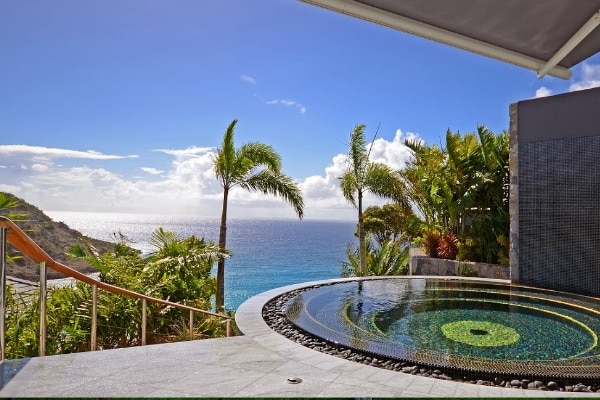 Petit Paradis
Petit Paradis lives up to its name. This quaint and eminently charming two bedroom villa sleeps four, and is located on the more private side of Saint Barts, tucked in between the mountains and the sea.  White and crème walls and décor contrast with rich, warm hardwood flooring and natural wood furniture.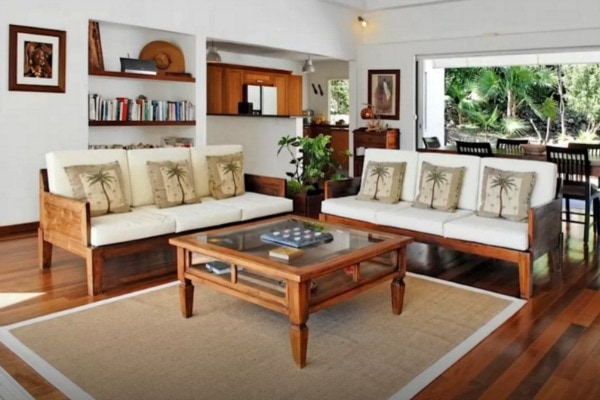 Each of this little villa's spacious rooms conjures up understated luxury, opening onto the diminutive estate's patio, garden or pool. The unrestricted natural light, high ceilings, and beautiful views never let you forget that you are happily ensconced in your own private, tropical utopia.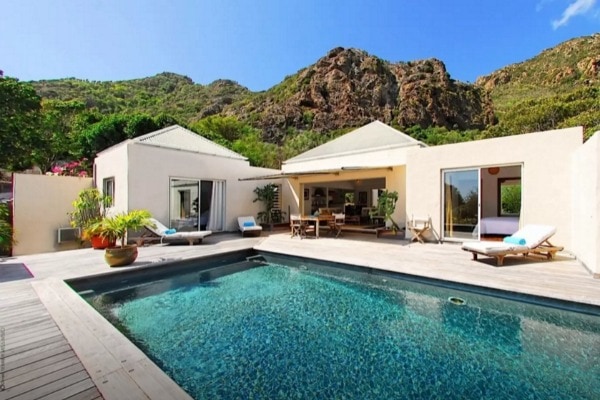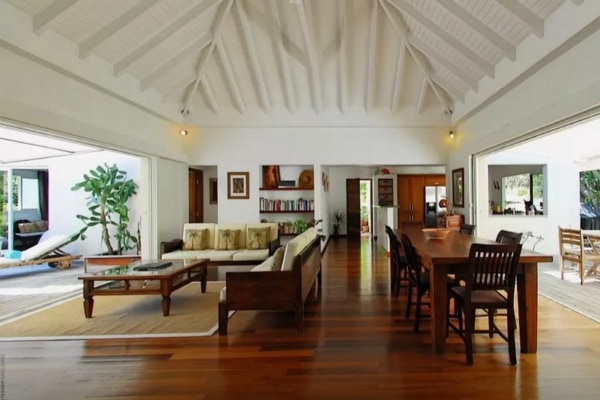 Manoir de Lorient
On the other end of the spectrum is the sweeping five bedroom estate of Manoir de Lorient.  Each bedroom, with en suite bathroom, is located in a separate bungalow, and its main living space is divided between several bungalows as well.  With walls that open onto the vast terrace, surrounding an enormous, lovely lap pool, the entire compound is a testament to leisurely affluence.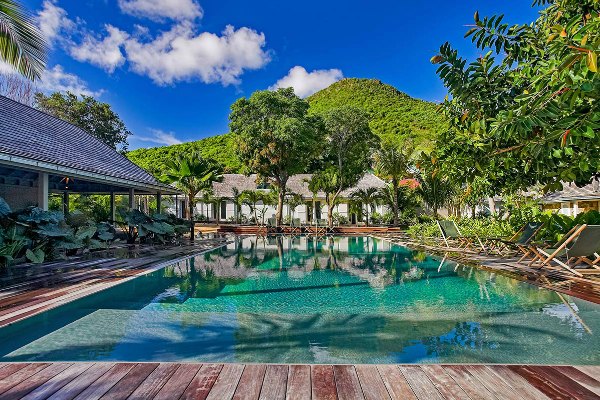 Stroll around the pool and enjoy the manicured landscaping, go for a dip, whip up a small plate in the beautifully stocked kitchen, or enjoy a glass of wine in the heated jet tub under the stars.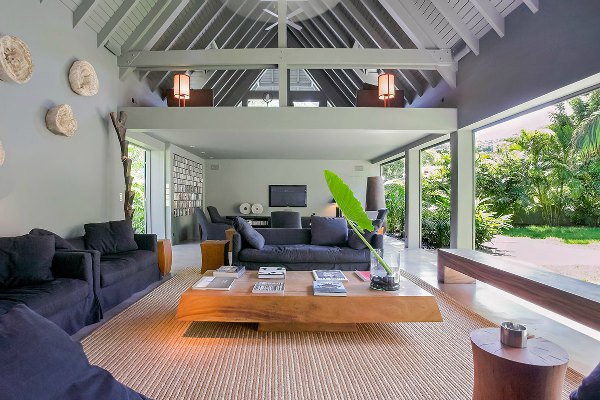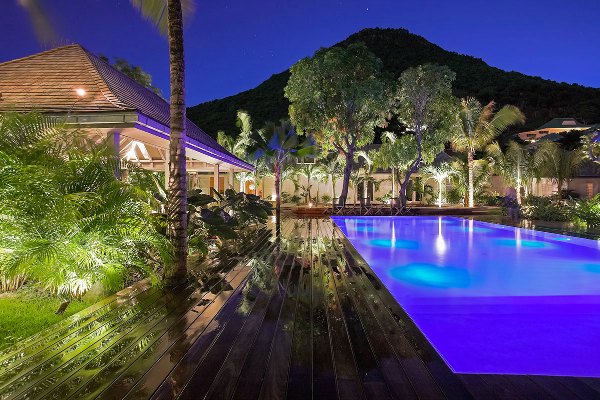 Wings
Ultra-modern design flirts with minimalism, splashes of color, and a Zen-inspired ambience in this striking, unusual villa.  The winged rooflines, from which the villa Wings takes its name, its uncluttered architecture, and some of the most incredible views in St. Barths make this 4 bedroom getaway something very special.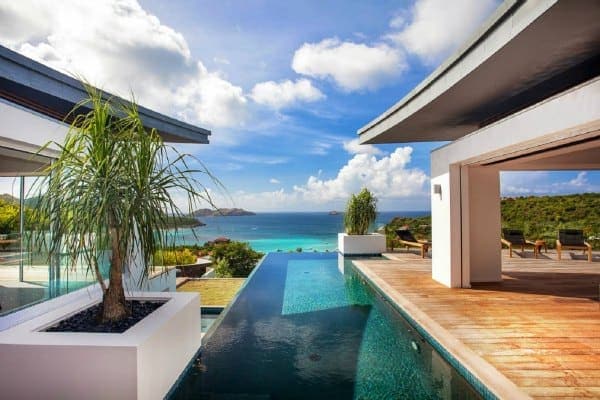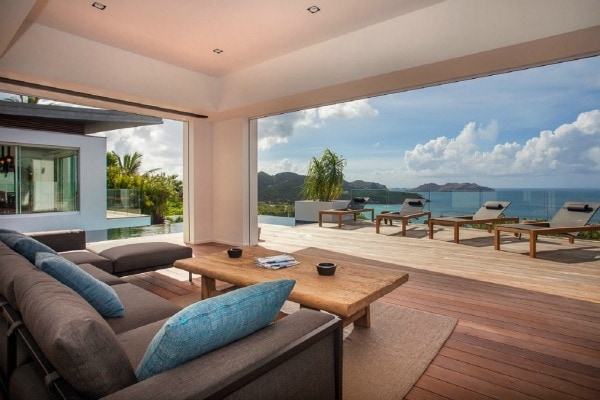 Only ten minutes from Gustavia, this villa balances concealment against convenience, a harmonious compromise that many guests will find appealing.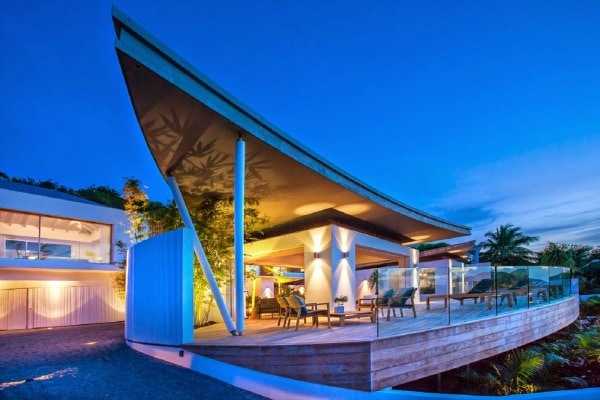 Eternity
This five bedroom resort-esque villa easily accommodates ten, and its roominess, seclusion, and style have made it one of St. Barth's most desirable rentals. Three thousand luxurious square feet, ultra-modern décor, a Jacuzzi, and an extensively equipped gym—all within a seven minute drive of the capital—make Eternity the perfect choice for those who want all of the comforts of a hotel with far more privacy.  Dramatic yet minimalistic black and white décor is accented with bold splashes of intense color and punctuated by provocative pop-art-like prints. Each bedroom features its own en-suite bathroom and shower—the master suite even has its own massage room.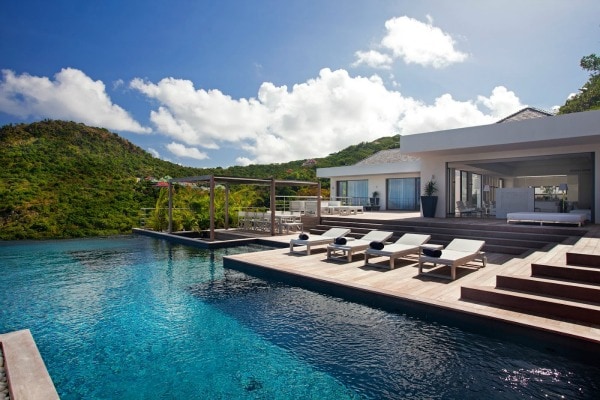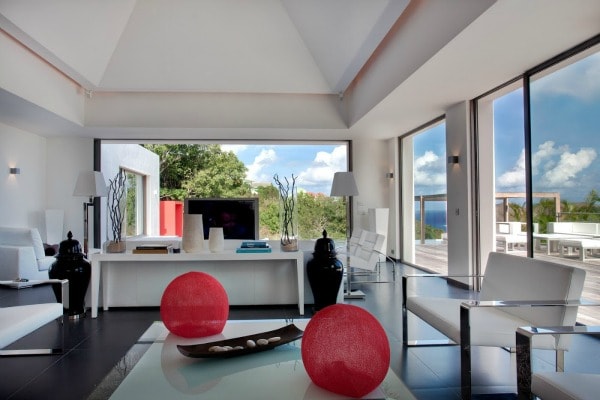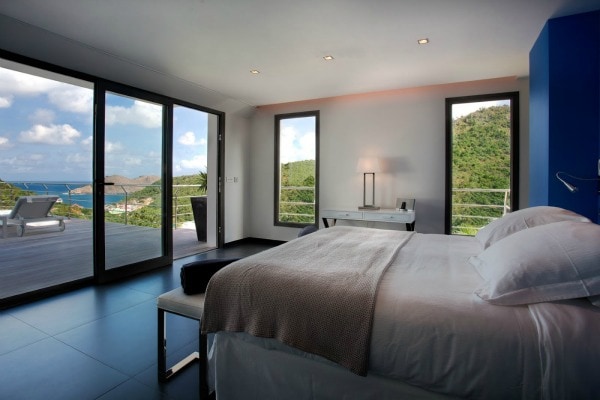 La Belle Epoque
If your perfect Saint Barthélemy vacation includes spending as many hours as you can squeeze out of the day beach-side, La Belle Epoque is a great choice. This single bedroom villa, located near the Guanahani hotel, is within walking distance of Maréchal beach. It's also very near the lagoon of Grand Cul de Sac, with its warm, calm blue waters.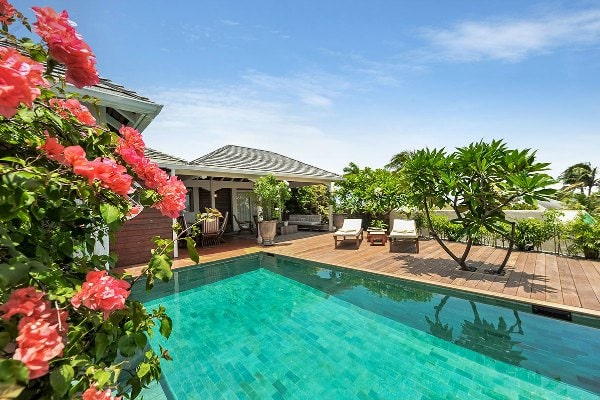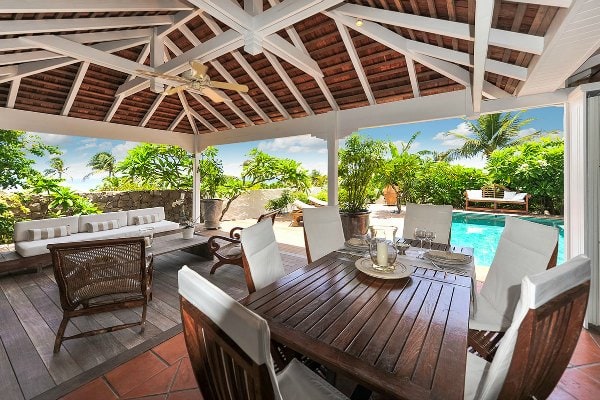 At the end of the day, retire to La Belle Epoque for peace and quiet, or slip into something stylish and head out to one of the many delightful restaurants nearby.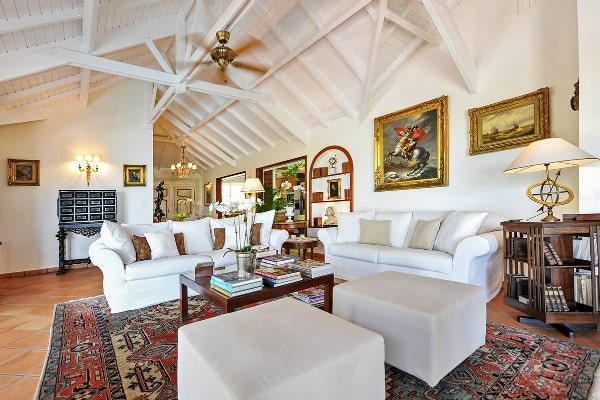 La Danse des Etoiles
Easily one of the most glamorous villas on the island, La Danse des Etoiles features a dramatic 70 foot infinity pool, white stone architecture, panoramic views, and five elegantly furnished bedrooms.  The interior design combines modern minimalism with Asian antiques for a clean, contemporary feel.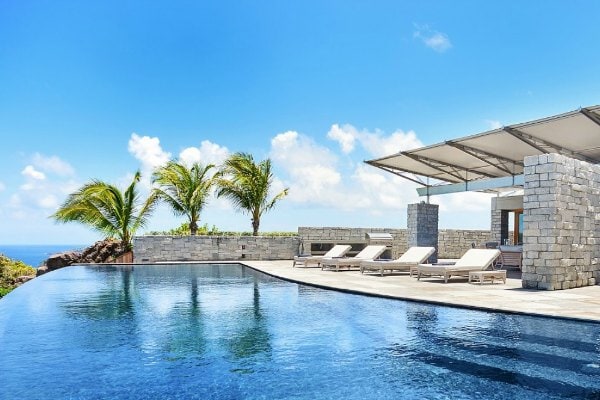 The nearest beach is Lorient, one of the island's most popular thanks to reef-protected waters that make it perfect for casual swimming and snorkeling. The capital, Gustavia, and all it has to offer, is only fifteen minutes away by car.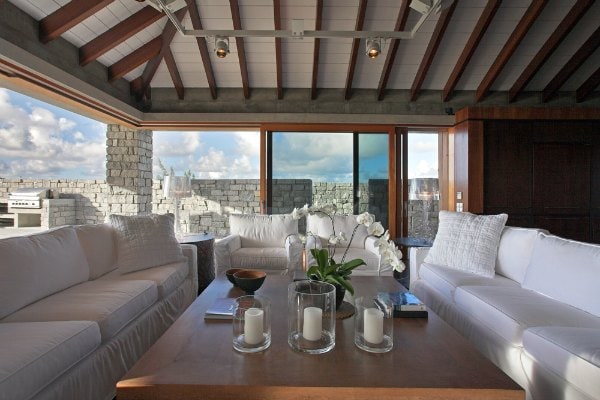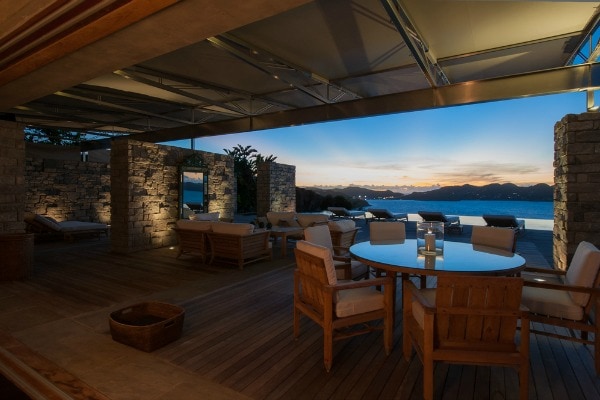 Cap au Vent
This unique and exceptionally luxurious villa sleeps eight, and provides privacy high in the cliffs of Pointe Milou.  Villa Cap au Vent is designed to maximize a perception of privacy and solitude, while still allowing easy access to Lorient Beach (a five minute drive) and the cultural delights of historic St. Jean (a ten minute drive).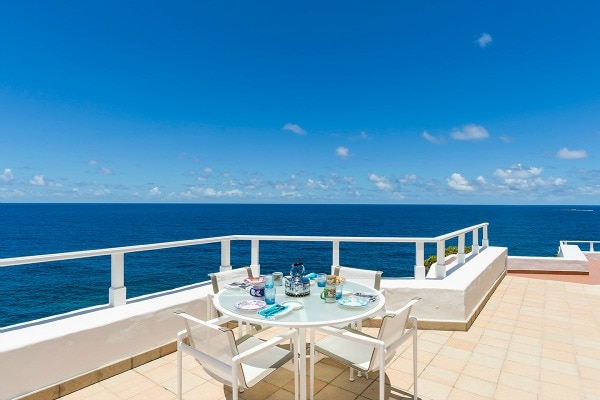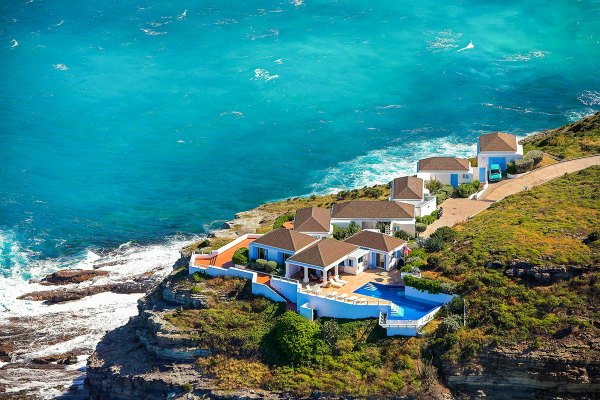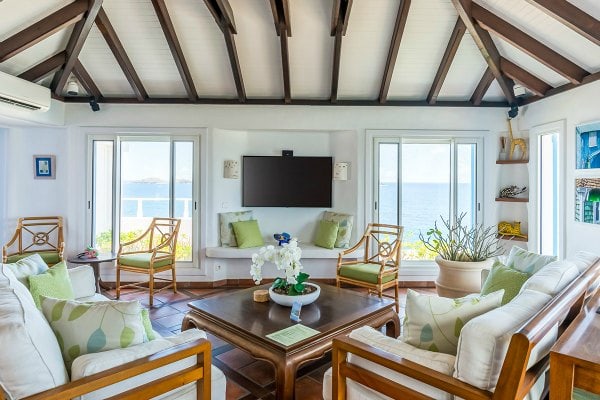 Its crisp white, turquoise, and cream décor, occasionally accented with bright, contrasting colors, gives Cap au Vent a very particular charm of its own.
Whether you stay in one of these villas, or find an equally beguiling option elsewhere in intriguing, unique St. Barths, we know that your stay here will be magical.  As you can see from the list above, no villa on this little island paradise is alike—and that's exactly how the locals and guests of Saint Barts prefer it to be.
Saint Barthélemy isn't the place for people who want their vacation to feel mass-produced or to have a tediously cookie-cutter character.  It's a place for you to explore and experience the truly exceptional, and what is truly exceptional is different for every guest.
Each of the villas on the island reflect the unique styles and influences of their owners and designers.  Whether it's the original mural at Villa BelAmour or the unique architecture of Wings—something will speak to you, and let you know that your perfect getaway awaits you in Saint Barthélemy.
Be sure to leave your own suggestions for more stunning St.Barts villas that you can rent on AirBnB in the comments below…
If you are dreaming of a St Barths vacation, you will probably enjoy reading my other travel tips: